Young entrepreneurs showcase their innovative businesses through Summer Company at Staples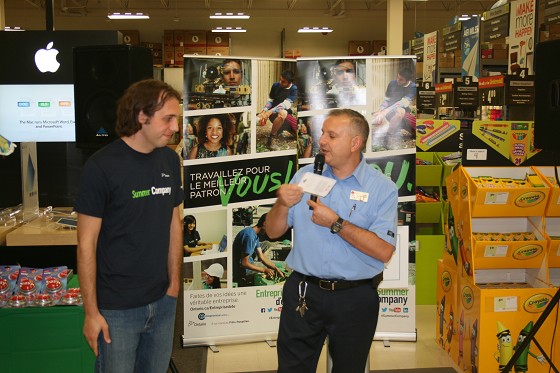 Staples Canada has teamed up with three Small Business Enterprise Centres (SBECs) in Ontario to host five public events. One event will be held in Thunder Bay with the Thunder Bay & District Entrepreneur Centre (EC), two will be held in Kingston and the other two will be in Barrie.
All events were held between 12 – 4 pm and showcase the Summer Company participants and their businesses.
"We were excited when Staples approached us to host the event in their store," said Stacia Kean, Small Business Development Officer Thunder Bay & District Entrepreneur Centre (EC). "We couldn't ask for a more perfect venue to display what these young enterprising students have to offer."
"Entrepreneurial spirit is an important part of our business culture here at Staples, "said Pasquale Coccimiglio, General Manager, Staples Thunder Bay. "The Entrepreneur Centre shares our passion for building and cultivating entrepreneurship and preparing youth for a successful future while encouraging the importance of education
." Each summer the Thunder Bay & District Entrepreneur Centre (EC) administers the Summer Company program which is an Ontario Government initiative for youth entrepreneurship and employment. The program is designed to foster the entrepreneurial spirit in students 15 to 29 years of age who are returning to school in the fall. In place of a summer job, students have the opportunity to be their own boss. Summer Company is a grant program funded by the Ministry of Economic Development, Trade and Employment through the Thunder Bay & District Entrepreneur Centre (EC). The program is designed to assist enterprising young people, between the ages of 15 and 29, start and run their own summer business while continuing their education.
"Summer Company offers students an opportunity to realize their vision," said Rebecca Johnson, Acting City Mayor. "These exceptional students have taken on the task of getting a business up and running and to make it profitable within a few short months. The valuable business experience will last them a lifetime; they are our future entrepreneurs
." Summer Company applicants can earn up to $1,500 to assist with their business start up costs and up to an additional $1,500 in the fall for completing the program. Each business owner is required to comply with provincial regulations for Small Business. Mentoring by the Thunder Bay & District Entrepreneur Centre (EC) is ongoing throughout the program.
Pasquale Coccimilgio GM of Staples Thunder Bay
" Summer company event partnered with the CEDC locally showcasing the companies started by students. This is our opportunity to help them get their message out and showcase their company. I got his idea as my son was part of this group last year. We are running it in two other markets in Ontario as well.
Pam Koch Team Coordinator' based in Toronto
" We are celebration the achievement of 16 summer companies from the Thunder Bay region. We work with the local small business centre Thunder Bay CEDC. They select the students. The program has been operating since 2001 and over 5000 business have been started with over 435 continuing on in their businesses."
Ryan Keleher student a law student at Lakehead University
" Digital Law Solutions started out with me doing research and then doing work for digital forensic solutions. It reflects interests which are digital and internet based. I provide research, project management and business development for lawyers or business that serve the legal industry."