Tim Hortons Entrepreneurs Open New Restaurant in Thunder Bay
by Scott A. Sumner
Brent and Jennie Prepp are the Owner / Operators of four Tim Hortons Restaurants in Thunder Bay. The couple are from Timmins, Ontario. Brent was managing three Tim Hortons stores in Sudbury for about 5 years while Jennie was a midwife. They had the opportunity to move to
Thunder Bay and purchase their first Tim Hortons store on Waterloo Street about 10 years ago.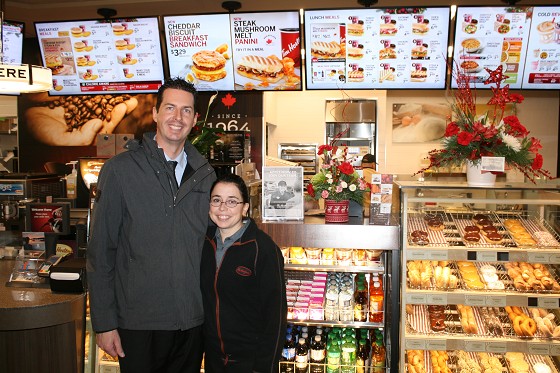 " When we moved here my wife was seven months pregnant. Today we both work in the business as we are on call 24/ 7 and have two young kids. We are in the Tim's family now." said Brent Prepp.
The couple now own Tim Hortons restaurants on Waterloo, Sibley Drive near Montana's, Oliver Road and now the brand new Edward Street location.
"They are all close by and really good locations so we are thrilled. We live out Hwy 61 which gives us a little reprieve from the business." says Brent who has been with Tim Hortons for 5 years as a manager and 10 years as an owner starting his career at age 21. " We were willing
to go anywhere for Tim Hortons in Canada and Thunder Bay phoned us. My brother lived in Dryden and just recently bought the two locations of Tim Hortons in Kenora."
The Tim Hortons chain has a Canadian heritage and roots. It has recently been purchased by a US company called 3 G which owns Burger King, Budweiser, Kraft Foods and more. It is a huge company but they really see what Tim Hortons is all about and very respectful of that
and have been fantastic to work with says Brent Prepp. There are about 4000 Tim Hortons units or more in Canada.
In Thunder Bay there are 12 main free standing Tim Hortons units owned by three groups. This Edward Street store is their newest concept.
" I find it very warm and inviting with an open ceiling, LED lighting, fireplace with a TV, leather couches and an open concept so you can see what is going on in the kitchen with theatre baking. The building is about 2700 square feet in size," said Brent. " On this property at
Northwood Plaza, it is a perfect size. We opened on Saturday and it is going fantastic. Everyone seems to enjoy the feel of the store. The staff are having fun. Some of the staff are new so it is a challenge. It is a very demanding job to be honest but the staff are doing great."
Brent and Jennie have 35 to 40 full and part time at the new location. The other locations have staffs of between 35 to 50 each. " I think any business person will tell you staffing is the most
important part of any business and you have to keep your staff happy for sure. We want to create a great working environment and have the staff stick around. We have some staff that have been with us for 10 years now. It is unheard of in the food industry but it all comes down to treating them well as we get the same respect back from them." said Brent.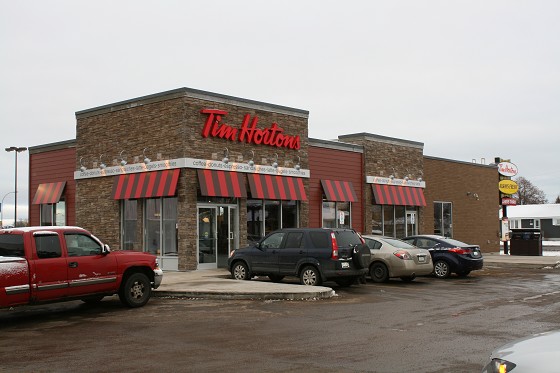 " It is a demanding job for us, 24/7 with phones calls and text messages. It might be an equipment issue, a guest concern or staff sick. There are always challenges but that is what we signed up for. I learned a lot working for another owner in Sudbury but you are never
really prepared for when you own the business yourself. It is a totally different animal then, your problem." said Brent
Brent and Jennie don't take a day off and everyday are at a store or their office. They took their first vacation after 5 years where they went somewhere not for business. Today they have a good supervisory management crew, a good foundation now.
" I work from 40 to 80 hours a week. I look at it like in life the more you put in, the more you get out. If you live by those rules you will do well in life, that is how I look at it," said Brent. "It is a
large investment. We have to pay for the business and all the bills. The expenses are very high but we do well. It is a great business to be in. My wife says 4 outlets is enough for us but if another opportunity comes along we will look it. When we first come here we were looking for two good locations and have doubled that now."
The young couple are in Thunder Bay and it is home now." It took a few years for Thunder Bay to feel like home. It is a great place to live. Thunder Bay is a Northern community like Timmins where I grew up. It is kind of secluded which I didn't like at first but once
your realize you are so close to the US border and the airport has so many flights to Toronto each day we aren't secluded. The natural landscape beauty with Mt Mckay, Lake Superior, the Sleeping Giant, the canyon and Kakabeka Falls is beautiful. It is a great place to live
and raise a family."