Thunder Bay's TIL-KA Construction Inc. Sees Good Growth
by Scott A. Sumner
You may have seen the many trucks driving around Thunder Bay with the unusual name TIL-KA. The name TIL-KA is a blending of two previous companies that merged together. In
1995 there was Tiller Construction and Cibirka Construction and the beginning and end of the names became the company TIL-KA.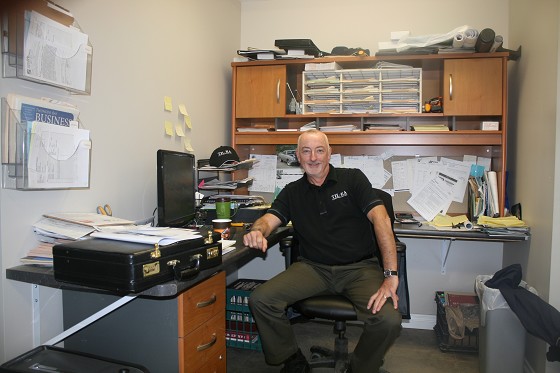 " I have been in Thunder Bay since 1988 in construction business. We partnered in 1995 and incorporated in 1996. My partner was orginally from Barrie, Ontario and moved back to Barrie in 2000 when we opened an office there. In 2007 we decided it was better to have two separate offices and we each ran offices with only the TIL-KA name remaining in Thunder Bay," said Jim Tiller, President of TIL-KA Construction Inc.
Today TIL-KA has two sides or areas of work in the company. The exterior side includes windows, doors, siding, soffit, fascia and roofing. Then there is the construction side which does new construction, renovations, light commercial including smaller commercial jobs like putting the steel on buildings and roofing.
" Most of our work is residential exterior work but we do build houses and have done so more aggressively the last few years. We do all the work needed in a house and are headed more into building houses but the bulk of our work now is home renovation. We are also currently finishing two houses, a custom home and a spec home that is being sold by Belluz Realty in Tuscony Estates off Hilldale Road. " said Jim Tiller, age 54. " We have about 20 people on staff especially in the summer period. We started with 2 partners and a couple workers and have grown since then. Today we are one of the main exterior renovation companies in Thunder Bay. We don't do stucco or brick but almost everything else. We are busy with 7 crews out there doing roofing, shingling, windows, doors and siding as well as blow in insulation."

" Our customer normally is the regular consumer that see our trucks, go to the yellow pages or our web site, or heard about us from their friends. Word of mouth has been our biggest advertisement," said Tiller. " If someone even just wants a new front door we can do that.
We also have done all Home Depot's exterior work since when they opened here in Thunder Bay. Our company is one of the few that do everything in house- we don't sub anything out with our crews doing specific jobs. We are a one stop shop for exterior and can build the entire house. We do interior residential as well but usually only in the winter because we are so busy during the summer with our exterior work."
" The market is a little bit slow right now in Thunder Bay but our closing rate is good, so our pricing is good and service good. The season started earlier this year from last year when everyone was in a rush to get their jobs done with the late arrival of spring. It is still good this year. We are very busy from when the snow goes to Christmas- pretty much flying." said Jim Tiller. "During the start of the business I was working 12 to 14 hours a day growing the business
until we hired more staff and are still continueing to grow."
" The economy of Thunder Bay is good right now and I think it is going to get better. The housing market is a little bit soft now but we have had a boomer the last 3 or 4 years so it has to slow down a little bit. Thunder Bay is kinda protected from the rest of Canada to some degree. It goes up and down a little but is quite stable. Thunder Bay is a good place to live." www.tilkaconstruction.com