Thunder Bay's Newest Office Building: Riverside South Place!
by Scott A. Sumner
For many years our company office was located just off Balmoral Street near the McIntyre River. There has been some good development over time in this area with many new buildings and businesses. It was exciting to see the shovels hit the ground on the new 3 story 36,000 sq.ft. office complex called Riverside South at 973 Balmoral Street. This beautiful eye catching building is constructed on one of the last prime 3 acre sites left in the city adjacent to the McIntyre River. This building offers fabulous views of the river, golf course, mountains and from the top floor, Lake Superior. One of the tenant spaces even offers its own private patio!! The city bike and walking path connects right to the parking lot, offering the opportunity to walk or ride to work, as well as on your lunch or coffee breaks. The building has plenty of on-site parking and bus service is available nearby.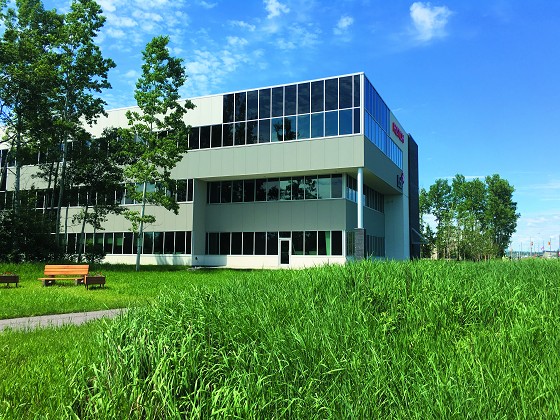 "We cleared the property a few years ago and started the preliminary design in 2011 as well as advertising for interested tenants. In the fall of 2016 we signed our first tenant and moved ahead with final
drawings and permitting" Construction started in August of 2016 and was finished in June of 2017. "Working through the winter is always a challenge, we are extremely happy with the finished product and
consider the entire building as A1 office space." said Ken Perrier of PerHol Construction Ltd. and the President of Riverside South Corporation. Riverside South offers IN2 zoning which works great for
any office based service including lawyers, accountants, architects, engineers and all government services.

The building has 2 tenants at this time, HATCH Corporation occupies 8,000 sq.ft. on the Main Floor. To get HATCH moved into their space on time PerHol was awarded their Leasehold Improvements package so it could be completed at the same time as the Landlord Building shell. PerHol started working on their space in the middle of March, 2017 and they moved in on July 10, 2017. The other tenant in the building is BDC (Business Development Bank of Canada) they occupy 2,550 sq.ft. on the West End of the 2nd Floor. PerHol was awarded their Leasehold Improvements including design drawings for permit. Work started at the beginning of January 2018 and was completed for occupancy on April 1st of 2018. "Both of these projects were overseen by our Project Manager, Sebastian Fuzzen" said Perrier.

There is currently space available in the building as follows, main floor 2,070sq.ft, 2nd floor 6,520 sq.ft. and the 3rd floor 10,000 sq.ft.

The building has a few special features; the main floor is a 10" thick concrete structural slab with in-slab heating. The 2nd and 3rd floors are poured concrete floors on steel bar joist and "Q Deck", all the
structural steel came from Butler Building Systems using conventional steel design. The exterior is prefinished insulated texture wall (stucco finish) panels from Butler with brick accents. The window
system is a triple pane curtain wall. The interior windows all have roller shade window coverings.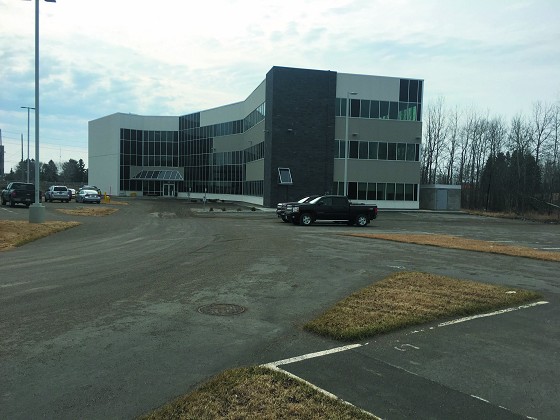 The heating and cooling is supplied by three Rooftop Units to each floor, in addition to radiant heating around the perimeter on the 2nd and 3rd floors. The completed building is controlled by a building
automation system that can be accessed remotely to make any adjustments and monitor the environment in the building.

The property has the area for a future addition of 21,000 sq.ft. total on 3 floors which would attached to the existing building and run parallel with Balmoral Street. When completed Riverside Place will
have 22,500 sq.ft. in Riverside North and 57,000 sq.ft. in Riverside South.

It is always impressive to see entrepreneurs invest their own capital into projects. The Riverside Place development is a prime example of a large investment and indicates a positive opinion on the future of
Thunder Bay and Northwestern Ontario!

" The Thunder Bay economy has been quiet in construction for the last 2 years, 2016 and 2017 but I feel things are looking up for 2018. Everyone has hope the economy will grow and the recent change in
government will help move things along. The Ring of Fire could really change things positively in my opinion for everyone in construction and we are all looking for something to happen there eventually." states Perrier.

Riverside South Corporation and PerHol Construction Ltd would like to recognize all the businesses and trades for their outstanding workmanship and commitment to the project.
· H. Bradford Green Architects
· GS Structural, AGE Electrical Engineering
· Cuthbertson Mechanical Engineers
· EXP Services Inc.
· Sacchetti Construction
· Harris Rebar
· Butler Buildings for Structural Steel and Building Envelope
· Bruno's Contracting
· Payford Steel
· Hoogsteen Masonry
· Frontier Glass
· DEW Enviromental, B&B Cabinets
· Flawless Roofing
· Quality Door Hardware (Allmar)
· Dynamic Painting
· A&I Contracting
· Pierce Florcraft
· Villeneuve Mechanical
· BDV Heating & Ventilation
· Thunder Bay Insulations
· Reliable Electric
· Great Northern Controls
· ThyssenKrupp Elevator
· Vertical N Visions Ltd.
· Neebing Lumber
· Dino's Tile & Concrete
· Boyce Telecom Inc.

For Leasing opportunities Contact Ken Perrier 807-474-0930 or by email perhol@perhol.com

When did the project commence for the phase that was just constructed? And which phase is it?

Design started in January of 2016, Construction started Aug 2016 withthe driving of piles.
The overall site is called Riverside Place 5 acres total 3 1/2 for South and 1 1/2 for North. Riverside North being 981 Balmoral on the corner which had Phases 1 and Phase 2 constructed. Riverside South is
973 Balmoral we just finished Phase 1 of this site. But I guess overall you could call it phase 3 of the Riverside Place.


What phases have been completed to date?

Phases 1, 2&3 are complete

What is the square footage of the current phase completed?

Riverside North Ph 1 is 10,500 sq.ft. Ph2 is 12,000 sq.ft.Riverside South is Ph 1(3) is 36,000 sq. ft. Future Ph 2(4) is 21,000 sq.ft.

What was the total amount of investment for the phases completed thus
far?

Total investment so far is around $15 million

What is the contact information for details for possible occupancy?

Contact for leasing is Ken Perrier Ph 807-474-0930 email: perhol@perhol.com