Thunder Bay Truck Centre Celebrates 40th Anniversary serving
Northwestern Ontario
by Scott A. Sumner

It isn't every day you get to visit a long time successful business in our area. It was fun to sit down with Dave Mack, General Manager of Thunder Bay Truck Centre, to talk about their 40th year anniversary of
starting as a Peterbilt dealer in 1977. The company was previously known as KBM with various businesses. The maintenance division of that company was turned into the Peterbilt division!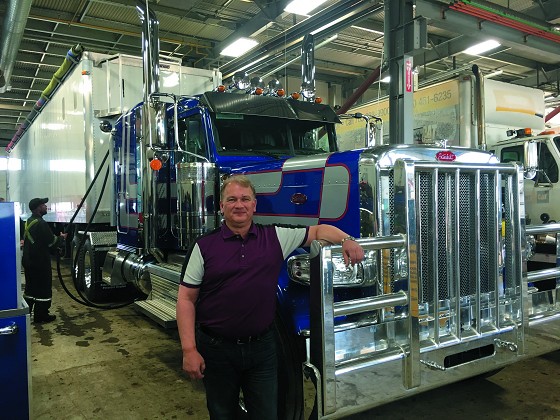 Dave Mack has been working in the business since it's start working part time at a young age for 5 years and then full time now for 35 years. He saw the first trucks go out and is one of three owners of
the business.

Thunder Bay Truck Centre is the oldest original consecutive Peterbilt dealer in Canada. There are a total of 10 dealer groups and 33 stores. Thunder Bay Truck Centre has stores in Thunder Bay, Dryden
and Fort Frances.

Large Peterbilt trucks are manufactured in Denton, Texas near Dallas and there is another plant at St Terese Quebec just near Montreal that manufacture the smaller trucks like dump truck type vehicles.
Perterbilt has long been known as the "Cadillac" of trucks and the most prestigious in the industry since its inception.

" We began operation on Cumberland Street and then built a new facility on Commerce Street in 1979. There was a fire here in 2008 when 65 % of the building was destroyed but we rebuilt and made it better
and bigger," said Dave Mack. " We have grown, starting with 15 employees and today with a staff of 70 people."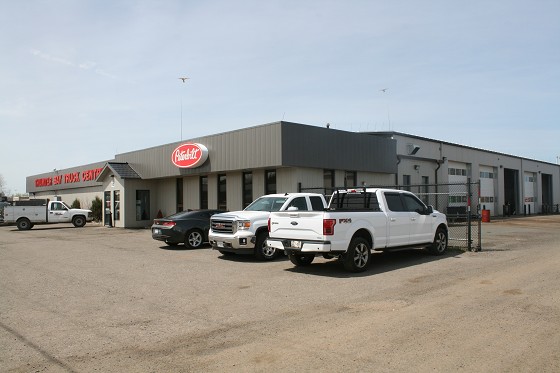 Thunder Bay Truck Centre provide sales of trucks and trailers, both new and used. There is a parts division and service division.

The customers of Thunder Bay Truck Centre are in industry. They have customers from all across Canada who are passing though Dryden and Thunder Bay and are open 8am to midnight 5 days a week to deal with transient business and fleet accounts.

"We are 8 hours from Winnipeg and 8 hours from Sault Ste. Marie so it is a good middle point. For break down services we bring the trucks to our shop to fix. Parts are open Saturday morning as well. We usually have 10 to 60 trucks here at one time including customers trucks and between 5 and 15 new to sell." said Dave Mack.

This year because of the Thunder Bay Truck Centre 40th anniversary, they took some paint designs from 1977 and had some new trucks decaled by Pro graphics with the same artwork from 1977, a sample of which is on our front cover

These massive impressive units including the Manac trailer and new truck can cost as much as $275,000 plus tax and could haul wood chips, hog fuel or that kind of product. The Thunder Bay Truck Centre AOR, or area of responsibility, is from the Manitoba border to White River and Hearst and everything north.

" We have owner operators in the logging, construction, road repairs, gravel, haulage, floats that do contract logging, chipping, construction and freight haul, say with Courtesy Freight. The units could be float trucks, cement mixers, garbage, hauling or freight. Truck means it could have a dump attacked or tractor means you hook up to a trailer to haul." said Mack.


The trucks are all diesel powered. The Thunder Bay Truck Centre mechanics are trained extensively at the factory, on line and in house. They go through an apprenticement program say at Confederation College with beginning, intermediate and advanced levels and it takes 5 years to become a Class A Truck and Coach mechanic. They are paid well, and Thunder Bay Truck Centre hasn't had a layoff since the early 2000's. It is consistent employment. Service is a big part of the business and they will work on any vehicle with a rubber tire that will fit through the door of Thunder Bay Truck Centre building which is 18,000 square feet.
" We are quite happy with our overall sales today. Parts are excellent, service is good and sales of trucks and trailers are good. We are very optimistic about the next couple of years and watch the
economy very closely. The biggest thing that affects our business is housing starts, especially in the US. Housing starts drives everything as trucks haul all our lumber goods. Housing starts are looking good,
they are forecasting through 2020 that is will be a good market," said Dave Mack. " I'm hoping Trump won't have an impact. The one thing we have going for us is the high US dollar. If the US dollar dropped and the tariffs stayed on we could have trouble but the sawmills are doing well with the exchange rate. If the US realize their own domestic market for lumber can't fulfill their needs they will have to do something."

" The dollar at 73 cents is a big plus for our customers when they are selling their products. For us at Thunder Bay Truck Centre we buy in the US and are billed in US dollars. A 1 cent rise in the US
dollar can be $1500 to $1800 additional cost per unit. When we were on par with the US Dollar to now 73 cents just on the exchange it was over $ 27,000 per truck unit or more on exchange. The trucks cost the same in the US and Canada after currency costs with some additional costs in Canada due to our conditions being harsher here versus Florida with some additional warranty costs built in." said Dave Mack.

The trucks today are much better on fuel economy according to Dave Mack. "When we started nobody looked at fuel economy, it wasn't a factor as gas cost was less. You would get 3 to 3 1/2 miles per gallon.
Now we use the Paccar engines which are owned by Peterbilt. We just love the engine now and fuel economy is much better with regulations on green house gases. More of the fuel is turned to power than exhaust. Before more fuel was going out the stack so now the fuel economy it is 7.5 to 8.5 miles per gallon, over double than the past. Today the clients are watching fuel economy which is nice for us as we always wanted to sell efficiency and provide an efficient truck."


The trucks you will see on the road include Volvo, Freightliner, Western Star, Kenworth and Peterbilt. There are three other full large truck dealerships in Thunder Bay.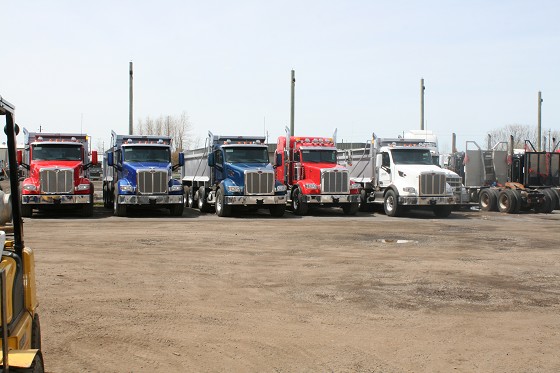 You need a Class A or D license to operate this size of unit and a Z endorsement for airbrake.
" I love the truck industry. I love the people. We have a fantastic staff here. The truck industry is advancing quicker than almost any other industry. We are on par with aviation with changes in the
products," said Dave Mack. " I tour the plants quite often and the use of robotics has increased so much. It is a very changing industry but yet the same."


Whats on the horizon of Thunder Bay Truck Centre?

" Peterbilt wants us to expand and have every 200 miles coverage for their products. NW Ontario is a little different with less population. We are always looking to expand, to grow and have a fairly good chunk of the market now on parts and trucks sales. They are very happy with us. We exceed our market share requirements by a lot," says Mack. " I'm happy with the local economy. I like consistency you can plan for and I don't like spikes. We have friends who have dealerships in Alberta and would not change places with them as they are up and down and it is hard to gear up sometimes. We like consistency and growth and we haven't out grown this facility. Our goal is to expand coverage down the road in Northern Ontario east from here."

Thunder Bay Truck Centre History


In 1972 three brother-in-laws formed KBM Investments. KBM specialized in forestry, construction and equipment maintenance. Their offices were located at 115 N. Cumberland St. in Thunder Bay.

In the fall of 1976, KBM applied for a Peterbilt truck dealership. On March 7, 1977, they were awarded the third Peterbilt franchise to come to Canada.

In 1979, they built a new dealership at their current location at 1145 Commerce St. in Thunder Bay and moved their operations here in June of the same year. With the move, Peterbilt Thunder Bay was established.

In 1984, Peterbilt Thunder Bay became the only dealership in North America to be a dual dealer for Peterbilt and Freightliner/Mercedes Benz. With the acquisition of the Freightliner dealership the company
name was changed to Thunder Bay Truck Centre Inc.

Thunder Bay Truck Centre remained a dual dealer until 1992 at which time they dropped the Freightliner/Mercedes Benz franchise.

In 1999, TBTC began construction on their second branch, Peterbilt Fort Frances, at 505 McIrvine Rd in Fort Frances. The new store opened in July of 2000.The Thunder Bay location went through major renovations in 2003 with a change to open concept parts display area and the addition of 1,600
square feet of warehouse space.

In the early morning of February 21, 2008 the service area of the Thunder Bay location was destroyed by fire. After a very trying and difficult year the newly designed and expanded facility was reopened on
February 21, 2009.

In the fall of 2013, the third location, Peterbilt Dryden, was started. An existing building at 70 Keith Avenue, in Dryden was gutted and renovated. It opened on May 3, 2014 with a Grand Opening Celebration which involved all three stores.

Thunder Bay Truck Centre has built itself up through the years by hiring the best in employees, providing excellence in all it does, and offering Best in Class products whether it be parts, service, trucks or
trailers. Since its inception, TBTC has prided itself in its Commitment to Excellence.