Thunder Bay Has An Upcoming Music Artist: Siedd

by Scott A. Sumner
I wanted to attend the last Live on the Waterfront event in Thunder Bay this year so checked out the artists that would perform. The local 24 year old Siedd seemed interesting so I searched his name on You Tube and was amazed with his music. Several of his songs have 1 million plus views so he already had a strong following! I got to talk with Siedd shortlyafter his performance.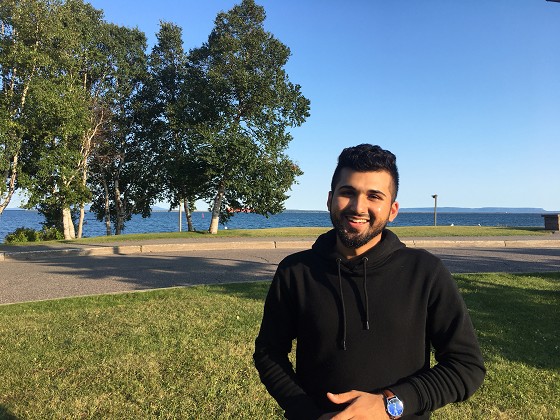 Tell me about your music Siedd?
" My music is like a cappella music. I pretty much do everything myself from the recording, to production and sometimes video. Everything is made just by my voice and my hands. I record a bunch of sounds using beat box and all of that kind of stuff, put it together and its sounds like one cohesive track. It is a bunch of layers stacked up together. Some people can't tell it by the voice but instruments.

Where are you from?
" I was born in Pakistan but grew up from age 1 in Mississauga where I went to elementary school and middle school. In 2008 we moved to Thunder Bay out of the blue and I said where is the place Thunder Bay. It is a lovely place, it is beautiful and I don't know if I would be able to move back to the big city after living here as I am used to this now. Famous Tandoor is our family restaurant located on Algoma
Street."
" I am taking mechanical engineering at Lakehead University with 3 courses left until I graduate. Music and engineering are like opposites. My brother is an engineer and my dad is a engineer."

How did you get into music?
" Every since I moved to Thunder Bay I did music, I had nothing else to do. I went to Hammarskjold High School and took guitar and vocal lessons all 4 years. I started in production and them writing. I play
the guitar. My first live performance was High School Idle here in Thunder Bay. I was a very shy kid so could barely get in front of the class and start singing but I made it to the final and then just
started working hard."

Will you put out an album soon?
" Right now I am working on my first album with the release of my first single called Back to You. The whole album is all original songs. The second track I played tonight is I'll Just be Me a pop song. I wanted
to make something fun.A couple weeks back we launched a record label Makkah Records. We will
do everything. It is lots of fun and hard work. It can be weeks to a month to do a song a cappella."

Have you done many live performances?
" I started last year touring in the UK on 3 or 4 city tours with 400 to 1000 people coming out. My biggest fan base is in the UK so it is fun with lots of energy. My You Tube following is in the UK, Malayia,
Indonesia and the US. We did a 5 city tour in Australia with bigger crowds. Our music is very pop. In October we go to the UK for another tour."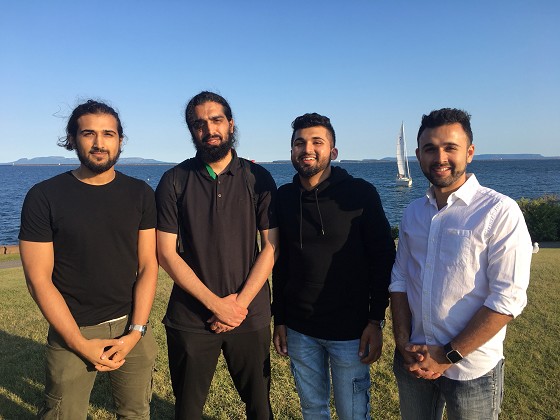 You have a nice team working with you?
" We have a small team who have been working together for a few years. We have trust and a good relationship between us with a 10 to 15 year plan. I am 24 and a Muslim. We don't drink or do drugs. There is a lot of music on the radio about drinking and what I try to do is lyrics that connect to say a Muslim. It has been a good response."

How will you market your music?
" We will release a CD and do streaming on Spotify, I Tunes, Google play and Apple. This past year I have been working super hard on the record. To be honest I haven't really marketed anything so far, it has been doing well on its own. If somebody likes the product you don't really have to market to people,they will find it and come to it. I let it belong to everybody. On You Tube I have a decent following. We will be launching a web site soon as well."

It was fun talking to Siedd and his team! I predict major sucess in the years to come for this Thunder Bay based artist.