Thunder Bay Event & Convention Centre Phase 3 Update
City Council recently ratified a Letter of Intent (LOI), which defines the working relationship with private partners Thunder Bay LIVE! for the proposed Thunder Bay Event & Convention Centre (TBECC). "This Letter of Intent is an important step and Phase 3 is moving forward well," said Mayor Keith Hobbs. "Council looks forward to a full status report coming back in August."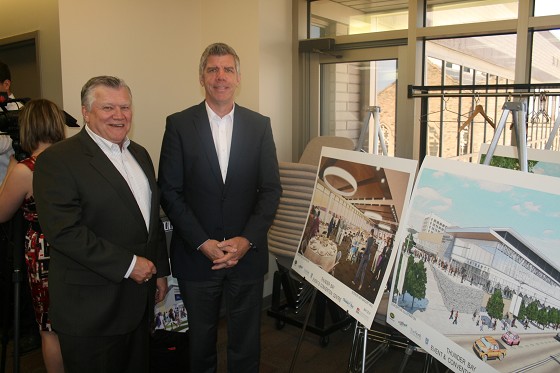 The City can now move forward with the remaining steps in the process to explore developing the facility with the partner consortium including the schematic design for costing purposes and in-depth business plan, which are components for the submission to the Federal and Provincial governments for funding. "We are pleased to have the Letter of Intent in place to continue moving forward with Thunder Bay LIVE! on the next steps which include some exciting community engagement opportunities this month," said Michael Smith, General Manager – Facilities, Fleet & Transit Services who is the City's lead on the project. "It's important to note though, that even with an LOI to define how we work together, there is no guarantee on either side. It is non-binding. The remaining pieces, including funding, need to be in place and Council has made no final decisions."
The Thunder Bay LIVE! consortium is made up of Stadium Consultants International; Global Spectrum Facility Management; True North Sports and Entertainment Ltd.; Lakehead University and the Lakehead Thunderwolves; PCL'S Constructors Canada Inc.; and BBB Architects Toronto Inc.
Chris O'Reilly, Partner BBB Architects, Toronto ( His brother is famous former NHL Boston Bruin player Terry O'Reilly!)
" A highlite of this project is the exterior of the building where we really tried to capture Thunder Bay with the materials to be used including masonry, a lot of glass to promote the amazing views over the waterfront as well as wood. We want to identify each main entrance with those main elements. On the inside of the building we have tried to reenforce it is not just a hockey arena but a convention and event centre capable of hosting a multitude of events from family shows to concerts or hockey."
" The site has contributed to what we call in the business, a split level configuration, which is a great starting point for the building. It has allowed us to have a very steep bowl with excellent sight lines that contribute to the vibrancy and excitement of the space. It will be a very exciting place to be and watch an event. As a 5700 seat facility for hockey, so a very good size, there won't be a poor seat in the whole place whether you are a hockey fan or concert goer." " This will be a world class facility as it is an hybrid model between a typical multi use building- but the convention component really makes this building unique and much more versatile. It's going to be different than most facilities you see across the country. I have been designing these facilities for 25 years now with most of my career focused on these types of buildings. I love doing it! They are amazing to watch getting developed and interacting with all these people, all over the world, and then going to opening day with the opening event and seeing all the faces." " The structure isn't elaborate. Our experience in design and PCL'S experience in construction means we will have a very well outfitted building but not going overboard. We will spend the budget where it needs to be spent. You have a very demanding climate here so it is important to put high quality materials on the outside of the building. You want your facility to last for a generation, basically. We have given a very attractive design that is functional and will work very well." " The overall affordable cap is $100 million which included a pedestrian bridge as well as the removal of the hydro sub station and the equipment you need in the building to make it useable. The VIP suites will rival those anywhere with 23 planned now, but we will study what is the right number for this market." " By having an operator like Global Spectrum as well as BBM Architects and PCL Construction we find we can be efficient in our design time and there is less risk in having to go back and value engineer things out because you stay inline with the costs right from the get go. It is a win win win situation. The city is part of the team that gives us feedback as well. Our team resume includes the Air Canada Centre in Toronto and Rogers Centre in Vancouver. BBB just completed the redesign of Madison Square Gardens in New York, which was a $1 billion project that took about 5 years to complete and was complex. We do work from 20,000 seat professional buildings all the way to 1 or 2 ice sheet community projects."
Frank Russo Senior VP of Global Spectrum " We will manage, market and operate the facility as a turn key set up. Currently we run three in BC and several in Southern Ontario including the Ryerson facility in the old Maple Leaf Gardens." " Our job is to book a good mix of trade show, convention, meeting, sporting events and 10 to 12 concerts. As we run 125 venues and 53 arenas across North America we have a network and are in touch with all of the acts that tour. You could see visually all type of attractions here such as say Sir Elton John, Canadian artists or country western acts.
Gary Green Senior Director of BBB Architects Gary was the youngest coach of the Washington Capitals in the NHL at age 26 and also did broadcasting with TSN and some international coaching. " I am excited about the location selected here. The late Mr. Jim Johnson and I stood on that site many years ago. He worked very hard in planting those seeds. The site will be a great beauty shot but also a site with potential economic development. Over 25 years I have seen these type of facilities being a great economic engine for the area." " The number of people who will come to the facility will be for many different events including much more than just ice sports. Every man, women and child will go to a event at least once a year. It could be a convention, conference and many other events."
" It will change the dynamic of the city. I have enough experience to know that site is the right site and you will see a great amount of activity through the years. An American Hockey league will fit well here with the history of hockey in the community. The American Hockey League will give Thunder Bay exposure like they have never had before- continual exposure year after year. It is the second best league in North America behind the NHL. The Winnipeg Jets are doing research and want their AHL team here. You will have the opportunity to reach so many other cities with their radio broadcasts and media coverage. The name of Thunder Bay will get incredible exposure. This will attract business and the exposure means far more in terms of imaging."