Thunder Bay Boys and Girls Club Provide An Amazing Service For Kids
by Scott A. Sumner

The Thunder Bay Boys and Girls Club officially started in 1971 when they applied for and received a provisional membership from the Boys and Girls Club of Canada. In 1972 the local group were given full
recognition as being a Boys and Girls Club. This meant they became part of a national organization and abide by all the core values and mission statement of a organization of more than 300,000 children they serve across Canada. Boys and Girls Club is international with the US being the most known, but they all across the world.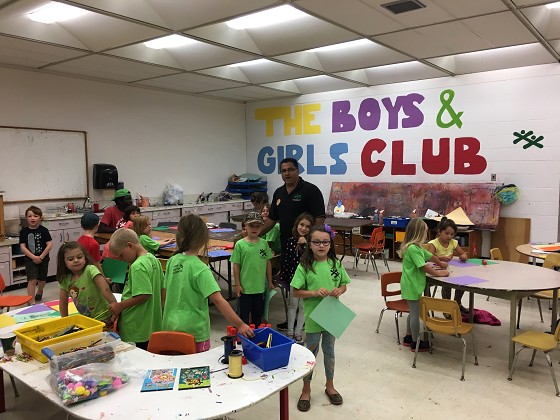 "We started with humble beginnings in the East End operating out of a 100 year old building called the Wayside House. In 2008 we purchased this property, the old Forest Park School, and converted into the first true community hub in the City of Thunder Bay. With the added space we have exploded as far as what we can offer not only with children, youth and families but with our community partners that share the space with us. We also operate out of the Vale Community Centre, 5 days a week during the school year, to bring much needed services to that part of the city," said Albert Aiello, Executive Director of Thunder Bay Boys and Girls Club.

The Thunder Bay Boys and Girls Club building is 48,500 square feet in size. Their community partners that share space are Science North, Alpha Court. the NNEC post secondary program, Tai Chi, Community Resource Centre for Kids with Autism and the Driving School. It is a busy place each day from 7:30 am to 11 pm.

Thunder Bay Boys and Girls Club offer a very extensive after school program serving about 150 kids a day. They have a safe walkers program where their staff go to their school and walk the children to the
building to ensure safety. There is a safe arrival program where they know who should be here and they have to sign in and sign out.

" In after school programming we do cooking, tutoring, reading circles, physical education, recreation and crafts. We also have an evening program where kids come after supper and participate in a variety of
programs including a teen program that deals with leadership and team building geared towards to getting jobs. We run breakfast programs in the city of Thunder Bay serving over 86,000 breakfasts yearly. We also have a community outreach program three days a week out of St Jude School, in the east end." said Albert Aiello.

" In the summer there are day camps with 4 different age appropriate groups and a free programming in the afternoon to keep the kids busy. Ministry regulations guideline is a 1 to 10 ratio of staff to kids
which can be hard to come by to get that many staff and have the funds to pay them. The new minimum wage coming in will make it even more difficult and will be a challenge. Most of what we do has zero cost
recovery as everything is free except for a $10 annual membership."
said Albert.
" The Canada summer jobs program has been really good to us. Right now we have a staff of 18."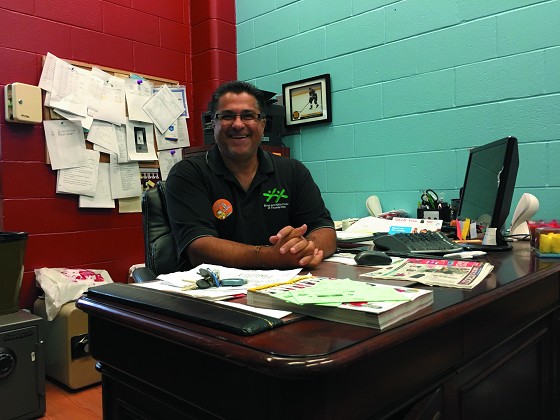 " Many of the staff have grown up in our program. We love being an employer and offering our kids the opportunity to work here. Presently we have 3 or 4 kids that have grown up here and we offer summer jobs to them. Our Birthday Party program started out as a way to offer first jobs to youth and now it has exploded and we have 6 or 8 kids, ages 16 and up, who have matured in the program and we have hired. It is meaningful employment and experience in the world of work. Our Birthday Parties have inflateables and a climbing wall. You need to book 3 months in advance." noted Albert.
Thunder Bay Boys and Girls Club kids are ages 4 to 18 and open to all kids. Traditional they are physically located in areas of need. All kids are treated the same.
" We receive no core funding from any level of government and start every year with $ 0 towards an over $1 million dollar annual budget. All our funds have to be raised, say whether with grants, but nothing
is guaranteed. Sometime we get cut from funders so it is always an uphill battle to make what we do a reality," said Albert. " We have been fortunate. We have supper clubs and have been blessed to have
businesses come on board to sponsor the meals which costs about $300 each to serve about 140 kids a meal. For example Pizza Hut, Investors Group, MNR, Westjet and Trans Canada Pipeline help and it all adds up to give our kids opportunities. We are a registered charity and can issue tax receipts."

Albert Aiello has been at his job for 28 years now and still looks forward to work everyday.

" The little things matter- somebody graduates from High school or gets their first job, it is a big deal. The everyday things- somebody who overcomes a shyness and before wouldn't even look at you in the eye
but now it very talkative. We see these kids grow up. We have had kids grow up in our program and now have their kids come here. We get invited to weddings and it is very, very rewarding. It is all about
creating an environment. Bricks and mortar alone don't make a program. We have a fantastic staff, a dedicated staff, that try to maximize each kids experience. We are all about family. It means something. We care about these kids and everything they do and want to steer them in the right direction with a well rounded experience."