Thunder Bay Architect John Stephenson: President of
Ontario Association of Architects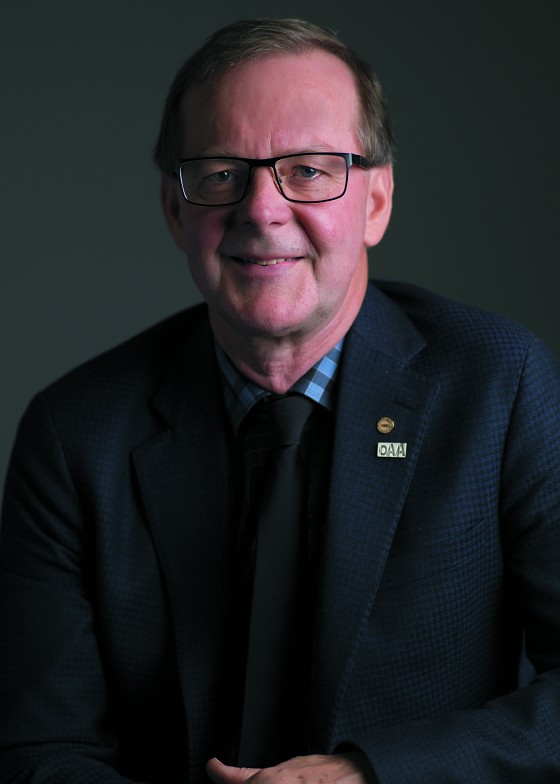 Local architect John Stephenson has recently become President of the Ontario Association of Architects. I asked him some questions about the position.

1. It must be quite an honour to represent the Ontario Association of Architects as President. What does it mean to you?

Being elected OAA President by my peers on OAA Council is certainly an honour but more than that it's a huge responsibility. As the spokesperson for the Ontario Association of Architects I have the dual responsibility of first and foremost, advocating for the protection of the public interest, which is about ensuring that society benefits from excellent architecture that is safe, healthy, performs at the highest levels and lifts the human spirit. Secondly and of equal importance,
I have the responsibility of speaking on behalf of my profession, of advocating for the important and central role that architects play in the creation of a built environment that meets these lofty goals. I
think my long career in practice here in Northwestern Ontario and my many years of involvement as a volunteer for the OAA and in the governance of my profession gives me a strong and balanced perspective on why architecture matters to all of us and why a strong profession of
architecture that is valued and respected, helps to protect the public interest. The buildings in our rural and urban environments are the built expression of our culture, public building especially. We say that architecture affects everyone every day and without architects there would be no architecture. It's very exciting for me to be able to advocate for the public appreciation of architecture and to be the public voice of the OAA which represents such a strong and vital
cultural industry and profession.

2. Tell me a little about the architects group, some history, number of members and impact they have on the Ontario economy.

The Ontario Association of Architects is a self-regulating professional association governed by the Ontario Architects Act. The Architects Act confers on architects an exclusive right to practice architecture by providing services to the public. The social contract embodied in the Act requires in return, that the OAA regulate the profession by establishing enforcing the qualifications of members to practice architecture, ensuring their continued competence and policing their performance through a complaints and discipline process that is accessible to the public. The Act also sets out additional goals which include promoting the public appreciation of architecture. The OAA's
Vision is an Ontario in which architects are valued contributors to society, by creating a safe and healthy built environment that performs at the highest levels and elevates the human spirit.

The OAA membership consists of just under 4,000 licensed architects, which includes 114 licensed technologists OAA. These are members who have a license under the Architects Act giving them a limited restricted scope of practice in smaller buildings. The OAA membership also includes about 550 students in architecture programmes and just over 1500 interns who are graduates of a professional degree programme in architecture who are undertaking he experience and examination requirements for licensure. OAA also certifies architectural practices in Ontario which today number almost 1800. These practices likely employ upwards of 10,000 people in addition to architects.

As architects, the work we do significantly impacts and guides the construction and renovation of a very large majority of the buildings in Ontario. While the cost of architectural services represents a
relatively small percentage of the $33.6 billiion building construction industry, perhaps less than 3% overall, we hit way above our weight in terms of the value that we add to this industry through our creative input and our professional services. Every building embodies a vision for a future built environment and it is the architect that is the one professional amongst the many skilled and trained disciplines that collaborate to create the buildings we live work and play in that is
specifically trained to see the 'big picture' in order to merge the requirements of building owners, occupants, users and society in order to express the cultural history, vision and ambitions of the people and communities that use these buildings every day.

3. Do you have specific goals you want to achieve in your upcoming term?

The OAA has many worthy ongoing projects and initiatives, all of which are important. Having said that, there are a number of current initiatives that I am prioritizing:
One of the more urgent goals is to explore new ways to strengthen our approach to combatting bad procurement and contracting practices that put the public interest at risk either directly or indirectly. We need to mitigate or eliminate practices that marginalize the role of the architect and hinder the ability of our profession to provide excellent architectural solutions that result in safe, healthy, functional and uplifting public buildings. We must continue the advocacy for more enlightened procurement practices, including continuing to promote Quality Based Selection as a benchmark for retaining architects, but also, on a much more serious note, fighting back against RFP and
Contract Language that puts the public interest at risk by requiring architects to assume risk that is outside our control to manage and is therefore uninsurable. The Architects Act of 1984 defined the need for mandatory professional liability insurance for architects as being clearly in the public interest. Contracts that make this impossible to realise with certainty must continue to be opposed.
Maintaining the close working relationship with clients and end users of our buildings is central to our ability to deliver safe and healthy buildings that perform at the highest levels and which elevate the human spirit. Only architects are trained to marry all these requirements into design solutions for buildings. Unfortunately, our client relationship now is increasingly managed by Project Managers who do not understand or value the importance of our essential skills as architects and are actively working to commodify our services to the detriment of the public interest in architectural excellence. We must find ways to engage with the project managers and enhance their understanding of our value. At the same time, architects must also raise our game and become effective project managers ourselves.
Another very important current project of the OAA is the refresh and zero net energy/carbon deep retrofit of the OAA headquarters building in Toronto. This project will establish the OAA and, by extension the profession, as leaders in climate action through responsible architectural design. This will give credibility to all our members in their role as advocates for the need for climate change mitigation.As for longer term goals, some of the ambitions that are on my radar
screen include:
- The OAA needs to Work with regulators in other provinces to achieve a national consensus on a renewal of the path to licensure for architects through school and internship. The very nature of our
profession and the way we practice architecture is changing rapidly and our system of preparing young architects for practice needs to be more nimble.
- We need to advocate vigorously for housing affordability in general and First Nations community building and other important issues of public concern that intersect with the practice of architecture.
- We need to advocate for a provincial, and perhaps even a federal architecture policy to recognize and support the profession's valuable role in community building through public architecture.
- We need to talk with renewed purpose with our sister professions of Interior Design and Landscape Architecture about the potential for maximizing collaboration, and look for possible new organisational and professional synergies.

4. Your appointment is an achievement for NW Ontario. What will it mean for architects and others in general in NW Ontario?

We are a small profession in Northwestern Ontario but we have always been highly engaged in our community and region. Many of our members have a history of active volunteer participation not only in our profession and in its governance but also in the cultural, economic and
community life in our region and its cities and towns. I will of course use my voice to ensure that the unique challenges of architectural practice in Northwestern Ontario are not lost sight of
amongst my many colleagues in other parts of the province, but I am but one of many voices already doing this. More importantly, by raising the public awareness and appreciation of architecture and the valuable contribution of architects across the province I hope that we will be
able to foster the creation of excellent buildings and neighborhoods for the benefit of everyone.