The Keg Steakhouse + Bar Thunder Bay Complete Very Successful
Renovation : 38 days from Dust to Dinner
by Scott A. Sumner
If you have lived in the Thunder Bay area for awhile you are very familiar with The Keg Steakhouse + Bar with it's high profile, centrally location at the corner of the Harbour Expressway and Balmoral Street. This very successful restaurant has become part of the regions
fabric for over 35 years. Bob Stewart and Tom Pazianos, co owners of The Keg Steakhouse + Bar Thunder Bay have just completed an intensive total renovation of the popular restaurant.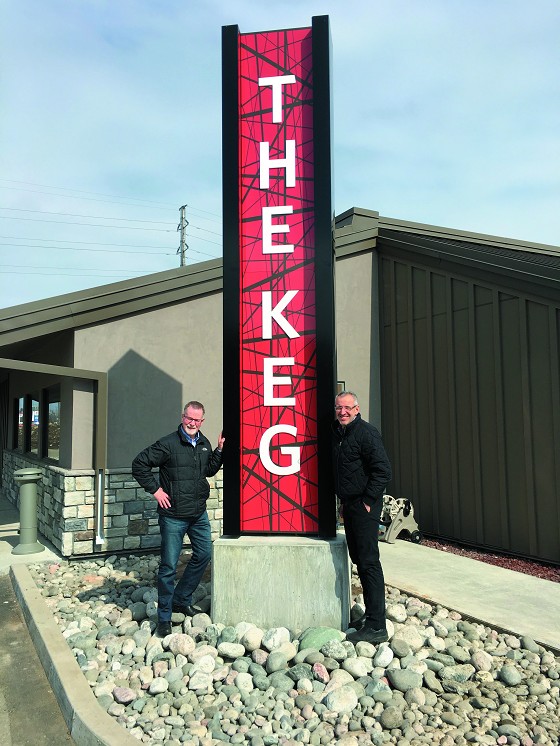 " The Keg came to Thunder Bay in February 1981. Tom and I were both here at the start. I began as a cook and Tom started as a waiter, and by the end of that year we were both in management. Opportunities presented themselves for ownership and we moved to that right away. I was a Keg owner at 23 years old." noted Bob Stewart.
Back in the day there were 70 to 75 Kegs in the 80's when Thunder Bay opened. Today there are over 100 Kegs in North America.
" The current Thunder Bay Keg building we are in was built in 1981. The gentleman who came here to pick this site then had incredible foresight considering back then it was an area of just bush and marsh. It has turned out to be a very busy road in Thunder Bay. In the 80's it was a big deal as to whether it was Fort William or Port Arthur so it put us right in the middle, which was the best thing ever. There was nothing else around us then," said Bob Stewart." The building
footprint was 6300 square feet then and we haven't done any expansions of it until now. The expansion wasn't to gain extra seats but to gain some square footage to make our kitchen bigger. Our bar is also a little bigger but the dining area is the same size. We have 180 seats
plus the bar seating."
The Keg has done well from the start in Thunder Bay. It has been a give and take relationship according to Bob Stewart as they have long embraced Thunder Bay as a community. The Keg is well known for their many involvements in charity activities. In fact the Thunder Bay Keg team have just received the Red Cross Power of Humanity Award for community involvement.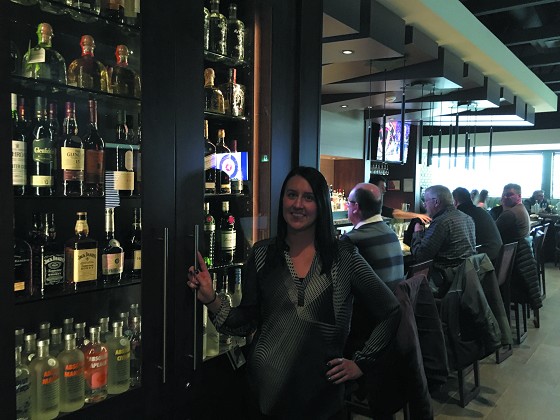 " The Keg renovations were started in September and we were able to continue our great relationship with the local company, Tom Jones Construction. They stepped up and just did a great job. We stayed opened to the end of December and shut down January 3rd. They got us
back open Feb 10th," smiles Bob. " Dave Bishop and Dave Pinner were our contacts at Tom Jones. The two Dave's did an incredible job running two shifts, 7 days a week and got it done. We wanted to get open as soon as possible. January is a slower month for construction and all the trades brought their stars for the work and they did a great job."
The Keg Thunder Bay building was totally gutted down to concrete and studs with everything brand new. FORM Architecture helped with the design of the exterior of the building. The inside was designed by Cheryl Watson from the KEG who picked all the finishes and table layouts with John Stephenson of FORM. The washrooms had already been refinished a few years ago so everything is new.
" It was 38 days from dust to dining! All the trades worked extremely well together and did their part when we needed them with lots of coordination. Tom Jones Construction had the horsepower to do the work quickly," said Bob. " The kitchen is all brand new and designed by
Russell Food Equipment. It is state of the art, easy to use, to clean and is spectacular. The renovation had made it easier for us to operate. The cooks are over the moon with the kitchen!"
The Keg Thunder Bay has 4 managers and some supervisors with a total of over 110 staff. There are 4 full time kitchen people, 4 people that clean the restaurant every day and the rest are servers, bartenders and evening cooks.
" We are proud to say we have been able to have over 2800 people working here over the years, helping them to progress with their careers and education," noted Bob. " The Keg has been a awesome journey. George Tidball originally started the Keg in the 70's and was the McDonald's Canada franchisee and was looking for a way to use the whole cow. He took the Keg along for a pretty exciting journey with other owners since then."
" The Keg Thunder Bay has won the Franchisee of the Year several times and have been in the top three in sales in Canada at times in the 90's. We have just kept going and rejevinating along the way until here we are today. Since re opening with our renovations we have been back to our 1980 sales volumes again every week," said Bob Stewart. " The restaurant is a great business to be in and keeps you young and very connected with your community. It is great business to have fun.
" Thunder Bay is a great community with so much to offer at many different levels. You have outdoor recreation. As long as you go out and experience it, Thunder Bay is the best place in the world to live. Thunder Bay has so much to offer and is a great community."

The Keg Steakhouse + Bar Thunder Bay open every day at 4 pm, 7 days a week. They only close December 25th!