Rosalind Lockyer wins international award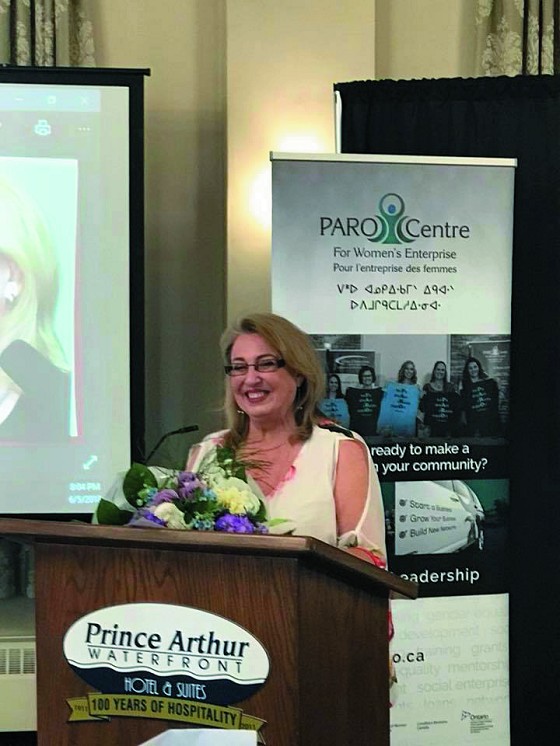 Rosalind Lockyer is the founder of PARO Centre of Women's Enterprise, a not-for-profit social enterprise and business support organization. As a not-for-profit, PARO collaborates to empower women, youth, and people with disabilities, strengthen small business and social enterprise, and to promote community economic development. After years working as a teacher, entrepreneur and community developer, Rosalind founded PARO in 1995 with the realization that women' needs were
different than those of their male counterparts. They needed more assistance to start and grow enterprises than being offered by many mainstream sources. This was especially true for those women who were most challenged by poverty, race and violence. Often, these challenges were systemic. Although she knew it would take time and perseverance, she was determined to do whatever was necessary to make a difference; and she set out to put money in women's pockets so that they could
better make choices, to leave a violent relationship, to start an enterprise to sustain themselves and their children despite the particular personal and systemic changes they encountered.

Under Rosalind's leadership, PARO has experienced tremendous growth, expanding its reach to inspire and bring about social and economic change throughout Northern and Eastern Ontario. The essence and originality of PARO is seeded in how Rosalind involves the women in the organization. For example, the PARO peer circle members are elected to the board of directors annually, and collectively work with Rosalind, as primary innovators and decision-makers for the organization.

Supporting her vision, Rosalind is also a founder and currently a Co-Manager of the national Women's Economic Council, volunteers with Women in Politics-Northwestern Ontario Committee, and the National
People-Centred Economy Committee hosted by the Canadian CED Network; and has volunteered on the Ontario Social Economy Roundtable, the Social Finance Constellation, the board, policy council and finance committees for the Canadian CED Network, and for Tourette Syndrome Services.

Her passion, experience, skills and endless determination make Rosalind a trailblazer in the community who has been recognized in various ways, including as one of the "Notable 5 Northern Leaders 2011"; as a recipient of the prestigious "Influential Women of Northern Ontario Award- Public Sector Award"; and most recently as "Woman of the Decade for Community Development" at the Women's Economic Forum 2018 in New Delhi, India.

Over the years, she has helped to shape the lives of the women around her for the better. In honour of this, circle members and others came together to celebrate her at a Circles of Vision event hosted by the
Protogenia PARO Circle. In addition to PARO Circles, the event was a tribute to PARO's fearless leader and an opportunity to praise the work in community development that Rosalind has, and continues to
accomplish.

Rosalind and her team continue to grow PARO in order to help women across Northern and Eastern Ontario reach economic stability; and from its beginnings in 1995, PARO has become one of the strongest peer lending networks in North America.