Port Of Thunder Bay World Class
by Scott A. Sumner
Recently I had an in depth tour on HM2 of our magnificent Port in Thunder Bay with Tim Heney, CEO Port of Thunder Bay .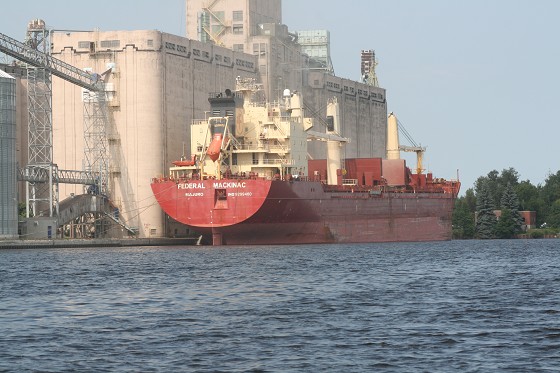 We first saw the Manitoba, a small laker loading at Richardson's Elevator. It was once a Paterson Ship originally launched as the Manidoc in 1966. It was built in Collingwood and capable of holding 19,000 tons at 26.5 feet and loading at 1200 tons per hour.
We also saw a larger ship from FedNav; a company owned by the Pathe family of Montreal. This ship can hold 35,000 tones.
" The larger ocean going ships can't be loaded to full capacity in the seaway but will take on 23,000 tons here and then top up in Quebec. This ship will go right to Europe. We work with 75 of these types of ocean ships and a total of 400 ships per year.," said Tim Heney.
Our excursion in the Port was a 15-mile trip through the North harbour and to the south at the mouth of the Kam River, the old Fort William Harbour. "We have 7 operating elevators in the Port and the largest grain storage capacity in North America. The storage is 1.2 million tons," said Heney. " We had a very strong fall but this spring we have seen weakness in grain shipments. The farmers look from August 1st, 2012 to July 31, 2013 as their year, but we measure on a calendar basis. If you look at the fall to now basis we are above the 5-year average but on a calendar year basis we are down quite a bit. We may see more volatility. I think we will see peaks and valleys."
A big change at the Port is with the Wheat Board, that was a system where they would call the wheat in to sell. Now the farmers sell the wheat themselves during times of higher prices. " We expect to see more activity in the fall and a large crop," said Heney. The Port also haven't had a lot of crane usage this year. There was one wind mill shipment so far this year versus 12 last year but they expect more oil sands shipments.
The Port has 550,00 square feet of storage building space and 8 miles of track so has lots of capacity and capability. They have a direct staff of 6 and are a small organization but in the terminal as a whole about 90 people work full time.
" We are seeing some pretty good optimism in grain especially with the Richardson family from Winnipeg. The project cargo business had gone very well for us over the last 8 years. We are in a little bit of a pause right now but it will go back to setting records. We serve Western Canada so we will be involved with any projects that happen out there."
" The Port doesn't receive any government funding so we have to be self sufficient. Some of the Ports we compete with on the US side are government funded but we can still provide a competitive product. We consider our Port and terminal world class and anyone in the industry who visits here finds it quite remarkable. After all the automation we can still load a huge capacity, some 150,000 tons in a day in Thunder Bay and it is a big advantage for us," said Heney. " The Port has changed a lot over the years since my start working here in 1991. There are fewer elevators now than in 1991 however we do project cargo now- that started happening only in 2004. We can also store other commodities. Every year seems to be a reset here with different products so it keeps it interesting."