Pic River Ontario New Health Center
Team Determination Produces Dream Come True for Health and Healing Center!

By Sherry Hanes

On August 1, 2018, BIIGTIGONG NISHNAABEG FIRST NATION Elders, dignitaries, local leadership, health staff and citizens, gathered in Biigtigong Nishnaabeg, to celebrate the opening of the Biigtigong
Nishnaabeg Mno-zhi-yaawgamig which was formerly known as the Pic River Health Centre.

Erica Perkins, Health and Social Services Director, with 34 years in the health industry and who has worked in the community for 21 years as health nurse to director, and combined, for the last eight years in health and social services, was extremely instrumental in pursuing this much needed facility to fruition, driving this project with passion behind the long-awaited dream! Erica, born and raised in Wawa,
Ontario, has lived in the Marathon community for 30 years now and graduated as an RN in 1984. She has worked in the Sudbury and Marathon Hospitals in her earlier years and has always loved helping others. Working just as diligently, The Thunder Bay Zone Facilities Manager for Indigenous Services Canada, Lawrence Dorey, went beyond measure to secure the funding and ensured the center was 'on-time' and on-budget'.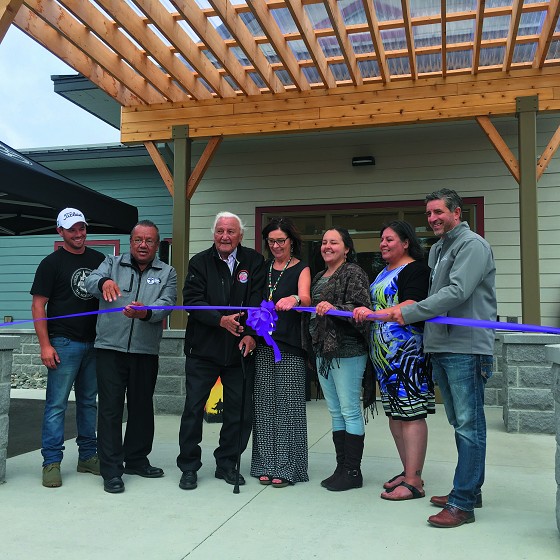 This comes as great news to the community as the health center offers, Addiction Services, Children's Oral Health Initiative (COHI), Community Health Programs, Local Medical Transportation, Traditional Healer Appointments, Family Physician Appointments, Information on Non-Insured Health Benefits, Diabetes Services, Home & Community Care Services, Home Visits, Immunizations, Flu Clinics, Foot Care, Recreation Programs, and Social Service Programs.


Pic River is a reserve on the north shore of Lake Superior at the mouth of the Pic River, near Marathon, Ontario, Canada. The reserve is 316.6 ha. within its exterior boundaries. The reserve contains the community of Heron Bay, Ontario and serves as the land-base for the Ojibways of the Pic River First Nation.

Pic River is known for the role it has played in developing "run of the river" hydroelectric projects in Northern Ontario. It is partner to three projects: the 13.5 MW Black River generating station (GS), the
5.0 MW Twin Falls GS and the 23.0 MW Umbata Falls GS. In all, these projects produce enough electricity to meet the needs of some 30,000 homes in Ontario.Ojibways of the Pic River First Nation are currently attempting to create a self-sustainable reserve with employment, education and resources being developed and used within the reserve itself. Thus far, Pic River has a thriving forestry company, a cable television company and a high-speed internet company.

The official ground-breaking ceremony took place on November 24, 2016, to begin the construction of the new health center.

As quoted from Erica Perkins, RN, CFNHM, Health & Social Service Director, Biigtigong Nishnaabe, (in part):

Grand Opening Speech August 1, 2018.
"It started with a Vision from Leaders and community members….. some of you who are here celebrating today and some who are no longer here in this physical world but are celebrating with us in spirit.
When that Vision began people spoke of what Health looked like….what a Healthy Community would look like and it always came back to Mental, Physical, Emotional, and Spiritual balance. With this in mind the Colours in the Health Centre were designed on the Medicine Wheel and the four directions. Architecture 49 worked with us and designed the colour scheme of our building to represent the Elements in the Four directions - Fire, Water, Earth and Air. Staff were then able to choose one or two accent colours in their offices – the colour they have chosen indicates the direction. These colours represent the work that we do here at the Health Centre with physical and mental health and how we strive to help community members keep their fire strong, and achieve balance in all aspects of their life. Health of the community essentially always comes back to the Land….the Language and the Culture and this building will help us deliver programs and services that reflect this. It is so exciting to see the Language throughout the building and visible to community members and staff every day.

This new facility is one step closer to having Traditional and Western medicine offered in one building and giving community members a choice. It will be amazing to have a sweatlodge here on site and to be able to have these ceremonies for community and staff on a regular basis.There are so many Partners to thank.Chief and Council for their leadership and vision. To Tony Jocko of the Anishinabek Nation and Lawrence Dorey from Indigenous Services Canada….thank you for truly listening and for advocating for Biigtigong Nishnaabeg….without the both of you the funding for this building would never have happened. Kelly Orza from Indigenous Services Canada for all of amazing help and being a sounding board when I needed it. Trish Foley from Indigenous Services Canada. Tony Afonso and Juliet Johnson
and all of the staff at A49 for the design of the building and overseeing the project from beginning to end. It has been great working with you. Sam Romeo and Gord Furoy and all of the construction crew at
BNL for your incredible craftmanship. JP Montano, Co-Director of the Dialect Revitalization and Alvina Michano, Biitigong Dialect Supervisor for their work on reimagining the Health Centre's employee roles into the language. These Nishnaabe language names can be seen on the signs throughout the Health Centre and the complete document can be found on the website under the Biigtigong Language Project. I would like to acknowledge the Health & Social Service Advisory Committee who provided guidance and support throughout this project: Council Portfolio Members, Leah Michano & Louis Nabigon, Community Members Stephanie Michano-Drover, Debbie Crosson, Anita Desmoulin Miigwech for your
support." (end quote).


The building itself, was predesigned but, it was one that could be worked with and changes were implemented that allowed for tailoring for addressing the needs for Biigtigong Nishnaabeg. Funding from health Canada, for just over 5 million dollars involved 3 phases, the design phase, the construction phase, and 3rd, the procurement of all of the furnishings. The center is beautiful and bright with colour and light. Everyone loves the energy around and inside this unique structure.
2005 was looking possible for a new center but, it did not make the list. In 2011-2012, the plan for the new center was once again on the plan… that is with the 'capital plan' but was bumped again because of
other more serious concerns for rebuilds in other areas of Canada. The old health center was for years, extremely over taxed for occupancy and servicing clients.

Currently, there are 27 staff that include, full time and p/t personnel for the health and social programs and also included, are visiting specialists, 2 doctors on rotation from the Marathon Family Health
Team. There is also Legal Aide personnel and a dietitian and a diabetes educator. There are About 500 persons that live in the community and the total band in approximately 1,200. (anywhere in Canada)
Erica could not say enough about the people who helped to make this dream come true and she also goes on to say, "The staff that I have working are the most amazing people that I have ever worked with and they go above and beyond anything that I have ever witnessed. No one went without services during the 2 days that it took to move everything from the old center into the new center. It is the greatest honour to work with them and they make my job easy!"
The actual move into the new building took place in May, 2018, when everything was being organized and set up but the grand opening was later.
The mandate is Health Promotion and Prevention, concerning public health on the reserve. The programs that are currently available are, Community Health Programs, Local Medical Transportation, Traditional Healer Appointments, Information on Non-Insured Health Benefits, Diabetes Services, Home & Community Care Services, Home Visits, Immunizations, Foot Care, Recreation Programs and Social Services Programs.

Team determination produces, dream come true for health and healing center!
Congratulations!