Ontario Helps Six Northern Colleges Work Together
Ontario is helping six northern colleges work together to expand access to in-demand programs and improve student access to education in the North. Collège Boréal, Cambrian College, Canadore College, Confederation College, Northern College and Sault College are designing and delivering shared programming to improve and expand access to training opportunities in eight subject areas — business, hospitality, media arts, health, community services, technology, trades and aviation.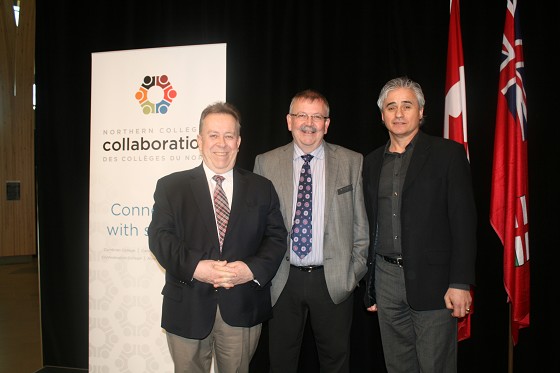 Ontario's investment in the Northern Colleges Collaborative Programming Project will help the colleges work together to: - Streamline resources to ensure long-term financial stability - Use their proven experience in technology-enabled learning to provide more students with access to postsecondary education - Improve the quality and efficiency of administrative and service delivery such as IT, program scheduling, curriculum generation and registration functions Helping improve postsecondary education in northern Ontario is part of the government's economic plan for Ontario. The four-part plan is building Ontario up by investing in people's talents and skills, building new public infrastructure like roads and transit, creating a dynamic, supportive environment where business thrives and building a secure savings plan so everyone can afford to retire.
QUOTES "We understand and appreciate that our northern postsecondary institutions face unique challenges in the postsecondary sector, so it's important that the province continues to provide support in a smart way. Through this investment, these six colleges will collaborate more effectively and help improve access to a high-quality education for students — regardless of where they live." — Reza Moridi, Minister of Training, Colleges and Universities
"All Ontarians should be able to benefit from a postsecondary education. By helping Ontario's northern colleges work together to deliver shared programming, more students will receive the training they need to compete for quality employment opportunities." — Michael Gravelle, Minister of Northern Development and Mines and Chair of the Northern Ontario Heritage Fund Corporation
"It's encouraging to see these six northern colleges come together to share best practices, streamline their resources and look hard at ways that they can drive quality in the system. We want to make sure that every student in Ontario has access to a world-class education and NEWS Ministry of Training, Colleges and Universities quality overall experience, and this investment will help us continue to achieve that goal in northern Ontario." — Bill Mauro, Minister of Natural Resources and Forestry
"Confederation College is excited to work with our fellow northern colleges to improve and expand access to programming. Providing a high-quality postsecondary education to students studying in the North has always been our top priority. This collaboration builds on multiple initiatives with our northern partners that will offer our students even more flexibility and support in their studies." — Jim Madder, President of Confederation College
Michael Gravelle, Minister of Northern Development & Mines " The province is providing $3.7 million over 3 years to a Northern College collaborative working together to make decisions on courses they will offer across the North. We previously funded a program called Study North. All six of the colleges are working together to increase opportunities for students." " We feel health and education are our top priorities. We are focusing on decisions we can make to help the growth of the northern college system. Students that come to Confederation College for an example, have a remarkably high rate of getting jobs when they graduate. We have unique challenges in the North often defined by geography and our smaller numbers. This is a smart collaboration of the colleges to work together with shared programs"
Jim Madder President, Confederation College " We want to attract people from the GTA here as we have empty seats. The typical student in Toronto doesn't normally think north of the 401. We are building great student accommodation here for people from around the world and have over 400 international students here now and it just continues to grow. It is a recognition of our great programs and staff here at Confederation College. In downtown Toronto they have many programs that are oversubscribed. The six northern colleges including Confederation College have space."