NorWest Community Health Centres Undergo Major Expansion
by Scott A. Sumner

When you drive down Simpson Street on the south side of Thunder Bay you have probably noticed the large construction project at the long time NorWest Community Health Centre site.

This health facility is undergoing a more than doubling of size to better accommodate the on site staff of 60 and large client base.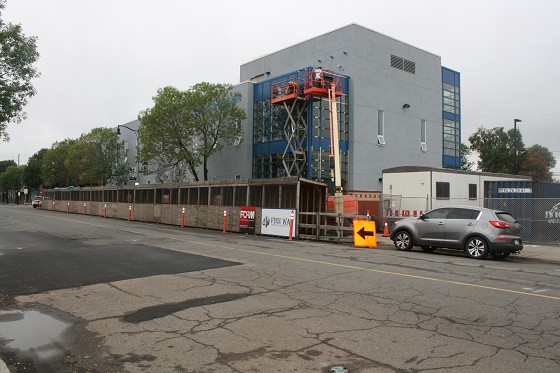 " We have been around since 1998 on Simpson Street. This building we are in today is about 26 years old. We have outgrown the building and have been struggling for space for about 5 or 6 years now. It has been over 10 years trying to get an expansion of this site." said Wendy Talbot Chief Executive Officer, NorWest Community Health Centre.

The organization started in a small storefront on Simpson Street just down the street from their current operation. NorWest Community Health Centre is a multi service organization that provides primary health care in addition to many services such as social service programs, counseling and advocacy.

" We deal with some pretty complex issues that people struggle with and serve some of the most complex and disadvantaged people in the city." said Wendy.

NorWest Community Health Centre also provides services to the District of Thunder Bay and has a site in Long Lac. Their staff includes physicians, nurse practioneers, foot care specialists,
dieticians, social workers, community heath workers- a full range of health care professionals that deal with almost anything imaginable. They have approximately135 staff in the organization.

" Part of the issue in health care is if a senior has fallen, why did they fall. Does it have to do with their diet, a disability, is there not supports in the home? We deal with the whole person. It is a
truly interdisciplinary model and our team works together." said Wendy Talbot.

The NorWest Community Health Centre serves a significant number of people with about 20,000 charts in the whole organization.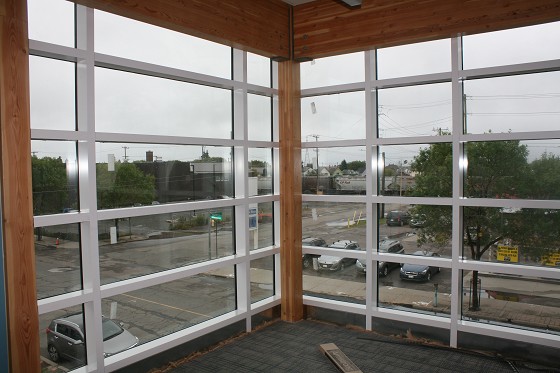 This well-designed new space will help the NorWest Community Health Centre. This original space was designed for 12 staff and now houses over 60 staff.

" Over the past 12 years we have been purchasing lots in the area such as across the street, a garage and 4 more properties to expand this building. We will also have a garden sitting space of about 50 by 50 feet. The addition is 16,000 square feet with about 13,000 presently so it will be a substantial increase for us." notes Wendy. "The construction started last July and we are close to completion, but not there yet. Right now we don't have enough space for our staff, as simple as that. We don't have a reception area that is big enough for our clients. It becomes a risk management issue for us. If you get some wheelchairs or a baby buggy it is pretty crowded and not conducive to good care. We also need more exam rooms. The new facility will help us with this. We will fill this building expansion right away and it will make us more efficient."

An important addition the area for Wendy Talbot and her team is a new crosswalk for Simpson Street.

" We have been talking about a cross walk here for 15 years and is something that is more and more urgent. Simpson Street is a high traffic Street and the type of vehicles on the street are quite often large trucks. It is busy and wide and an artery with not many stop signs so speeds get higher. We are working with the city to get the cross walk.

Wendy Talbot has had an eclectic background, which helps her in this job. She started in the teaching field, worked with kids that are in trouble with the law, was an outdoor educator and has a degree in clinical psychology although that is not her forte. She also has some education in business.

" This type of job requires a varied background because you are doing a lot of work with people as well as administration, your funders, the ministry and so on. It requires business acumen but also the ability to work with people. We have a good management team that deals with the
operations of the facility," said Wendy Talbot. " You do need to understand the clientele.I have been around for 27 years now and I think if you are going to be in an organization that long you certainly
should love the organization."

" NorWest Community Health Centre has developed their organization with 12 staff when I first started and have about 135 now. It is a complex organization but one I believe in whole-heartedly. We see the results with the people we work with. The construction project has been good and bad as well as frustrating at times but at the end of the day we will end up with a phenomenal facility."