NorthStar Training Centre Provides Valuable Skills Education
by Scott A. Sumner
The New Working at Heights Training Standard: In 2009, 5 workers plummeted 13 storeys to their deaths when the 40-foot Swing stage they were working on in Etobicoke broke apart in the middle and collapsed. None of them were connected to safety lifelines. A fifth worker, suffered broken legs and a broken spine. A sixth worker survived unharmed, as he was properly connected to his safety harness. As a result of these types of accidents, an Expert Advisory Panel was formed that issued several recommendations. One of the recommendations is the new Working at Heights (WAH) training standard.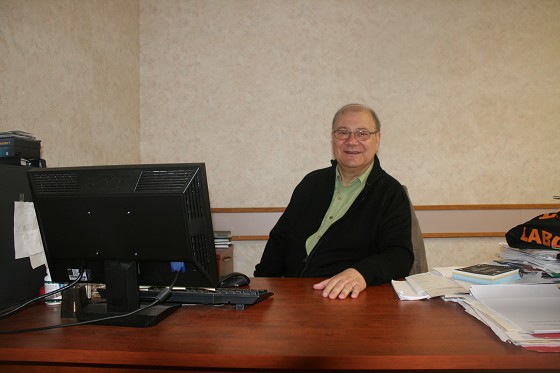 As of April 1, 2015, employers must ensure that all workers must complete a Working at Heights training program that has been approved by the Chief Prevention Officer of Ontario and delivered by an approved training provider before they can work at heights. Workers who prior to April 1, 2015 met the Fall Protection Training will have until April 1, 2017 to complete an approved Working at Heights training program. This training is offered and delivered in Thunder Bay by LiUNA, Local 607's Northstar Training Centre. Because the guidelines state that we can only train 12 individuals at a time, this poses a significant challenge. We must ensure that all of our 1100 members receive the new standard of training for Working at Heights by April 1, 2017. Northstar Training Centre has been very busy training its own membership while also training workers from the general public including many First Nations groups.
Most of the training we deliver includes the Construction Craft Worker, the Red Seal Trade of the Labourers (Trade Code 450A). This consists of two levels of training (CCW Level I and CCW Level II). We currently employ 3 trainers and we are planning to hire a fourth. Other training courses we deliver include: Forklift/Skid Steer Loader, Chainsaw Safety for Construction, Elevated Work Platforms, WHMIS, Confined Spaces Awareness, Pipeline Construction Safety Training, Oxy –Propane Cutting, Basic Scaffold Erection, Hoisting and Rigging, Trenching, Traffic Control & Hand Signals, Proper Respirator Handling, Propane in Construction, Hilti Powdered Actuated Tools and Construction Craft Worker level 1 and 2. LiUNA Local 607 has had a long history and many successes working with our First Nations partners on projects such as the Lower Mattagami Project with the Moose Cree, Cochrane Solar Farm with the TTN, Red Rock First Nation at the Nipigon River Bridge Project and the Sioux Lookout Area Aboriginal Management Board (SLAAMB) at the Sioux Lookout Hospital and Hostel projects.
North Star Training Centre Luigi( Gino) Russo, Business Manager LIUNA, Local 607
" I have been here in this office for 26 years now. We are the Labourers International Union North America- Local 607 LIUNA. For example our members build bridges, are carpenters and are in some trades. We had 1200 members last year with some large projects underway."
" North Star Training is a training centre LIUNA created. We provide our members and others as a minimum, the basic safety skills as well as many other skills including working at heights. As of April 1st all the new people and those that have expired training must take the new version of training."
" We are the only Training Delivery Agency- TDA in NW Ontario. We provide CCW Level 1 and 2 training as well. This is a 16 week course and we do it every year. In our office we have 3 full time trainers."
" The height training is a 2 day program with all new training. We have to train all our 1100 workers in a year and half and only 12 people at a time. We also have scheduled training which CCW."
" This new training is good and will save lives. We are training our own members and all the First Nations who want to get ready for the Ring of Fire and Jackfish project that is coming up around Armstrong. We make sure the people are qualified to start work when called." The wages of Liuna members go from $30 to $38 per hour plus pension, health and welfare training, vacation pay of 10% for a total of $40 to $48. Our workers can work a long career."
Some of the First Nations partners, councils and stakeholders we are proud to work with include: · MATAWA (KKETS) (A First Nation Council) - to prepare their workers for the long awaited Ring of Fire and Little Jackfish Hydro Electric project and many other projects in Northern/Northwestern Ontario · Wasaskiinaysay Zibi Inc. (WZI) (A First Nation Council) - getting their workforce ready for the Little Jackfish Hydro Electric project and many other projects · Taykwa Tagamou Nation (TTN) - implementing training to prepare their workers for the New Post Hydro Electric Project, located North East of Kapuskasing · 7 Generations Education Institute, starting in 2014 we launched training programs to prepare the students for the exams of the Construction Craft Worker Red Seal Test. We also anticipate 4 more courses starting soon in preparation for the upcoming development of the New Gold mine in Rainy River.
LiUNA, Local 607 represents over 1100 members working in all sectors of the construction industry. Local 607 has reached new heights in the last five years, both, financially and by doubling its membership, mostly due to the highly skilled and professionalism of its employees. LiUNA members have benefited from work at many large projects like the Hydro Electric Projects at the Lower Mattagami River, the largest OPG projects of their kind in 50 years where we employed more than 450 members. While many of these projects are slowing down considerably, we still believe that the years ahead will be prosperous for our members. Major projects expected to start in 2015 and beyond in Northern/Northwestern Ontario: New Gold Mine in Rainy River New Post Hydro Electric – North East of Kapuskasing Energy East Pipeline Atikokan Hospital St Joseph Care Group phase II on North Lillie Street Lakehead Psychiatric Hospital on North Algoma Street The Hampton Hotel on Arthur Street West The Hotel at the water front The twinning of Hwy 11/17 from Nipigon to Thunder Bay Ring of Fire Little Jackfish River Hydro Electric project Many other Infrastructure projects on Highway 11/17 And more projects will be announced in the coming days.