Northern Ontario Tourism Summit held November 17 to 19 at the Victoria Inn
by Scott A. Sumner
It was a very busy week for many delegates from all over Northern Ontario at the Northern Ontario Tourism Summit.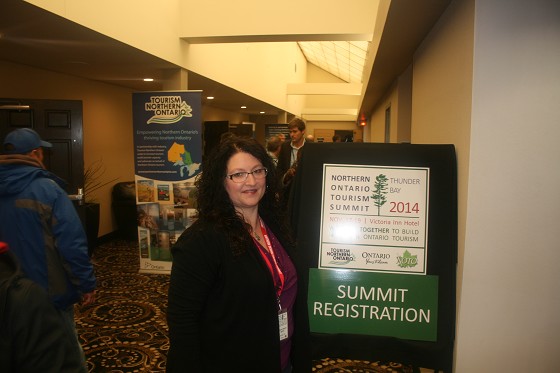 " We are non profit organization that advocates on the behalf of the resource based tourism industry since 1929. We are membership based and do some projects with government. Our members are hunting and fishing lodges, canoe companies- those businesses that rely on the natural resources to do their business." said Laurie Marcil Executive Director of NOTO Nature & Outdoor Tourism Ontario.
" We have an AGM each year but this year wanted to partner with Tourism Northern Ontario which do market, workforce training, investment attraction- those kinds of things. We have over 275 registrants for this event which is phenomenal. This year brought in hotel, motels, tourism organization and government here which is great," said Marcil. " This event is all about moving forward and progressing the tourism industry in the north."
The conference began Monday night and had pre and post seminars on topics such as consumer service which is practical to provide members an opportunity to advance their business.
" We have had some tough years recently. The Northwest people have guests that are predominately US so when the US hurts we hurt. We have other challenges with heavy government regulation coming down on the industry in areas such as drinking water, septic systems, fuel storage and dispensing- the list goes on and on. It is preventing us looking forward with our focus and our resources are at those challenges and meeting those compliance requirement. You need to focus on the positive stuff. We want to focus on moving forward. NOTO as an organization is trying to help our members in these areas with adapting to the new regulations and lobbying government."