North American Palladium Mine Celebrates Reopening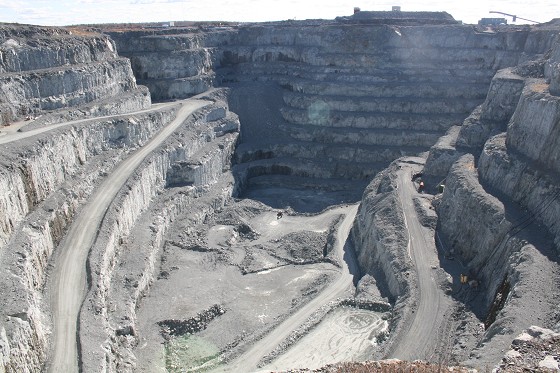 On October 13th several dignitaries held an event to celebrate the reopening, after a 17 month shut down, of the Lac de Iles North American palladium mine located some 150 kilometers north of Thunder Bay. Some 180 people are now back on the job producing a valuable metal
for the world.
"The world economic recovery means palladium is now trading at $590 an oz so that is a big turnaround from around $200 per oz 2 years ago. During the year and a half we weren't operating, we made a big cmmitment in exploration which we hadn't done a lot of in the past. We hired 19 geologists and set up operations in Thunder Bay and were fortunate to find the Cowboy and Outlaw zones and will continue to explore," said William Biggar, President & CEO North American Palladium.
"We also looked at ways to be more efficient in our operating costs. This is a new era in NAP and we are going to invest over $250 million to transform NAP into a long life operation. We will increase our yearly production from 140 thousand ozs to 250 thousand oz. Our cost to produce an oz of palladium will drop from $325 to $125 an oz, a 60% decrease. This will generate substantial cash flows per year, over $100 million, and give us the ability to reinvest in exploration and processes to extend mine life and create more cash flow."
" Mining is a high risk operation by its nature and two of the variables are out of your control- the price of palladium on the market and the Canadian US dollar exchange rate which can hurt cash flow. If we can produce palladium at $125 an oz it should work well. The Ontario
Government has assisted us with the Accelerator program which helps with
equipment costs and the other energy rebate program of up to 2 cents per kilowatt hour. We will be a very low cost producer here at $125 oz and will be the lowest cost producer in the world," said Biggar. "Economies emerging like China, Brazil and India are buying the
metal. They are migrating 30 to 40 million people to the middle class each year and one of the first things they buy is a car which requires a catalytic converter and palladium."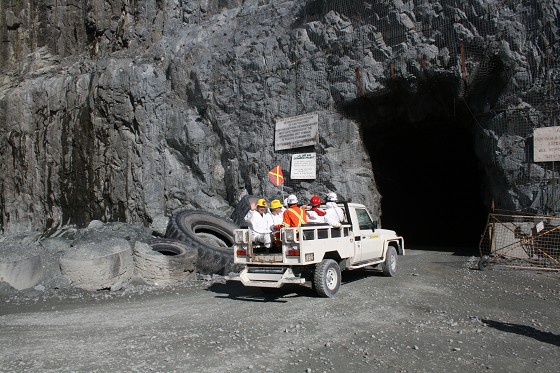 " We have been mining here for 17 years now. All of our employees live in Thunder Bay and we use Thunder Bay businesses for work here. Our relationship with First nation Gull Bay has been excellent as partners.We have had a very successful restart of the mine as a world
class producer." said Biggar.
" I am very excited to be here today. Lac des Iles is a strong source of pride to Thunder Bay and Ontario. They have invested over $500 million here in the last 20 years. It speaks to our mineral resources and environment so the mines of tomorrow can succeed as an important contributor to our economy. Right now there are 155 companies working on 255 exploration projects in NW Ontario spending $150 million. The Ring of Fire has 31,000 claims there. I believe there will be new mines developed in the area," said Michael Gravelle, Minister of Northern Development, Mines and Forestry. "Bringing 180 people back to work is great. This is an important operation in terms of the mining community, the closest mine to Thunder Bay. They realize the potential for a long life here. We have incentives to help them. I am excited
about the Northern Industrial Energy Rebate program. We want a positive investment climate in Ontario. The high metals prices have helped the industry."
" NAP had made a huge role in our economy as a significant employer. There are some extraordinary jobs here for new engineers and other skilled workers. Mining had become a global business with people from all over the world working here. The mines like this have become very efficient in there operations and nimble at reacting to change. Today countries like China and India are creating huge demand for our resources like palladium." said Steve Demmings, CEO of the CEDC. We have created a working group and have 4 miners working here with a goal of 12 in the near future. We have 10 members doing line cutting. East Coast Catering is on site and their goal is to have 100% employees from our Gull Bay First Nation. I see it as an opportunity for the Gull Bay First Nation to prosper and work together." said Gull
Bay Chief Wilfred King.
"The current price of palladium gives us confidence investing $200 million dollars in the future to build the shaft and development work beyond that to total $250 million. We have 9 years of operation right now but hope to find more ore in the future. When we were shut down we
spent $15 million in exploration and currently have 19 geologists working in Thunder Bay," said Jeff Swinoga, Chief Financial Officer of NAP. It is listed on the TSX and New York stock Exchange. "We also have the Sleeping Giant Mine in Quebec near Val 'Dor, Quebec, a gold
mine so we are a two mine operation. Lac des Iles is our flagship mine and supplies 3 to 4% of the world's palladium. There is only one other palladium mine in the world at Stillwater, Montana." There are other sources in Russia and South Africa that produce palladium as a by
product of another metal such as nickel.It was fun to see the huge operation at Lac des Iles from the surface and underground. This is an impressive business that calls Thunder Bay its home city.