New Equipment Training Opportunities in Thunder Bay
by Scott A. Sumner

Melissa Hardy-Giles and Paul Giles are co owners of Origin Operator Recruitment & Training, an innovative company that utilizes state-of-the-art techniques to train equipment operators effectively. They make heavy equipment training and careers accessible to all, and
do it in a fun, safe and cost-effective way by utilizing state-of-the-art simulators to measure skill/ability/interest/etc. for three main purposes: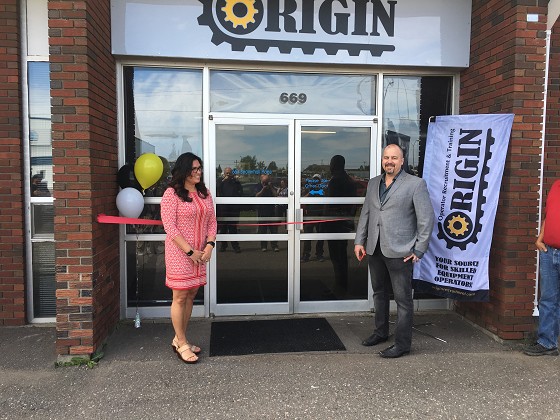 1. To determine suitable candidates for further training

2. To build training programs based on skilled, motivated and suitable trainees

3. To refer existing operators to employers with available operating positions (skills database)

" Today is a milestone as we are launching our training centre in the city. We were formally based out of Fort William First Nation and operated mobile. Now we have both as options- in class sessions as well as mobile. The vision of Origin is to quantify the skills of male and female equipment operators and connect them to job opportunities." said Paul Giles.

The simulators are manufactured by Caterpillar and are state of the art machines which are good as a training tool, can measure ability and are very accurate.

" The certifying of operators is inconsistent between different institutions and we are adding some quantification to it with data. This classroom will allow us to service individuals. Not everyone wants to go through a $10,000 6 to 8 week program but just want to enhance
their skills and improve as well as proving their skills. They come here by the hour and get some training." said Paul Giles.
The goal of Origin is to grow their operator network and provide more opportunities for those that are taking the training. For instance they have captured the attention of some of the mining firms that are operating here and are working at becoming a recruiting mechanism.
" We have a 20 year old girl as a student, Ashley, that was quite serious about our training and we were able to promote her and get her placed in employment. She is currently employed at the Musslewhite Mine as a rock truck operator," said Melissa Hardy- Giles. "We have found
that a lot of the employers are looking for women operators, the reason being they are more efficient, easier on the machines and seem to be really in demand. I have always tried to empower women, to try to change their lives. It could be through heavy equipment employment.
This training makes it less intimidating for women. We have a Women in ConstructionTraining program and want to expand to get into new areas and provide opportunities."

Origin still have the capacity to place their simulators on a Pilatus sized aircraft and fly them into a remote community. They also have a mobile classroom in a trailer. The training is for males and females. The work place is changing and more females doing the work is
happening.

" Operators may not have the network to get a full time job and showcase their abilities and we have been able to help with that and promote them. Our goal is to get the relationships and trust built with employers in the region." said Paul Giles.

The ORIGIN Mission
Recruit, quantify and inventory skill of equipment operators and connect them to employment or to provide additional training prior to employment.

How Is ORIGIN Different?

As a First Nation owned company, we help bridge gaps between Communities & Industry.

And with the knowledge of our Communities, we have incorporated Life Skill & Job Readiness components into our skilled training programs. All by using real CATERPILLAR simulators.

For Individuals, we provide a Comfortable process to help discover natural skills and possible career paths.

For Industry, we provide the Solution to finding quality operators.

For Employers, we can help Save Money by implementing intelligent screening services that find the right people for the job.