Nanabijou Childcare Centre: A Dream Come True!
by Scott A. Sumner
There is a colourful new building on the Lakehead University campus across from the Thunder Bay Regional Health Sciences Centre! This brand new 8000 square foot facility is the new home to Nanabijou Childcare Centre. The Nanabijou Childcare Centre was started January 1st, 1988 and they spent 26 years in a renovated space in the Pretti residence. They soon out grew that and started in another space in the Avila Centre for the last 15 years. The Nanabijou Childcare Centre had two rented spaces from Lakehead University where they provided childcare. " We moved into our new building two weeks ago after a lot of hard work by our board of directors through the years with lots of planning, ideas, enthusiasm and input. Now we finally have a space that is taylor made for children and we are really excited about it!" said Sheila Wilhelm, Director, Nanabijou Childcare Centre. " In the past we were very cramped and it was a challenge in two centers but this new centre has answered all the problems."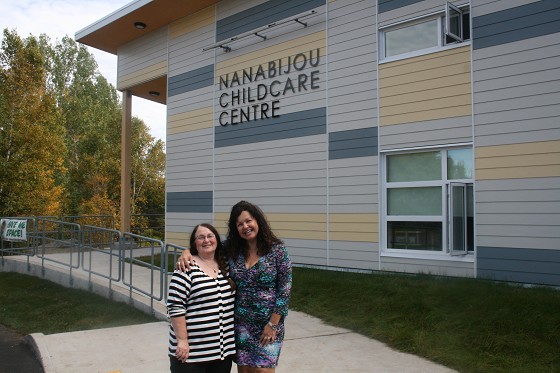 The project took approximately four years to complete. The board started out with Thunder Bay Ventures which gave them a small grant to do a feasibility study and they also had a small capital fund and just grew from there. "We got the Lakehead University Student Union LUSU on board with us with a referendum which gives us funds each year until we get our mortgage paid off. The Northern Ontario Heritage Fund gave us a $1 million grant which was very, very essential for us and we couldn't have been able to do it without them," said Tammy Squitti, Chairperson on the Volunteer Board of Directors. In the past the Nanabijou Childcare Centre had over 200 children on their wait list and knew there was a need and if we built it they would come which has proven true! The building is about 40% larger than the the combined two spaces rented previously. There are now 107 children that can be taken care of with a staff of 18. Their hours are from 7:45am to 10pm Monday to Thursday and 7:45 to 5:45pm on Friday. Many of the students have classes until 10pm. " We have a good mixture of LAKEHEAD UNIVERSITY students, faculty and staff as well as the community. Part of our mandate with LUSU was to allocate 50% of our spaces to students, 25% to faculty and staff and the remaining 25% to the community," said Sheila. " We still have a waiting list. Our toddler and school ages are full with a few spaces left in preschool. We are pretty much at capacity after only 2 weeks of being open in the new facility." An infant space is $62 per day, a toddler is $44 per day, preschool $39 and school age is $36 per day in the summer. They do have subsidized spaces through the DSAB on a sliding scale depending on your income.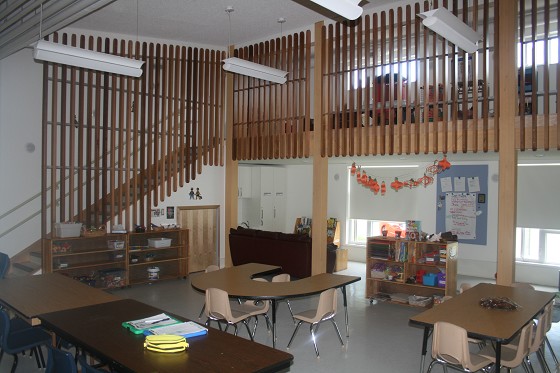 " We started with a blank slate and hired Bridgeman Collaborative Architecture from Winnipeg. We chose them because they had experience in building day care centers and understood what children need in their day," said Sheila. " DRD Construction Services were our general contractor and did a great job."
" We worked well as a team and my role was to make sure we stayed within budget. We would have loved to have a greater, more elaborate building centre but we had a budget. The real purpose was for the children. We went with something simple but creative with slanted windows, the colourful siding and we tie in well with LAKEHEAD UNIVERSITY." said Tammi. " It was important to be on campus and LAKEHEAD UNIVERSITY leased us the land for $2 per year. Also having the children come to university at an early age, that mindset is important. If your parents didn't go to university it is a different world here but if you come to the centre already you are on campus. The children use the Hangar, the pool and attend different events on campus."
" What I like best about the new centre is the fact we have a place built for children and can care for children on campus. It is designed for the needs of children and staff, we can finally use efficiently and effectively and can accommadate many more children here." smiles Sheila.
" I love so much of the centre and feel we are a real benefit to the community and LAKEHEAD UNIVERSITY for students. We can now take babies which we couldn't before. So having 9 babies here could mean the students can still stay at university when they have their children. As a parent myself with a child here it was so special to see someone caring for your child just like you would care for them yourselves." said Tammy.