Mileage Automotive Puts Customers First
by Scott A. Sumner
As a journalist it is always fun to meet someone who loves his work and is really doing something they were born to do. Leon Giardino, age 51, has grown up in the automotive repair business. His father Joe, was a mechanic and operated his own shops in Atikokan, Joe's Esso Service and then Atikokan Motor Sales.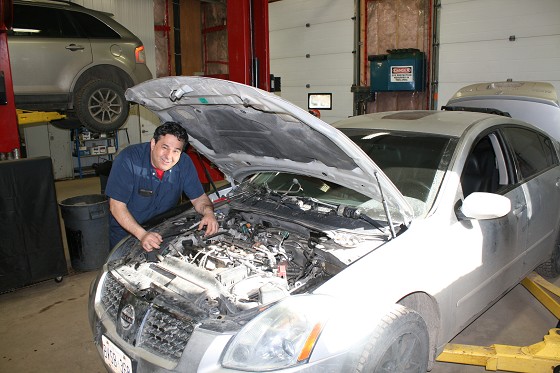 " Growing up we lived above the garage in Atikokan and I remember being in the shop at a very young age." said Leon Giardino. " I started riding little snowmobiles and mini bikes. My dad then sold Sno Jet and Yamaha motorcycles. I was always exposed to everything from small to big engines."
Leon moved to Thunder Bay, finished off his apprenticeship and began his life long career in mechanics. He worked at Thunder Bay Volkswagen, Dominion Motors and then Downtown Volkswagen.
Mileage Automotive Inc. was started in 2011 after city approvals were received to operate from their home site location with a large shop that is 100% up to date with all the tools. " In the later part of my life I thought it was time to do it on my own so started the business. I can control the quality of everything we do. I have a passion for mechanics and am enthusiastic about the work. When something new comes up such as a new procedure or tool we obtain it because you need the proper tools and training and knowledge to do the work well." said Leon.
Mileage Automotive have another licensed mechanic working with Leon to help the customers. They are fully computerized, using tablets that have all the vehicles manuals. If the customer is not present at the shop they can email or text a picture of the known defect or the problem and keep them up to date with what is happening. Also they can show the customers when they come out to get their vehicle.
" If you spend t ime with the customers and explain the repairs it helps everyone learn more," said Leon. " All the suppliers deliver parts here and we can work on any make and model. We do all repairs here except for wheel alignments which we sub out. We can do safety checks on cars, trucks and motorcycles. We will work on cube vans, 1 and 2 ton size trucks but not larger." Mileage Automotive will do preventative maintenance programs, called PM's which are really important. When they do an oil change and service it means the customer gets a way more thorough look at their vehicle. The hourly rate at Mileage Automotive is $85 per hour which is good value in todays market. They strive to do the job right and in a timely manner
" Our shop is on the Kline Road Ext and we are busy here. The shop is in the city limits and not far at all from the city centre. We are thinking about obtaining a second location in the city to serve more customers." said Leon. " Every car has its own unique character. Then there is the people behind the car who designed it. You meet interesting people in this business and I just like working on and driving cars."