Manitouwadge And Atikokan: A Return To Where I Grew Up!
by Scott A. Sumner
My father was a mining engineer and that meant you usually would end up working in a small town. In our case my dad started his early career in Atikokan at the Steep Rock mine and then moved our family to Manitouwadge to work for Noranda at their GECO mine. My sister moved to Toronto as a teenager to attend university and ended up staying there for her career. Recently on a visit for her to Thunder Bay we took driving trips back to both of these towns to see where we grew up again and how these towns were progressing.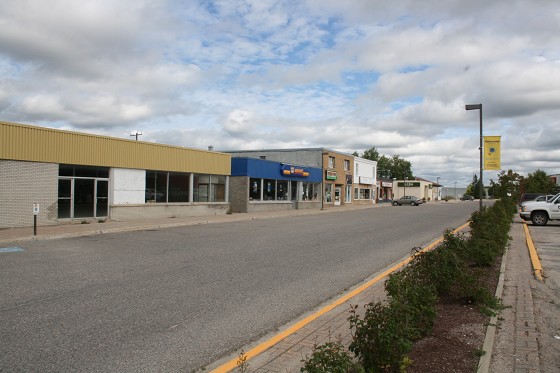 Our first destination was Manitouwadge which is about 250 miles from Thunder Bay, some 30 miles off the Transcanada Highway. My first impression driving there was how good the roads are today. The route from Thunder Bay to Nipigon is seeing a great transformation. The views to Marathon are spectacular and the Hwy 614 to Manitouwadge has been completely repaved and is excellent! It was fun to see the downtown of Manitouwadge and visit a old friend, Theo Gionet. The golf course looked great, similar to when my father was involved in it's creation in 1975.
A stop at a local coffee shop lead to an informal meeting with John MacEachern, Mayor of Manitouwadge who is originally from Nova Scotia and then lived in Toronto. " I retired from the the bank in 2002 and my wife wanted to live in a small town so we picked Manitouwadge, a great little town. We saw an ad in the newspaper with the price of houses and couldn't believe it. We thought they made a mistake, but it was right."
" There are 2200 people living in Manitouwadge now and when I came here it was 2500, but is has stabilized now. The main employer is Black River Logging and owner Lauchie Meagher with 110 employees. He does logging, chipping and sawmill- a little of everything. We also have Manroc Mining contractor as well as some people who commute to the corner Hemlo mine and some commute to Thunder Bay. We have about 100 kids in the high school." " We just got the highway redone, the first half three years ago and the other half this year. It was straightened and resurfaced."
" As a community we are financially pretty good but could improve. An average yearly home tax bill here is about $2500. We are better than some communities with debt level. The sewer system is completely redone and we have a water treatment plant. The airport here doesn't get subsides from the Federal Government but we get some money from MNR and come close to breaking even. You can fly here in a smaller plane, say 9 passengers. We try to promote tourism." " Getting the seniors living here helped stabilize the taxes and keep the tax base. When I moved in there were about 275 homes for sale by the mine and they pretty well all sold."
" Our golf course is great, a little bit like the ski hill which is a little unknown. We even have snowmaking equipment. We have a lot to offer for lifestyle. There is great fishing and hunting. Our winter last year wasn't that bad. My wife loves it. It is an ideal small town. We now have a hotel which opened 6 months ago after being closed for 6 years."
In 2014 Manitouwadge has a lot to offer in terms of lifestyle and quality of life. There are still very reasonable houses for sale, eg $12,000 and many recreation opportunities including snowmobiling, ATV, fishing, hunting, golf, skiing- the list goes on. They have 3 full time residents doctors and a modern hospital. You could create a pretty nice life in Manitouwadge.
Our next trip was to Atikokan, about 2 hours west of Thunder Bay. Again the highway there was pretty good and the last section appeared to be under construction. One of our first stops was at the old elementary school we attended which now is the home of the Pierces! Yes they have converted this 7500 square foot school to their home. We also saw our original home on Spring Street which was undergoing an expansion renovation.
Dennis Brown has been the Mayor of Atikokan for the last 17 years. He came to Atikokan in 1966 as an elementary teacher and spent the last 20 years as a principal. " I have been fortunate, it has been interesting and I have met a lot of good people. In 1980 we had both mines officially close and lost 1100 jobs. At one time the population of Atikokan was 7000." " We have had a few challenges, especially in the beginning, but things now are getting a little better. Today we have a group coming from across the world for the bio energy association touring our plant here. Tomorrow we have the official opening for the new Atikokan Generating station that has been converted to biomass by OPG. It has taken 10 years."
" In 2005 when OPG announced the closure of this plant the community was very upset and concerned about the future. We had public meetings, wrote letters, sent faxes and our MPP Bill Mauro worked with us very closely. Here we are today with the plant continuing along and that is so important to the town of Atikokan."
" OPG spent $170 million on the conversion and since 2012 we have had up to 200, maybe more construction workers in town renting hotel rooms, using the gas stations and so on so it has been good. Now the plant is going to operate for another 10 years and in the meantime there will be more of a need for power as more mines start up."
" Rentech is almost ready to open their pellet plant with 30 or 40 workers there plus the people that transport haul and harvest the wood. By going to biomass the jobs are being created right here in NW Ontario, not in another province where the coal was purchased. There will be 110 workers at the OPG plant itself."
" Also Resolute is building a lumber mill in Sapawe a few kilometers from here with 90 direct jobs as well as those people who harvest and haul wood. Both Resolute and Rentech each have a contract for 45,000 cubic meters of biomass per year each. Resolute is building a pellet plant in Thunder Bay.
It was fun returning to towns where I grew up. What struck me the most on these trip was how nice and sincere the people in these small towns are- it was a great place to grow up!