Maltese Grocery Complete Very Successful Expansion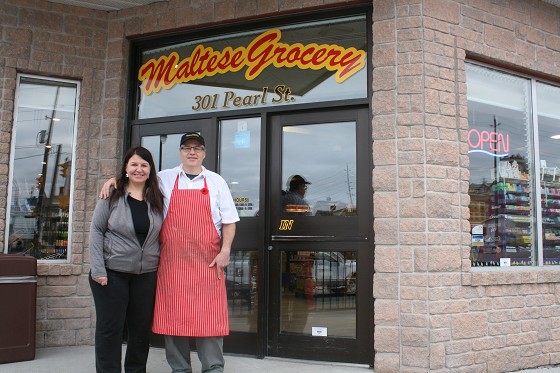 by Scott A. Sumner

If you live in the Thunder Bay area you probably have heard of and shopped at Maltese Grocery located for over 85 years at 301 Pearl Street in the Northward.This 4th generation business has become well known for their high quality food products and unique selection. Lisa and Dave Maltese, sister and brother, own the family business and have worked there from a very early age.
" I started in the business at age 8 years old pulling the little red wagon down the street to Wanson Lumber. In the old days we needed sawdust for the floor so I would pull the wagon, usually twice in the day, and fill it up with sawdust every 5 days." smiles Lisa Maltese, co owner Maltese Grocery. " The business was started in 1931 by our grandfather right here at the corner where our parking lot is now located. It was an existing house and they started with a store front,
the fruit stand and an ice wagon which he used to deliver ice to peoples houses. They lived above the store and eventually bought the house next door. My mom and dad then lived in the apartment."
Maltese Grocery built the existing building in 1989 and have done little improvements inside, but their current expansion was the next big undertaking. The sister and brother team spent about $1 1/2 million on the expansion and almost doubled the square footage of the store. In January they will introduce some new products.
" A lot of the customers here are families that started with their grandparents, then their children and now the grand children. We really are a community based business. We believe in supporting each other, your neighbour and friends and if everyone has that attitude the entire world is taken care of." notes Lisa. " When you support the local businesses you support yourself, your family, your neighbour. My brother and I invested so much back into this because we have the most
amazing staff, the right people in place, to make this a success. Our customer base is incredible and honestly we could never do this without our customers. Our customers are everything. They're loyalty and support of us I can't speak enough about it. They are incredible. We are so isolated here and Thunder Bay is very unique so it is very important to support each other and the outside communities."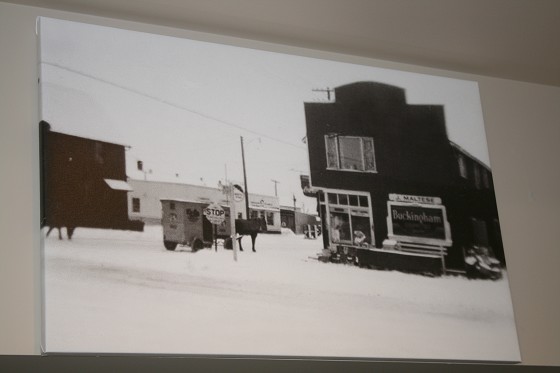 The Maltese Grocery team believe strongly in supporting local so bring in many products that are local from suppliers such as Chocolate Cow, Thunder Oak Cheese, Cupper Salad Dressing, Big League Pasta, DeBruins Greenhouses, Sleepy G's, European Meats, North Country Meats,
Busters Barbeque Sauce, wild rice from Kenora, the Polish Hall on Simpson, the Polish Hall on Court, The Fish Shop, Thunder Bay Meat Processors and the list goes on. When you support local you are supporting yourself is their motto.
" When you enter our store, we are actually an Ontario regulated meat plant so our standards are a lot higher. We get inspected very regularly. Today most food retailers don't process their own meat
products and when it is shipped in it is already several days old. We age our beef, our chickens are fresh and packed in ice. These little things are huge because of the quality you get." said Lisa. "We focus on our customer service. To us anybody can put a product on the shelve. What makes us stand apart is our customer service which is critical to our success and any business's success. Our staff is my family to me just like our customers are my family. We count on each other."
Maltese have over 30 staff and are open 7 days a week.
" In this expansion our contactor Aurora and the subtrades were unbelievable. With Gino and Peter and their team nothing phased them and nothing is impossible. The project went so well because of Aurora."
said Lisa.
What makes Maltese Grocery unique?
" We are always changing our product lines. Our cheese selection for example is excellent. I love to cook and look for things you can't find in Thunder Bay and then bring them here. I love cooking unusual foods and bringing in the ingredients. This business is a passion for me, this is my life, and my brother has the same attitude. Most of our staff have this attitude as well. Working here is like socializing and having them at my kitchen table. They are my family!"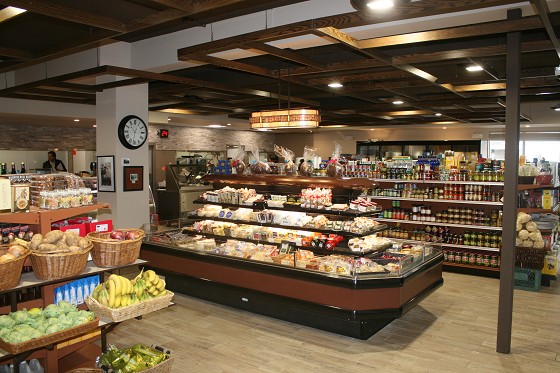 "Thunder Bay is the hub for Northwestern Ontario for healthcare, education and government and it is a pretty good economy. Mining is picking up quite a bit and I am confident it will continue and Thunder Bay will do well," said David Maltese. " We get customers from all over Northern Ontario. We try to get the best and most fresh food for our customers. We also produce most everything ourselves, it is not made somewhere else. We try to sell as many local products as possible as
there is a really big push for that. Everyone wants local food. It has become a movement so you need local independent suppliers. Local products don't just fit as well in to the big national supply chains. We try to find specialty markets and it has worked well for us."
After the store expansion Maltese Grocery will remain the same in terms of how they do things which was important to their customers. "It is still a mom and pop store just a little bit bigger. We brought
the store up to date with a better flow to make it easier to move around and shop, with more products," said Dave." This move has been excellent for us. We thought about this expansion for a long time and it is an investment in Thunder Bay. The customers have been good to us and we wanted to reinvest back into the community. Our staff have been here a long time and many are in their 40's so it will take them to retirement. Many see Maltese as a staple of the community and that is why we wanted to reinvest back into it."

It was great to see the expansion of Maltese Grocery and feel the passion the sister and brother team have for their business. On a Monday morning when I was there the place was hopping with customers and felt like a real family atmosphere.

You should check out the new expansion soon!