Lowerys Host Trade Show in Their New Location
by Scott A. Sumner
The brand new state of the art Lowerys location on Central Ave was a busy place recently when they held their 2013 Tradeshow and Sale. On site were manufacturers reps from across Canada to provide information about their product offerings.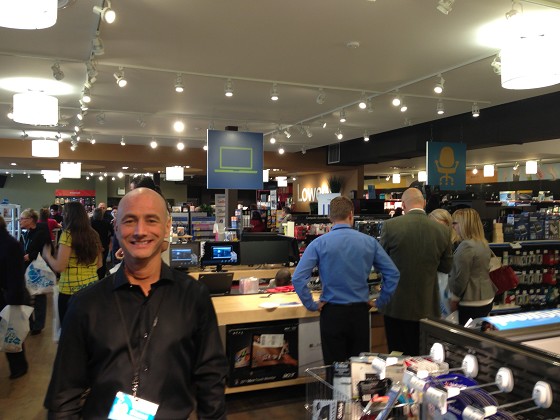 "We are very excited to host this event. Our main focus was to drive traffic into the store. We are all creatures of habit and used to going into certain places. We made a big investment in this property and have something new and exciting," said Shawn Christie, Partner with Lowerys. " People have to come in and see this store because it is absolutely spectacular. We are proud to have this for the community and offer a different shopping experience. We spent a lot of time putting this concept together. Today is going well and we have had hundreds of people here."
Mike McLachin is a Sales Executive, Ingram Micro Mississauga and Richmond BC. This company is an IT Distributor and carries logistics and distribution technology in Canada and the world.
" Lowerys is a great customer for us and we are happy to be at their 2013Tradeshow and Sale. They are unique because they serve corporate Canada and also have a consumer base as well," said McLachin. " We offer printers, USB keys, laptop and desk top computers, physical security products like cameras, data capture and inventory control. The customer can fulfill their technology needs with these products. The partnership is expanding areas so Lowerys can expand in these areas. We can support them from the back end. You don't have to be trained on all the technology as we have engineers on staff that can help the Lowerys customer. We can offer next day service with our products."
A growing new area of products for Ingram Micro is security. They have a complete division with over 20 vendors that specialize in products like cameras that you put up in your store or for remote monitoring. There is facial recognition software and even spacial software so that you know if someone comes in to an area an alarm will go off and can be sent to a computer or mobile device. It is really about securing an area for companies. The business owner could set this up in their residence as well. Fingerprint scanners are available which would unlock a door. It can also log when someone comes in.
" There is so much information available today. It is like drinking from a fire hose. You want to make sure that the things and data that is relevant for you is available." said McLachin.
Ron Evans, Western Sales Manager, Edmonton and Tom Daeninck, Sales Manager of Spicers, Winnipeg were on hand at the event showcasing their paper products. " We carry 7000 SKU's of paper products and also offer graphic supplies including the equipment, plates and inks. We are partners with Lowerys and have a great relationship," said Ron Evans. " The big issue in paper today is sustainability and the environment. People are concerned about where the paper is coming from and whether it is recycled. We are certified with all our products and deal with 50 different mills around the world. We only align ourselves with the mills that have the same feelings on sustainability as we do."
" After 31 years in the business I can say this new Lowerys facility is state of the art and a huge step up from where the industry was and is going. It has a total product offering. They have done their homework with this store.," said Evans.
A big part of our world today is technology and it was fun to get a first hand demonstration from Terry Law, Manager of IT and Chief Information Officer for Lowerys using Windows 8 technology and touch screens. Terry is passionate about technology and it really shows!
" Thunder Bay has many small business owners and it used to always be we had to think about our personal life and then we thought about our business life. Nowadays is it just life! Some people have said to me isn't it a bad thing to always have your office in your pocket? I don't think it is a bad thing because it allows me to go see my kids ski, see my kids play volleyball and still be connected to my office and get a lot accomplished. It makes my day more valuable. There has been more than one time I have pulled my motorcycle off the road, pulled out my Smartphone and dealt with some things from the office,"said Terry Law.
" Today I have Windows 8 with touch screen technology backed up by some cloud storage. I just created a folder for your company, called Thunder Bay Business, with a spreadsheet we made called Scott. It has my work with you in it. Without having to even think about it that spreadsheet is now on my desktop. My documents are synchronized. On my smart phone, with out me having to do a thing, here is the spreadsheet I created on my desktop. I made a change to it on my lap top and now we are reviewing it on my Samsung Galaxy phone without me doing anything," said Law. " It is about quality of life. I just snapped a picture of you with my smart phone and it is on my desk top automatically."
The traditional desktop phone set doesn't exist for Terry Law anymore. " My phone is a computer and I wear my head set. I can dial a call right off my desktop. It is all converged. I can take my laptop home and have my business phone right there. I do want to say though, it is not always about being reachable, it is about quality of life that allows you be productive so you can do more other things you want to do. We don't always want to sit at our desk all day long," said Law. " It is amazing to see where the technology has come but we are just seeing the beginning of technology. It is an ability to deal with all this information. We will next see a smart device called "digital assistant" that will decide for us what information we need to look at. Technology is coming into our life!"