Lakehead University Names Eighth Chancellor
by Scott A. Sumner
Lakehead University is proud to announce distinguished former career diplomat, entrepreneur and political strategist, Dr. Derek Hudson Burney, as its eighth Chancellor.
"Dr. Burney is an accomplished individual with a national and international reputation and deep roots in Thunder Bay," said Lakehead University President and Vice-Chancellor, Dr. Brian Stevenson. "Lakehead University is honoured that this former ambassador to the United States from 1989 – 1993 will now represent our great university at home and abroad."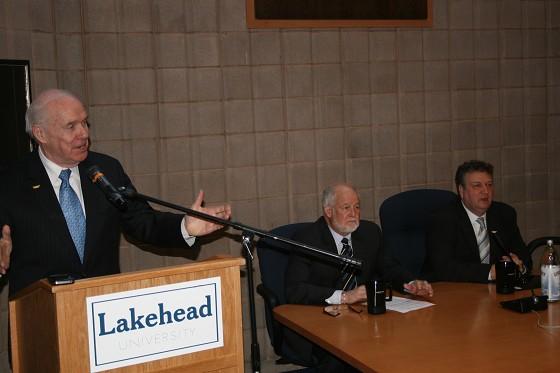 As Chancellor, Dr. Burney will use his experience, contacts and wisdom to fulfill various duties, including the promotion of Lakehead University's diverse local, national and global interests. In addition, Dr. Burney will have the authority to grant degrees at Convocation and represent the University at special occasions. "I am personally honoured to accept this appointment and look forward to representing Lakehead University as a beacon of academic excellence in my home town," said Dr. Burney, an Officer of the Order Canada.
"We are very fortunate to have as our new Chancellor someone with so much energy and vast experience in diplomacy, business, politics and academe," said Mr. Cameron Clark, Chair of the Board of Governors at Lakehead University. "Dr. Burney will help us achieve our strategic goals and connect us to the world."
Dr. Burney is Senior Strategic Advisor to Norton Rose Canada LLP. He is Chairman of GardaWorld's International Advisory Board, a Director of TransCanada Pipelines Limited, a Governor of the Ottawa Hospital Board of Governors and a member of the Advisory Board of Paradigm Capital Inc.
Dr. Burney was President and Chief Executive Officer of CAE Inc. from October 1999 until August 2004. Prior to joining CAE, Dr. Burney was Chairman and Chief Executive Officer of Bell Canada International Inc. (1993-1999). Dr. Burney's assignment as Canada's Ambassador to the United States culminated a distinguished thirty-year career in the Canadian Foreign Service, during which he completed a variety of assignments at home and abroad, including a period as a Deputy Minister of External Affairs.
From March 1987 to January 1989, Dr. Burney served as Chief of Staff to the Prime Minister. He was directly involved in the negotiation of the Canada-U.S. Free Trade Agreement. He was the Prime Minister's personal representative (Sherpa) in the preparations for the Houston (1990), London (1991) and Munich (1992) G-7 Economic Summits.
Dr. Burney, who was born in Fort William, married his Port Arthur sweetheart Joan Peden and together have raised four boys.
Dr. Burney will take on his official duties after he is installed as Lakehead University's Chancellor in a special ceremony at Convocation in June 2013.
The selection process for Chancellor of Lakehead University involved soliciting the public and University community for nominations. Candidate nominations were received and reviewed by a Chancellor's Electoral Board, who recommended the appointment of Dr. Burney.
Dr. Burney succeeds Dr. Arthur Mauro, who served as Lakehead University Chancellor from 2009 to 2012. Click here to view Dr. Burney's biography.
Chancellor Derek Burney
" My commitment to education is why I accepted the position. I have been a long time supporter of Confederation College for more than a decade. This was a way I could balance what I did at the college at the level of the university. To me education is the most important thing in life. Without it you can't do very much and with it you can do almost anything." " I realize it is primarily a ceremonial role but I know theat Dr Stevenson wants me to help with representing of the university and with fundraising, bolstering the image and attraction of the university." " Thunder Bay has always been a very important part of my heritage as I grew up and went to school here. My mother was a great believer in education and had very rigid standards. She didn't accept second best at any time. I like the idea of the more intimate campus. University's with 50,000 students are not something I look at with positive views. I hope Lakehead University can maintain the intimacy." " If you are fortunate to run into one good teacher in your educational journey you will be blessed and never forget them. I am committed to eduction because if we maintain a good education system we open avenues for our children and grandchildren that very few other countries have. Where else do you think a kid growing up in Fort William could become Canadian Ambassador to the US."
President Brian Stevenson.
" We wanted to have a Chancellor to follow Dr. Arthur Mauro, who was a great and wonderful Chancellor for Lakehead University. We wanted someone who had roots in the community and whom could help us connect to the world with government, diplomacy and the corporate area. Dr. Derek Burney brings all these attributes. The Chancellor also confers degrees which is an important role at the university."