Lakehead University celebrate its exceptional graduands and recognize important people
by Scott A. Sumner

The annual graduation ceremonies at Lakehead University are always fun to attend !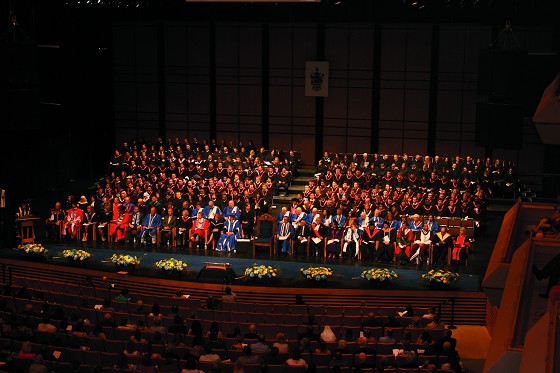 Brian Stevenson, President of Lakehead University

"This is a very wonderful part of the year. At the end of the year you see the results of all the work that you have done the rest of the year. It is a bittersweet time for methis year as on the one hand you
are seeing all these wonderful kids and their parents and on the other hand you know it will be the last series of graduations you will do."
"This ceremony is the culmination of a lot of work over many years and to celebrate it in a public way is exhilarating, something they won't forget for the rest of their lives. Our social commitment is to
Northwestern Ontario and to provide all the professional degrees we can to serve the students and the economy."
"I feel so proud of the students and their families that have worked so hard over the years and can give back"
"All the statistics show that a university graduate has a much better chance of getting meaningful work and a much better chance at getting a good salary and with less chance of being unemployed than
others."
"A university degree is very valuable to have. It gives a better understanding of the world and your community and teaches you how to learn. Students learn how to learn and that is one of the biggest
skills that we teach."
said Dr. Brian Stevenson, President Lakehead University.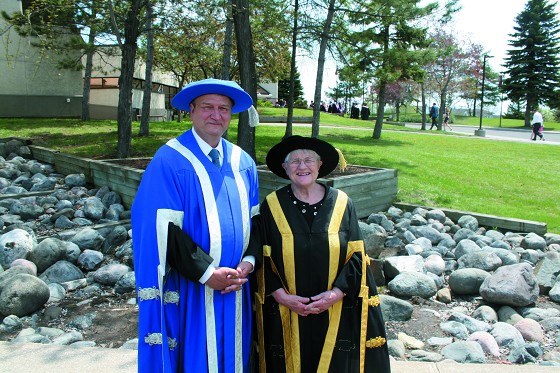 More than 1,700 Lakehead University graduands were eligible to receive their degrees during three Convocation ceremonies held at the Community Auditorium on Friday, June 2 and Saturday, June 3.
Lakehead University also recognized five exceptional people at Convocation.

Kevin Page, Bob Dhillon, and Rudolf Wahl will each receive an honorary degree for their remarkable achievements.

"These individuals are being recognized for their exceptional accomplishments in public service, business, and mining," said Dr. Brian Stevenson, Lakehead's President and Vice-Chancellor. "Convocation is not only a time to celebrate what our students have achieved, but the contributions of special members of our community, as well."

Lakehead will also honor the dedication of Dr. Interjit Nirdosh and Dr. James Franklin, who will each be named Fellow of the University.

David Tamblyn, Chair of Lakehead's Board of Governors, explained that this year's Fellows were selected because of the many ways in which they have given back to the University community.

"For years, Lakehead students have benefitted from Dr. Nirdosh and Dr. Franklin's in their roles as professors, through their fundraising and personal contributions, and by volunteering their time," Tamblyn said. "These are the qualities we recognize and honour by naming them Fellows of the University."

As announced in early March, former Ontario Liberal Party Leader and past Chair of Confederation College's Board of Governors Lyn McLeod was formally installed as Lakehead's ninth Chancellor on Friday, June 2, at the first of the University's three Thunder Bay campus convocation ceremonies.


Honorary Degree Recipients

Kevin Page

Kevin Page is the current Chief Executive Officer of the New Institute of Fiscal Studies and Democracy at the University of Ottawa.


Bob Dhillon

Bob Dhillon is the President and CEO of Mainstreet Equity Corp., as well as the founder and largest shareholder. Mainstreet (TSX: MEQ) has achieved a 1,270% total return on investment from Sept 2013 - Sept 2014, making it Canada's highest performance real estate company.


Rudolf Wahl

Rudolf (Rudy) Wahl was born in Minden (Germany) and immigrated to Canada in 1988. Initially he was hired as Mechanical Shop Leader at the Dickenson Mine, Balmertown, and subsequently by Barrick Gold
Corporation (1989-2008) as a Mechanical Leader and Continuous Improvement Coach at the Williams Mine, Hemlo.


Fellows of the University


Dr. Inderjit Nirdosh

Dr. Inderjit Nirdosh, a Professor Emeritus of Chemical Engineering, came to Thunder Bay in 1981 to work as a faculty member in the School of Engineering at Lakehead University.


Dr. James M. Franklin

Originally from North Bay, Dr. James Franklin is focused on unravelling the reasons for the exceptional mineral endowment of the Canadian Shield.



He received his PhD from the University of Western Ontario and then joined Lakehead where he was the University's first economic geology professor from 1969-75.