NORTHWESTERN ONTARIO IS WAITING FOR YOU!
And Kasper Transportation Can Get You There!

By Sherry Aalto

If you are wishing to go to or you are sending for someone, whether it be for personal, corporate or event destinations in Northwestern Ontario, then you need to call Kasper Transportation at 1-855-566-2378 (Mini Bus) or 1-844-952-7354 (Air Taxi).
Comfort, safety and connection! That is what you will be experiencing when you climb aboard a Mercedes Benz Sprinter Mini Bus with Kasper Transportation! Now serving points of Northwestern Ontario that were otherwise, difficult to get to in a timely manner and fashion, Kasper Transportation offers chartered or regular scheduled busing services. This is the ride you have been waiting for! Now serving these locations, Longlac, Geraldton, Sioux Lookout, Hearst, Beardmore, Nipigon, Ignace and Thunder Bay, Kasper Transportation offers state of
the art transportation on the ground or in the air!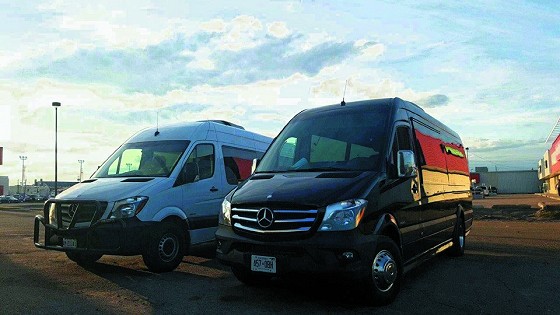 With excellent scheduled times for departure and arrival, along with great places to board from, Kasper Transportation should be your choice when booking your next trip, whether it be to visit relatives, going home for the weekend from university, site seeking, wedding or anniversary events, or just shopping. The mini busses are so comfortable that you will get that 'not so crowded' feeling and you will enjoy an even more personal experience with your service driver as well! But! No distractions please, as Kasper Transportation pride themselves on Safety and rightfully so. The Mercedes Benz Sprinter Mini Bus has many beautiful features, such as, comfortable seats, made in Thunder Bay air suspension for extra smooth riding, appealing décor
and when it comes to safety, Kasper Transportation goes the extra mile, (pun intended), and has installed Moose Bumpers on the front of every mini bus! This is something that Mercedes never even thought of, but then, we live in the North so how would they know? And this, as
everyone will agree, is an absolute MUST! Along with the Moose Bumpers, Kasper has also ordered every mini bus with EXTRA headlamps for easy and clear vision for night driving. With all of these features combined, you will come to appreciate and know the difference for comfort and safety. You will be able to sit and relax and yes… you can even talk and text during your ride!

But let's not stop there! Kasper Transportation also has air service to Northern destinations. Kasper Aviation is proud to fly modern aircraft that include state of the art amenities and robust navigation packages, scheduled flights, charters and Air Taxi On Demand. The Air Taxi services are available to transport individuals between communities or for corporate travel or for your special event needs!

Want to book an entire aircraft? Let Kasper help you organize your travel plans for you. Kasper's fleet is comprised of new aircraft with state of the art safety equipment.

With Safety as their priority, Kasper Transportation is proud to say that they adhere to the highest safety standards release (14 CFR Part 23). The Gipps Aero GA8 Airvan was created with simplicity and economics in mind. The Airvan is easy to load, fly and maintain. Innovative design details set the Airvan apart from its competitors, and makes the operation of the aircraft safer and less complicated. The GA8 is an operationally proven workhorse that provides outstanding
performance while providing a smooth and pleasant ride. Seating capacity 6 seats, payload 1400 lbs., range 750 miles, cruise speed 155mph., dimensions, cargo door Size: 41.5" by 42".
The Quest Kodiak is the newest addition to our fleet. Setting the new standard in 10 place turboprops, the Quest shines in applications where there is a need to operate comfortably and perform extraordinarily. Its rugged construction combines superior STOL performance and high useful load. The Quest shines in applications where there is a need to operate comfortably and perform extraordinarily. Extra additions include the Max Viz 1400 IR Camera for unprecedented nagivation day or night & USB ports in all seats. Seating capacity 8 seats, payload 3000 lbs., range 1300 miles, cruise speed 339 kmph.

You can visit Kasper Transportation on their website at gokasper.com or you can call them directly at 1-855-566-2378 (Mini Bus) or 1-844-952-7354 (Air Taxi). They are located at 947 Memorial Avenue, Thunder Bay, Ontario. You can also visit them on Facebook and on
Youtube.
This much needed service for the north has been long past due. It is exciting to know that Kasper Wabinski had the vision and the passion to see this service to fruition and is expanding his fleet as you are reading this…literally!

So! Go with Kasper and then tell your friends and family about your experience. Oh! And did we mention the reasonable rates?

Northwestern Ontario is waiting for YOU!