Grow Greenstone Expo Huge Success
by Scott A. Sumner
The Victoria Inn in Thunder Bay was a buzz with activity in mid March as the second Grow Greenstone Expo was held. This tradeshow type event featured many displays of Greenstone and other businesses, as well as many presentations on a variety of topic including the Ring of Fire and the Premier Gold Hardrock Project.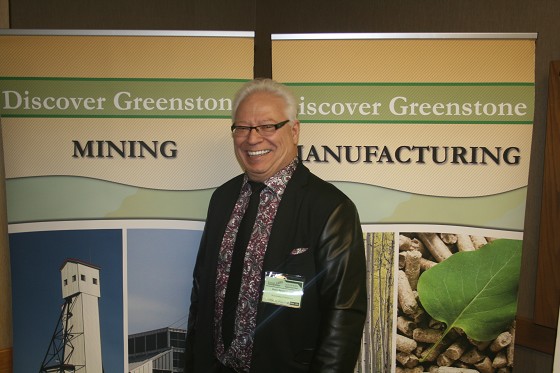 Renald Beaulieu has been the Mayor of the Municipality of Greenstone for 4 years and previously was Mayor of Longlac for 12 years. Greenstone is the amalgamation of Longlac, Geraldton, Nakina, Beardmore, Caramat and several First Nations communities. The mayors job is not a full time job but it is according to Mayor Beaulieu. Beaulieu is also a financial planner with Sun Life and has owned a school bus business in Greenstone for the last 35 years
" We have to speak as Greenstone, all together. This way we have more power and it has been a positive move for us, being more recognized. Greenstone has about 4500 population in total," stated Renald Beaulieu. " We are right where the action is for the Ring of Fire and Premier Gold announcement. It gives us hope. Right now our economy is small businesses sustaining each other. We had a plywood mill and sawmills but since the downturn they all closed down. The restart of the pulp mill in Terrace Bay has helped us as we now supply their wood. My hope is in the very near future we will see our sawmills restart. That will be a very positive move for us." " For us the way the Ring of Fire was announced it was as if we were hand picked because there is only one high ground area that a road can come out right in the Nakina ward. We have been working with governments and First Nations on this as it is a very important factor. As a municipality we have secured land near where the rail might come out for material being hauled," said Beaulieu. " Our goal was to see the ferrachrome facility built in Nakina but there has been a change in that. In the end it is all about jobs and are we getting prepared, we sure are."
The Geraldton Community Forest has just been approved for $4 million for a building and funds to train for the forestry and mining industry. There is a project for broadband coming up that will improve communications. In Greenstone there are two major airports, one in Geraldton and one in Nakina ward. Nakina is very busy because of fly in from the North.
" There will be many opportunities for us to partner with others from Thunder Bay or Sudbury. We want our people to connect and recognize the opportunities," said Beaulieu. " Employees could also live in Greenstone. We have the ability to house people and have available lots for residential, commercial and industrial. It is a beautiful place to live, we have schools, medical clinics, a golf course, four arenas, four water treatment plants- the amenities are there. We are prepared for expansion. The cost of living here is probably the best kept secret. You can get a good home for $100,000 or less. Once you live in our communities you would find there is so much to do you can't do it all."
The Greenstone Expo has been a great success according to Beaulieu." I am totally impressed with the response we are getting. Forward thinking is what we are doing for Greenstone and Northwestern Ontario. The recent comments of the President of the Ontario Chamber of Commerce said people have to get it right. Lets get out and help develop the Ring of Fire which will bring so much benefit to Northern Ontario, Ontario and Canada. We feel good about this. Things take a long time, it is all about patience, but this project will happen. I am very very confident and the future for us in Northwestern Ontario is just fantastic. Lets keep pushing and hoping for this very positive project."