First Nations Natural Resources Youth Employment Program
Sees 27 Graduate in 2014
(FNNRYEP) graduated today at the program's 15th annual closing ceremonies, which took place in the Spirit Garden at Prince Arthur's Landing.
Participants, aged 16-19, earned their graduation certificates after completing six weeks of work and training, designed to expose them to natural resources career paths and help prepare them for post-secondary education in the field. A partnership between Outland Camps and Confederation College, FNNRYEP has provided employment and learning opportunities for First Nations youth since 2000.
Since its inception, the program has successfully trained over 325 participants across 45 northern Ontario First Nation communities, launching numerous careers in the natural resources sector. Primarily based at the Outland Camps Firesteel location just west of Upsala, ON, each participant had opportunity to earn up to two high school co-op credits in addition to their program certificate. This is made possible through a partnership with the Long Lake 58 Education Authority.
Throughout the program, participants visited Confederation College to explore sustainable energy sources in a one-week Natural Resources Science Camp, and attended Mining Matters week, tours of forest industry and mining operations, and job skills training. They also completed various work projects including pre-commercial thinning with brush saw and tree planting, which generate revenue to help fund the program. Funding for FNNRYEP is provided by the Ontario Ministry of Natural Resources, Aboriginal Affairs and Northern Development Canada, Canadian Forest Services and industry partners.
Industry partners Domtar and Resolute Forest Products received a special thank you this year for having supported the program since its inception in 2000. Quotes "Ontario is proud to be a partner in the First Nations Natural Resources Youth Employment Program, which provides Aboriginal youth with the incredible opportunity to develop skills, competencies and knowledge through education and on-the-job training in natural resource based industries. The program has enabled First Nations youth to contribute positively to the economic viability of their communities." — Bill Mauro, Minister of Natural Resources and Forestry "The goal of the First Nations Natural Resources Youth Employment Program is to expose students to natural resources education and career paths. It empowers First Nations youth by focusing on leadership development, social skills and building self-esteem. By participating in revenue generating work projects, participants also have the unique opportunity to gain 'real-world' experience and contribute to the sustainability of the program." — Jim Madder, President, Confederation College
"Outland and all of our program partners are proud to celebrate the accomplishments of our participants this year. We can see how they are growing into confident, independent and self-sufficient young individuals who will be able to share the values they've learned with their communities, including ownership, pride and the importance of practicing safe work procedures. They are also walking away with new friendships and many fun memories, which will hopefully inspire them all to continue down this educational path. Outland is proud to have been involved in the delivery of the FNNRYEP for the past 15 years, since the program's inception." — Dave Bradley, Owner/Manager, Outland Camps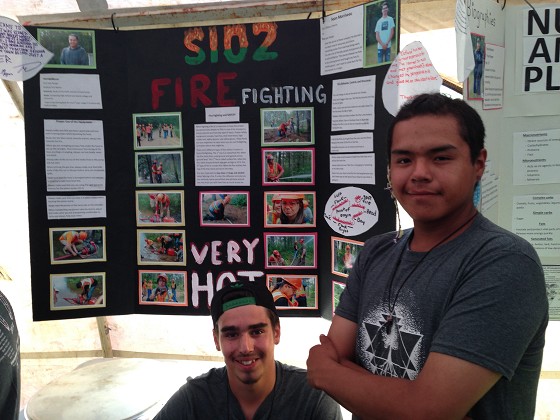 Tristan Mega from near Geraldton " We did a training session for 6 weeks in areas such as mining where we learned about rocks and minerals. We also did the firefighting course, first aid and CPR and ORCA training"
" I really enjoyed the training. It was important in my life and allowed me to change and let go of the past. It taught me how to change and make myself a better person and have a better life. I can now move forward instead of backwards. This was a very life changing moment. My goal now is to become a geologist. This program showed me I can do it, get to college and university and be what I want to be. In September I need 1 more credit in high school and then can go to college." Sean Morriseau from Fort William
" I hope to go to post secondary college and am thinking of taking fire fighting or planting trees."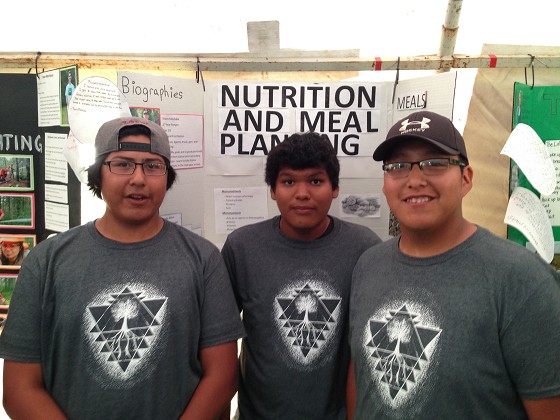 Sayber, Brody and Travis from NW Ontario
" We made meals at our camp including chicken breasts, apple turn overs and pizza. We leaned about Canada's Food Guide and having a different way to eat. The goal is to eat healthy and we have been eating like kings here." " I enjoyed the experience and am glad I came here. It opened up and helped me know where I am going. I have 1 year of high school left and after that I plan to go to college and take police foundation."
" I would like to become a teacher and teach at home."
"I am not sure yet but have learned a lot at this program and it is overwhelming everything you can do."