Enterprising Women Take Centre Stage Thunder Bay
PARO Centre for Women's Enterprise put eight local entrepreneurs in the spotlight on Thursday night at the Victoria Inn, as they were honoured at the 2016 Enterprising Women Awards. The regional women entrepreneurs represent a diverse cross-section of regional entrepreneurs who are doing amazing work in their communities from hospitality to improving literacy.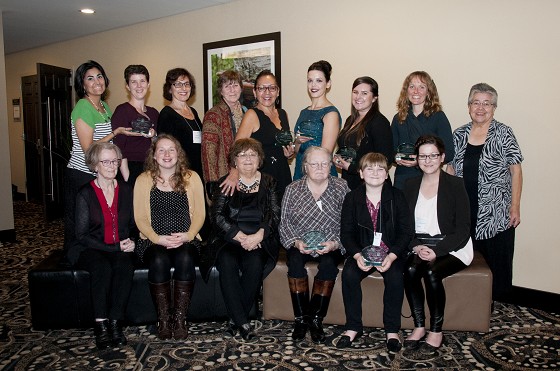 The 2016 Enterprising Women Awards recipients are:

· New Business of the Year - Brette Cain, Brette's Foot Care (Atikokan)

· Established Business of the Year – Liisa Hymander, Northern Baby Links (Thunder Bay)

· Young Entrepreneur of the Year – Kaija Saarinen, Green and Gone Pest Solutions (Keewatin)

· Social Entrepreneur of the Year- Taylor Gorrie, Taylorpedia (Thunder Bay)

· Building Bridges of the Year – Dayle Passley, Dayle's Easy Sew (Thunder Bay)

· PARO Fundraising Circle of the Year – New Beginnings Circle (Nipigon/Lake Helen First Nations)

· PARO Alumni Award – Gabby Cross, Norma Jean's & PARO Circle Member (Thunder Bay)

· PARO Partner of the Year – Jesse Roberts, Thunder Bay Public Library (Thunder Bay)


"These women are an integral part of our community and the economy. Despite the unique challenges women entrepreneurs face, these enterprising women have thrived and PARO hopes that everyone will leave the event feeling the inspiration and enthusiasm that was all around
us;" says Rosalind Lockyer, PARO Founder and Executive Director.

Kaija Saarinen from Keetwatin's Green and Gone Pest Solutions, winner of Young Entrepreneur of the Year, says the best thing a budding entrepreneur can do is ask for help. "Don't be afraid to reach out. Everyone at PARO wants to see you succeed and is going to go out of their way to help you," Saarinen says.

Thunder Bay Public Library Community Hub Librarian Jesse Roberts, which won PARO Partner of the Year, agrees. The two organizations have been working together for more than 20 years. "I think PARO has really helped push the public library here in Thunder Bay to become better and
do better to support women in the community," Roberts says.

"When you are starting a new business you might not comprehend how much help you are going to need. You should ask for help because places like PARO and the library are here for you."

The awards were part of a full-day of business education events, attended by more than 200 people, dedicated to connecting current and future enterprising women with pertinent industry information, networking opportunities and mentorship sessions to strengthen regional
small business. Daytime events were highlighted by a keynote lunch featuring Zahra Al-Harazi, a survivor of two civil wars and CEO and Creative Director with Foundry Communications.

Zahra Al-Harazi lives in Toronto.

" I am the Canadian Ambassador to Unicef, launching a new company called Elan GoGo, an experience philantropic company, and sit on a number of boards, If you are having fun nothing seems like work and I love what I do."
" I was born in Uganda and left there during the civil war when everyone that was brown was kicked out of the country. We left with $7 dollars that my dad hid in his shoes and went back to Yemen which is where my father is from. We left Yemen right after the cival war in 1994 and I came to Canada at the age of 26 with 3 kids."

" Paro is a great organization that helps women grow their businesses. When I speak at organization like this I think the participants walk away with if she can do it I can too. You just need to dream big, work hard and if you do that you can do anything you want."

" Support is a huge part of this journey. There are lots of lonely days, days that you are frightened, when you can't sleep because you don't know where you are going to pay salaries from. Having the support of an organization like Paro, that peer support really does make a difference."

" I was a designer and started my traditional marketing company which I have just sold.
Elan GO Go is our new company which is a experience company that is philantropic by nature. For example you get to play a charity tournament with the Toronto Raptors. The money you pay goes to the Raptors Foundation or a Make a Wish event."
" We want to help the charitable sector raise money. There is lot of donor fatigue and people who just don't give the way they used. We live is a gig oriented society which mean gives me something to do as well when I donate. There is a lot of competition for donor dollars. We
want to provide you a story to tell after you give. eg Toms Shoes give one pair of shoes to someone in need for every pair sold.We are working with businesses for employee engagement and retention."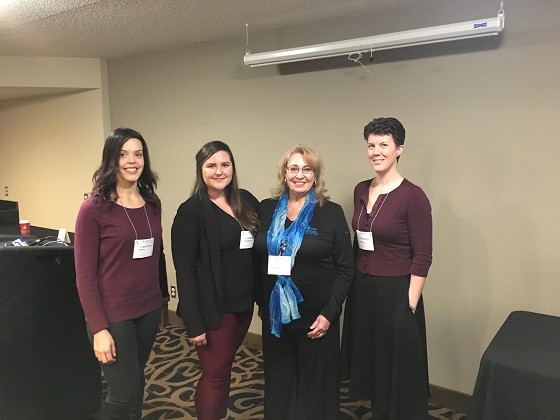 Jesse Roberts, Community Hub Librarian Learning Supervisor based at Brodie Street and won the Paro Partner Award.
I asked Jesse how the Thunder Bay Public Library can help the business
audience?
" Hub North is a partnership that started with meetings for two years and opened in 2016 with the TBPL, Paro, CEDC and the Innovation partners. We want to provide an open encouraging assessable space for business development here in Thunder Bay and NW Ontario. It is a one
stop shop where someone can come and be able to access these resources."
" There are events held in this space with the partners involved. It is a general working space and you can use the library resources. You can have a space, a desk, wifi to work with and have good resources nearby in the community."
" There is very little we can't do for businesses at the library. Our brochure describes these services and supports and includes meeting spaces you can use, sometimes with a fee but mostly completely free. In addition our collection of books, databases, ebooks etc. You can find
out about bringing an idea to a business plan, access grants to even succession planning. We have staff that know their stuff and events and activities. It is lots of information at no charge. We want smiling faces coming in our doors. We have a staff of 56 full time and also part time staff."

Rosalind Lockyer of Paro
" This is an annual event and each year it gets bigger and more wonderful. The women are so enthusiastic in promoting their businesses. There is also a regional focus as well showcasing all the new businesses and those that are growing. We have women here today from Atikokan, Keewatin, Fort Frances and so on."
" Our keynote speaker is an immigrant women and hopefully everyone will relate to her and embrace the challenges."
What is important to be a success in business?
" Don't be afraid to ask. Today we have social media. It is about telling your story is a way that captures the audience."

" We do the awards which are backed up by a video the winners can use for their marketing. It is a way to recognize all the hard work they have put in to grow their businesses."