Engineering Firm Makes Big Investment in Northwestern Ontario: WSP Canada Inc.
by Scott A. Sumner
If you drive into the Innova Business Park located just off the new Golf Links Road in Thunder Bay you will immediately notice an impressive three storey, all brick exterior building. The 34,000 square foot structure is the new home to WSP, an international engineering firm that has long roots right here in Thunder Bay.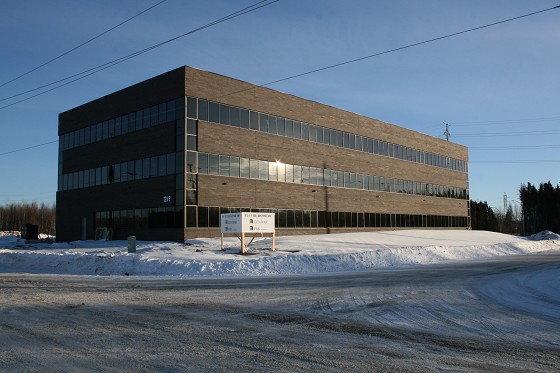 It is always fun for me to sit down and learn about a local entrepreneurial team experiencing great success. David Knutson is the Regional Director - Northern Ontario for WSP Canada Inc operating as WSP. We spent some time discussing their new Thunder Bay office, located at 1269 Premier Way.
Knutson has long connections to the area having spent since 1977 living in Northern Ontario. He is a mechanical engineer, graduating from the University of Toronto. The firm has a thread to the last century initially with Barnett McQueen, which eventually was controlled by the Cook family. In the early 60's an independent engineering firm was set up called V B Cook Company Limited (Cook Engineering), which was acquired by the national firm GENIVAR in 2010. GENIVAR acquired WSP operations around the world and now the decision has been made to operate as WSP, which makes sense when you think of their 300 offices around the world with 15,000 employees.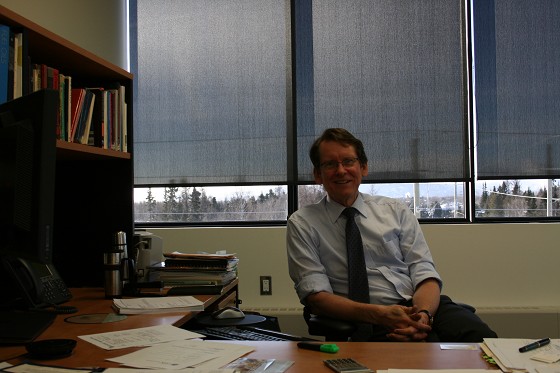 " WSP was acquired by GENIVAR a little over a year ago. Currently we are at 113 employees in the Thunder Bay office and looking to grow. I have been working in Thunder Bay since 1987 and was the President of Cook at the time of our acquisition by GENIVAR. Today I am also responsible for all of the Northern Ontario offices, including teams in Timmins, Sudbury and Sault Ste Marie. In total we have up to 200 employees working in Northern Ontario,." said David Knutson. " Our firm was previously located in an office on Syndicate Ave. in Thunder Bay but it came to a point where we needed a satellite office as well. The decision was made to move to the new office where we could all be in one location. We had 22,000 square feet in total before and this new facility is 34,000 square feet which will allow us to grow,." said Knutson. oining GENIVAR gave the Thunder Bay based engineering team access to new sets of skills that could be brought to bear on the traditional markets served by the office while providing increased exposure to the team's traditional capabilities within other regional markets. It also provides a broader complement of skill sets to market to new clients with services they didn't previously do.
" We have always provided service across North America and brought the work back to Thunder Bay. The WSP connections allow opportunities further afield. Now with WSP and their international presence we have done some work in Finland, have teamed with our Swedish office for Bio-energy projects led by the WSP Denver office and have participated in opportunities in non-traditional markets such as South East Asia. These are the beginnings of linkages globally," said Knutson. " We have an excellent mining skill set here in Thunder Bay as well as in Val D' Or, Quebec. It bodes well for the Thunder Bay office as we are identified as the centre of expertise for mining in English Canada."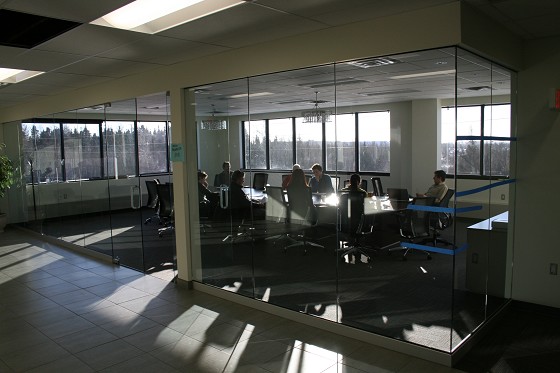 The new building has been exciting for the local staff. " We were accustomed to our old location on Syndicate that had served us well over the years but increasingly we maximized the use of the space. This building provides our staff with the environment, amenities and quality of space to allow them to thrive. The new building offers well lit, comfortable surroundings and is a very quiet environment," said Knutson. " We are starting to appreciate the excellent working environment this building provides with more spacious meeting space. The workstations have been done in an ergonomic manner and provide the employees with current technology including seating and how you interface with your equipment. Each of our stations link with other employees throughout WSP and allow simple communication including visually images and computer desktop sharing." A large component of their staff come from Thunder Bay and graduated from Lakehead University and Confederation College. "We have an exceptional pool of talent to draw on in our city and, over the years, we have had been able to provide professional careers in our employee's' home community" said Knutson, "in fact this has extended to our other offices. We had one individual from Sault Ste Marie working for us during the summers while attending Lakehead University and he is now working in the Sault Ste Marie office."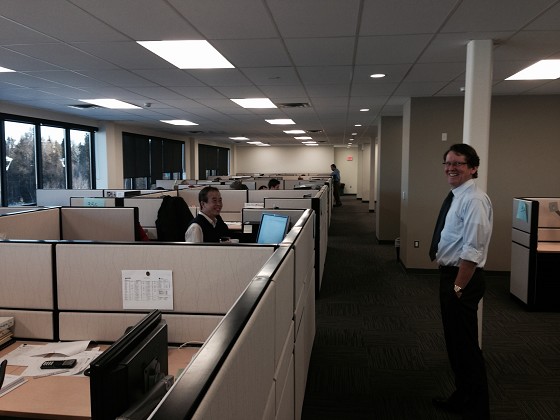 One of the keys to success of the WSP engineering office over the years in Thunder Bay has been diversification and the flexibility to adapt to changes in the economy and adapt their skill set to meet the new needs of the economy. " The only constant in life is change and it had been my experience has shown that in engineering you have to be prepared to adapt. Twenty five years ago we thought "- When forestry was up, mining was down and when mining was up forestry was down," and our team was trained to support both industries. Occasionally they would both be up and that would be a real sweet situation," smiles Knutson. " However, since the mid 80's, when I started as an engineering consultant, many of the client operations we used to provide services to have disappeared. In response, we developed a niche in steam plant, biomass utilization and steam turbine power generation that remains highly marketable. Many of the pulp mills have now increased their internal power generation using these capabilities to decrease purchased power costs. We entered the regional transportation market through expertise in Highway bridge and structures design in the mid-90's and that has been a very successful sector. Our traditional Mining industry services have been a cornerstone of the operation and have been extremely solid performers recently, with an innovation in design resulting in a number of major projects that supplemented our traditional services. With our strategic partnership with PBK Architects, we have engaged with the First Nations communities providing building designs for a number of functions. Diversification and the flexibility to adapt have been our strengths over the years and we now have, as part of WSP, the ability to provide new services to the region. We are going to be expanding our marketing into those sectors. With change there are opportunities."
" The building project went really quite well. Bruno's Contracting of Thunder Bay are our landlord and they put a lot of effort into getting it done on time. We had completed significantly enough to move in at the end of 2013. The architectural division will move in this week." said Knutson. " The trades performed well and a huge effort was put in during the last quarter of the year with good cooperation from everyone and a focus on the mission. We understand project work and it was well done. It is a great building for us."
" We see encouraging signs in the local economy. The quality of people we have in terms of their work ethic, engagement and expertise, along with a client focus and local autonomy, have allowed us to keep long term, repeat clients over the years. "The North seldom sees the booms of say Southern Ontario. But the opportunities in N W Ontario are beyond what they have been recently and that is encouraging. We continue to focus on opportunities in Minnesota, the Mid-western US and continued mining industry support in Western Canada. There are mining opportunities in Northern Ontario that will happen when the time is right, perhaps not as quickly as we might like, but that is the nature of the game." concluded David Knutson.