Easter Seal Drop Zone Event Returns Bigger Than Ever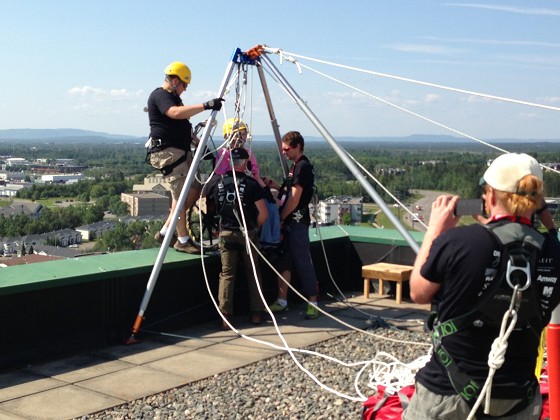 by Scott A. Sumner
Driving down Balmoral or Beverly Streets in Thunder Bay August 16th you may have done a double take. If you looked up to Maplecrest Tower condominium you saw people stepping over the ledge of the 14 storey building and repelling down some 150 feet to the ground. Many of the 40 participants were dressed in super hero costumes and in for the experience of a lifetime!
" I wanted to get involved this year to be able to support the community through Easter Seals. Easter Seals does not get supported by any government funding, it is strictly through the public generosity," said Claudio Foresta, Chair of the 2013 Easter Seal Drop Zone event and owner of Kelsey's and Montana's restaurants in Thunder Bay. " Helping kids with disability is near and dear to my heart. Kelsey's got involved last year as a sponsor of an after party
event and this year we will be doing it again." " This year we have actually doubled the number of participants to 40 people. Last year we raised $ 40,000 and this year we want to raise over $ 45,000. It is a big impact and it goes to help families in Ontario help kids with physical disabilities. I think it is a very unique event for the city."
" Every 10 minutes people are coming down 14 stories at Maplecrest Tower, some 150 feet down, so it is a very exciting day. These brave souls are raising funds for Easter Seals. Each participant raised over $1500 for the chance to repel down the building. It is a unique opportunity and we hope to raise over $ 45,000. Many people dress up as super heroes." said Rhonda Harrison of Easter Seals Thunder Bay. " We raise the money to help with equipment for the kids. Easter Seals also has fully assessable camps for the kids. We fly them to Southern Ontario for 10 days"
Kathy Otway is the mother of Alannah who went to the camp just outside of Ottawa for the first time this year. " I went swimming, fishing and made new friends," said Alanah. " Easer Seals flew someone up to Thunder Bay to fly down with Alannah. We meet them at the airport and told them all about her. Alannah didn't have time to be homesick because they have so many activities, they were so busy." said Kathy Otway.