Copperfin Credit Union Open New Unique Branch In
Thunder Bay
by Scott A. Sumner
You can experience a very unique financial service in Thunder Bay now with the opening of the newest Copperfin Credit Union location at 955 Alloy Drive next to Superstore, in the old HSBC building. I think
this concept could be the future of banking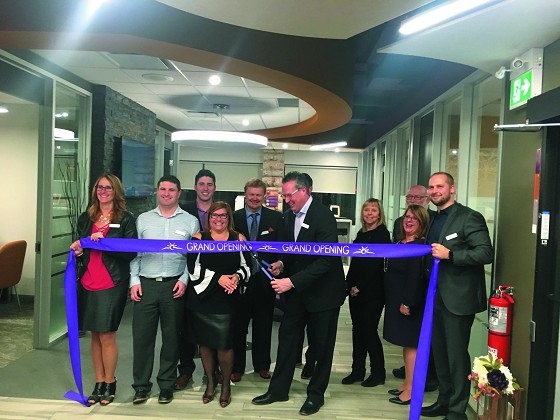 Copperfin is the result of many mergers of credit unions. There has been many mergers and amalgamations with credit unions recently. The most recent one was Superior Credit Union located in Thunder Bay, Schrieber and Marathon with Copperfin which was based out of Kenora with branches in Sioux Narrows, Nestor Falls and Ear Falls.

" The merger was a mutual merger based on a business case with a lot of assets and deposits in Kenora and loan needs in Thunder Bay, so taking into account liquidity and growth as well," said Evan Neufeld, VP Brand & Marketing, Copperfin Credit Union.
" We have a 40% market share in Kenora with all the big banks located there. In Thunder Bay we have lots of growth potential. Our goal is to raise the awareness of the Copperfin name here. We didn't keep the Superior name because they don't live on Lake Superior in Kenora and we
feel the name wouldn't resonate with them."

Evan Neufeld is Thunder Bay born and raised and graduated from the Lakehead University Marketing program. He worked previously with Telus from Toronto to Vancouver but wanted to come back to Thunder Bay with his family.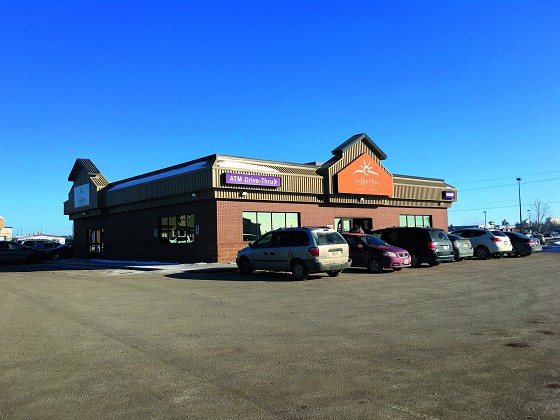 In the last few years Copperfin has been seeing 7 to 10% annual growth in Thunder Bay and their high profile new branch should help continue this trend. They now have a total of 7 branches. The Nestor
Falls branch is unique as it is located in a grocery store and only open 2 days a week.

" We are happy to have this beautiful new branch and are renovating our other two local branches as well. They will be finished by the end of the year. It is not about the look though, but how we deliver our
services, a completely different experience than others in the financial industry provide,"said Neufeld. " It is an open concept design with these pods, where we are sitting, used to go through your transactions. You can check your balances and everything is adjustable so you can stand up as well. There are private offices for the major transactions, investment planning, mortgages or commercial lending. We also spent a lot of money on our coffee area with only locally roasted coffee including hot chocolate. We have a kids zone with two I pads with preloaded kids games to let them zone out for a while."

This Copperfin branch has three online banking stations- two stand up and one sit down. They can help members with an online transaction.

" We did a lot of work and planning on this new branch. Our value proposition is about understanding our members and being able to offer them advice to move their lives forward. We do it in alignment with
the credit union values which are no staff incentives for sales and to deal only with the members best interest in mind. You are an owner as a credit union member so we treat you a little bit different as a owner." said Neufeld.

The Copperfin total membership numbers are 22,000 with engaged members about 12,000. They have about 5 to 6% market share of personal banking in Thunder Bay and 40% in Kenora according to Neufeld. Their commercial business is really growing with new staff including a small business advisor added recently. They are also ramping up their investment skill set to serve not just the older member but also the young ones coming in.

"We just surpassed $400 million in assets 2 weeks ago, which was a 9% growth rate for us, so we are really happy. We also grew our profitability and invested in our branches with the training of people
and gave back to the community. Over $400,000 of profit was returned to our members in the form of dividends and sharing of profit." said Evan Neufeld.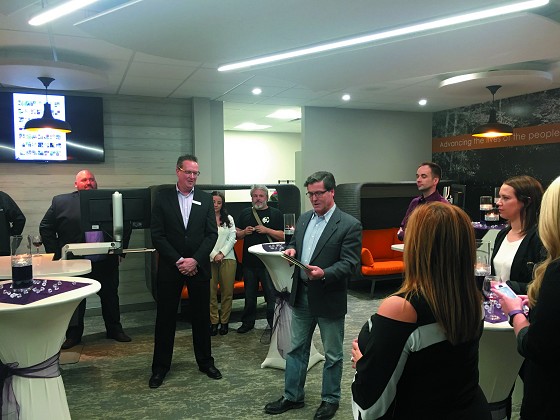 So why use a credit union versus bank?

" We make our decisions locally and have just shy of 100 employees, all of them whom live in 807 area code. We look at the applications ourselves and don't ship them out. If it is a bank your application
may go to Toronto or even overseas to be looked over. You could call in for service and get someone in another location in the world. Here you get someone local, that knows you,"noted Neufeld. " If you are a small
business and need a quick loan for say a back hoe loader piece of equipment you saw on Kiijji for $10,000 we can turn the loan around in 2 or 3 days because we are nimble and agile."

"Most people don't know what a credit union is exactly. They may think you have to work for a specific company or it is like a pay day loan company. We offer full bank accounts, investments, loans, commercial services, credit cards, a mobile app to deposit cheques on your phone, online banking and a big ATM network. The credit unions work together."

Copperfin like to get involved in the community and give back. This last summer they made their our own beer called Copperfin Ale, and donated all of the funds to charity at BREW Ha Festival at the
waterfront.

" The craft beer industry is similar to credit unions and the big banks. We will do it again as title sponsor of the Brew Ha Festival."