CAN YOU HEAR ME NOW
By Sherry Aalto
Recognize this?? If you do, then you haven't visited the stay 'anywhere connected' people at Lakehead Communications, located at 420 Balmoral Street in Thunder Bay.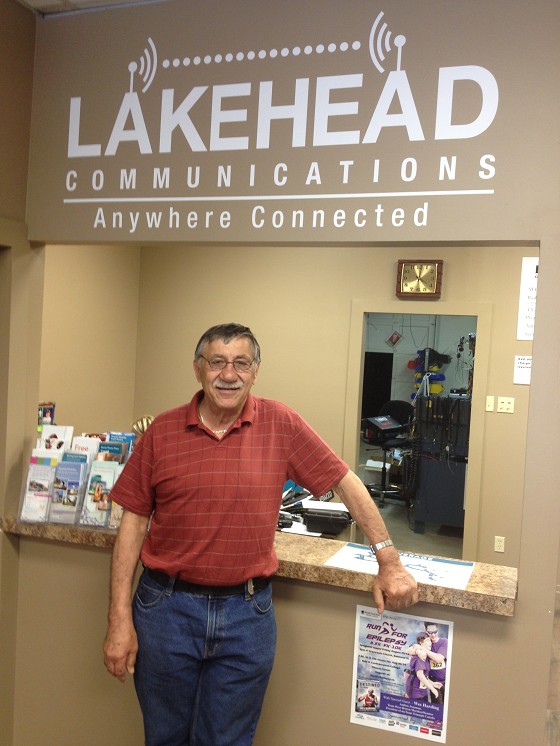 Since 2000 Lakehead Communications, has been a leader for products and service in communications devices for Thunder Bay and region. According to, G.M., Mr. Fred Erickson, 'vast knowledge, intricate advice and service for such technology is difficult to find when you really need help beyond the purchase and sales of cellular phones, satellite phones, two –way radios, C.B. radios and other communication devices that are off the grid.' If you don't know what Lakehead Communications offers…check this out…for example… most of us are familiar with cellular phones…but…sometimes we need a little booster to be able to not lose our signal in areas that are weak or if we are in a remote area, like at camp!
Lakehead Communications has a better variety of boosters for such needs, plus…they are a Tbaytel authorized dealer for cell phones sales and service and everything that goes with it such as, blue tooth and hands free kits. They also have a large variety of other devices for communicating, such as GEOTAB, for management by measurement , iridium, which offers global mobile satellite voice and data, Kenwood radios (authorized Kenwood dealer) for land mobile radios, icom, for recreational boaters and marine industry, which provides the user with the latest weather report or to simply keep in touch with other boats on the water, and the transcending radio features include submersible construction, "Float n' Flash" technology, intuitive interfaces and Military Spec. Do you own a communications device that can help you stay in contact, provide emergency signals for help…especially if you or anyone you love become lost, stranded or in distress, in a remote area while hiking, hunting or even fishing?
Let's face it…we live in the North, so it would only make perfect sense to have a device that provides a sense of security, knowing that if anything happens, a signal can be sent out for help and help will be on the way with the added feature of knowing where to find you! Also, anyone who owns a boat or any marine vessel should not be without a communications device for sending a distress signal. Life happens and weather can change on any lake at a moments' notice, so being prepared is the best insurance you can offer yourself and your family. Another amazing device in communications is the "inReach" by DeLORME.
This is the satellite communicator that puts amazing functionality in the palm of your hand without having to pair the device. It can send and receive free-form text messages, trigger S.O.S., interact back and forth with GEOS, a 24/7 search and rescue centre and track GPS coordinates. A cell phone is a great gift idea for Christmas or birthdays but presenting a device that can assist in saving a life, that's extraordinary! A communications device can offer immeasurable peace of mind for when you or someone else is going off the grid for camping, fishing, hiking, hunting, driving highways, back roads and off road trails. Not being able to call for help in any situation can be a very scary experience. Just knowing that you or someone you love can send a signal for help, can ease the mind greatly!
Lakehead Communications provides devices that offer security, performance and assurance! Custom installs, field work, reasonable pricing, plans and rates, marine radio communication devices, two-way radios, boosters, antennas, accessories are all available at Lakehead Communications. Call them or stop in and visit with Fred Erickson today for any of your communication devices needs, whether it be marine or remote…and maybe you won't have to say 'CAN YOU HEAR ME NOW??...CAN YOU HEAR ME NOW??'…anymore! Lakehead Communications 420 Balmoral Street, Thunder Bay, Ontario, (807) 628-0198, Toll-Free 1-800-414-8309, FAX (807)626-8248 or www.lakeheadcommunications.com