Aerosports Trampoline Parks Open In Thunder Bay
by Scott A. Sumner
The Jones name is well known in the business circles of Thunder Bay. Tom Jones Construction has been a top firm in the city for many decades. Hunter Jones is one of the three sons of Tom Jones and Chief Operating Officer of Aerosports Canada. Hunter currently lives in Temecula, California near San Diego in wine country doing construction and development work in California.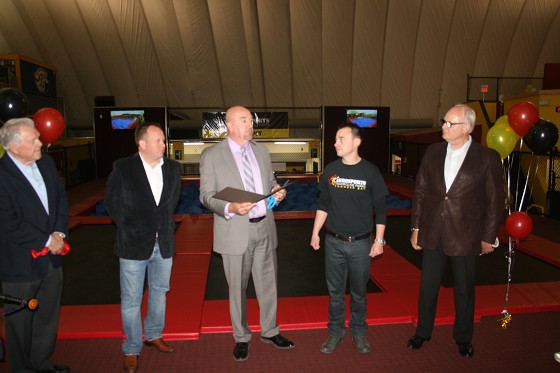 " A business associate of mine asked me have you ever been to a trampoline park. I didn't know what that was so he suggested I check it out with my kids. So we went to a trampoline park and right away I thought it was fun, safe and gets kids moving not just sitting in front of the screen, which is a problem these days. I liked the opportunity and research showed only three trampoline parks in Canada." said Hunter Jones."
Today there are 7 trampoline parks in Canada including the one here in Thunder Bay. In the US there are over 100 trampoline parks. " I felt this was a fast growing business so we struck a deal with Aeropsorts for the rights in Canada. We did the first one in Thunder Bay, our home base. I am glad to see it has been a huge success without any advertising. Our plan is to go elsewhere and start building trampoline parks in Southern Ontario. Our initial target is to try and open up 5 more parks in Ontario and after that we will have to see." said Hunter Jones.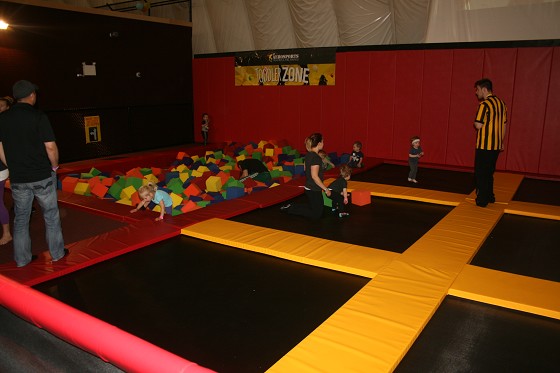 The frames, trampoline, padding and netting are from Aerosports in California.
" My father, Tom Jones, in the past started Wheelies Roller Rink in Thunder Bay and at one time owned dozens of them across the country. Roller-skating was a bit of a fad then that went with the disco era but we see trampoline having more longevity because it has more of an athletic component to it. We are a place where you can burn a lot of calories.," said Hunter Jones. " I did a lot of research in many different trampoline parks and took the best of what we found and combined all those ideas to this park. It is substantial investment, north of a million dollars in tenant improvement and trampoline but that is what it takes to build one of these things."
" Thunder Bay was a good fit for us because of our family construction firm. Also we brought on board some local investors, friends and associates. Dustin Wilson is our general manager. We came across the Lowery's Sportsdome, which is very unique. One of the challenges of building trampoline parks is finding a building with 18 feet clear ceiling height and you also want to have a lot of distant between columns, which you don't have to worry about in the dome. This part of the dome was being underutilized previously so we are very happy to come here with our first Aerosport Trampoline Park in Canada." smiles Hunter Jones.