16th Annual Thunder Bay Bluesfest Breaks Attendance Records!
by Scott A. Sumner

It was a sea of people when I entered this years Bluesfest held at the waterfront in Thunder Bay. Prince Arthur's Landing was a buzz with people, many arranged with their portable chairs. The atmosphere was
upbeat and happy. Kim Mitchell was playing a favourite song of mine and one very appropriate for the setting"Rockland Wonderland"! You could easily see this was a annual tradition for many of the people in attendance.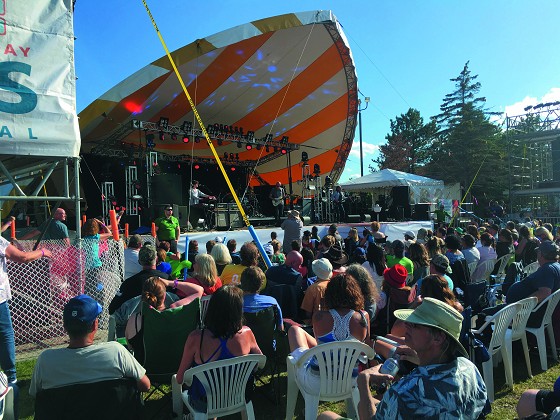 The setting on Lake Superior is a good one for this event. In sunshine it is spectacular with our famed Sleeping Giant in the background. The festival set up included a VIP area at the front, many excellent food vendors around the edge of the fan area, as well as a large KEG run bar area at the back. It worked well and allowed you to wander around and meet so many people you knew!

My favourite artist to see perform would be Amanda Marshall. Some 20 years earlier I remember interviewing Amanda at the Lakehead University Outpost when she was just gaining much popularity as a Canadian rock singer. Her performance was as good as I remembered and she had the same powerful voice. Amanda is one of Canada's best female performers ever and I hope she can continue her career. Thunder Bay was a very rare live performance for her I was told.

" This was our best ever Bluesfest in terms of attendance. Officially we sold more weekend passes, more single day tickets and the same number of VIP passes as last year so we have higher attendance. Friday was a fantastic start and everything that we had hoped for,"said Trevor Hurtig, TBCA. " The Canadian content has worked well. It started last year when we saw a real nice jump in attendance and has carried on this year. There is incredible talent in Canada and celebrating that talent is a wonderful thing."

There is quite a team that puts on the Bluesfest from the technical staff, the box office staff whom handle the gate and many other people behind the scene. Volunteers from the Keg manage the bar and do a
fantastic job, according to Hurtig.

" The people that buy VIP passes like to be up front. Others like to chill at the back of the field and enjoy themselves in a more relaxed way. I recommend you come in, survey the site and have a look at where
you would like to be. Marina Park is beautiful with the boaters that pass by and the trees you don't see often at these events. It will be a financial success,"said Trevor Hurtig. " I love the headliners but
personally Barney Bentall is my favourite going back to my university years."