ALL TIME SNOCROSS LEADER BLAIR MORGAN READY
FOR A WINNING SEASON


by Scott A. Sumner
www.slednews.com
32 year old Blair Morgan, from Prince Albert, Saskatchewan has been racing Snocross since 1997 and looks for the upcoming season, his tenth, to be a good one. " My first year was the 1997/98. I did some local stuff the year before and the West Yellowstone race where I ended up second to Kirk Hibbert," notes Blair Morgan. " Last year was OK. The year before the first or second day of testing I broke my thumb and had some injury before that but last year I was healthy. I hurt my ankle a months ago but it is fine now."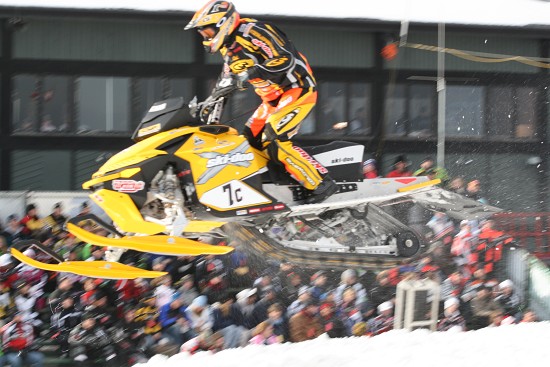 Blair Morgan spends his year racing the Canadian National Motocross series in the summer and the WPSA National Snocross series in the winters. " Last year didn't go so well in motocross. I had some really bad luck with some crashes and problems with the motorcycle. I was just outside of the top ten," said Morgan. " Last year was not stellar in
snocross as well. It ended up Ok. I won a few races and ended up 3rd and 5th in the points so I caught up pretty good. Not too bad. It is not were I would like to be. In X Games I didn't qualify for the final so going from Gold the year before to nothing was difficult. The same
thing happened to Tucker the year before."
This season should be another story for the Blair Morgan Racing Team. " I feel great this year. We got some riding in this week and the machines are working well. I pretty on with getting every ready. My fitness level feels good. I don't lose fitness ever, I kind of maintain
it. I feel I am in better shape now than when I was 20 so feel pretty good," noted Morgan. " In the debut of the REV XP I won the race at Valcourt. This year we can use the chassis in both Stock and Open so it will be good to have the same machine platform to ride. The machine
will be set up perfectly the same. It will be just the motor difference. Ski Doo are always improving and what I like about the REV XP is how much lighter they have gotten as well as the handling and steering. It seems like it goes over bigger bumps and holes better. It
is a good machine. I like the 600 because it is easier to jet the thing and clutch easier. The 440 was pretty hard to get tuned all the time and this will be a lot easier. The acceleration is better and we are actually lighter than our old 440 REV. The mod version will be faster. We are close to the same settings we used to run on the 800 so the power isn't a whole lot different. Polaris had a new chassis last year and Ski Doo and Arctic Cat this year."
" There are a lot of new faces this year, many I don't even know. The experience and knowledge I have gained in the last ten years in racing have helped me a lot. I've been in almost every situation so I know how to deal with it. I don't have any time off from Motocross to Supercross," smiles Morgan. " I have a friend of mine who is a very good trainer as well and we have a set program we do, lots of different things. My fitness gets to a certain point and we like to maintain it there. It is injury prevention. I kinda like going into the gym and
working out. It is a hobby of mine now. We do a lot of weird stuff."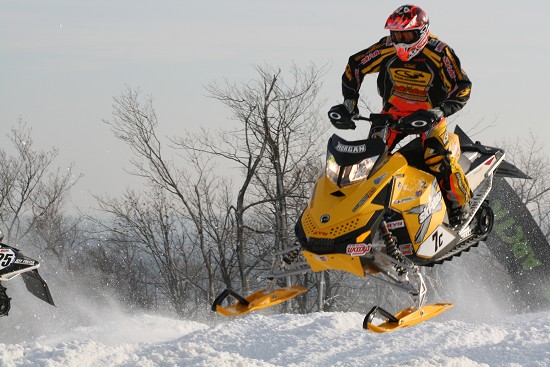 A new event for the Blair Morgan Racing Team is a ride they started for the Canadian Spinal Research Organization at Glacier House in Revelstoke, BC. " We wanted to find a good charity and there is that kind of injury in our sport. We have a contact point on our web site where you can enter to ride with us in the mountains. It was blast riding there last year, one of the highlites of the year," noted Morgan. " This year we will bring one of our trucks up there. It the best riding by in far deep snow. I like riding my short tracks and doing big jumps."
The Blair Morgan Racing Team has been with Ski Doo for 6 years now. "
I hope we carry on with Ski Doo, that is the plan. Our contract is up this year. I don't know how much longer I will do the sport. It depends on how sharp I stay," smiled Morgan. " We have a good team that is established with some great riders. Last year we felt we needed a
change and we are always looking for young guys coming up. We got Ian Hayden last year, a Canadian boy and look for a good season from him."
What does Blair Morgan think of the 4 stroke engine in Snocross?
"I'm sure they will get the weight down just like they did on the motorcycle. The 4 stoke is way torqier and feels stronger. It is a tough call. The direct injection motor has emissions lower than 4 stroke so who knows. Even in motocross they may go back to 2 stroke. It is a bit of a tend thing maybe to do with manufacturer making more money on 4 strokes." stated Blair Morgan.
Sitting down with Blair Morgan in his race trailer for this interview you could easily sense the quiet confidence of the most successful snocross racer of all time. He really doesn't have to prove anything to anybody but somehow you sense his competitive spirit will lead him back on top again.