ABITIBI TEMISCAMINGUE, QUEBEC: A SNOWMOBILE PARADISE

by Scott A. Sumner
www.slednews.com

Snow has been at a premium in Northern Ontario this year and the opportunity to ride the trails near Rouyn Noranda Quebec was one I jumped at right away! I have gone snowmobiling in Quebec before and I knew the trails would be great and the hospitality of the people fantastic. I was definitely accurate again this trip! My journey began with Air Canada flights to Toronto, Montreal and Rouyn. After a great night's stay at Motel Alpin it was off to Location Blais to pick up my 2010 Ski Doo Grand Touring with a 1200 cc 4 stroke engine.

We began our 4 day 900 kilometer journey saddle bag ride with meeting our guide, Yvon Lafond, a retired college administrator. The ride took us 85 km south of Rouyn on trails that were wide and smooth through beautiful scenery. "The rain two weeks ago almost destroyed the trails but the groomer operators did a great job," said Yvon Lafond. "In Rouyn, we have 1000 club members. The groomers are 2 New Holland and one John Deere tractor. We share a fourth one with the ATV club." I started snowmobiling 5 years ago when I retired, as I wanted to do something quite different. Snowmobiling is very, very popular here. I said I will try it and see if it is fun. Now I enjoy going out and riding with my wife. She likes it too. It is nice to enjoy the sun and good friends. Sometimes we stay over night," said Lafond. "Normally, we start riding about Dec 20th and can ride until the end of March. Sometimes, we are able to ride right up to Easter weekend. This year it is not as cold as usual and we have less snow."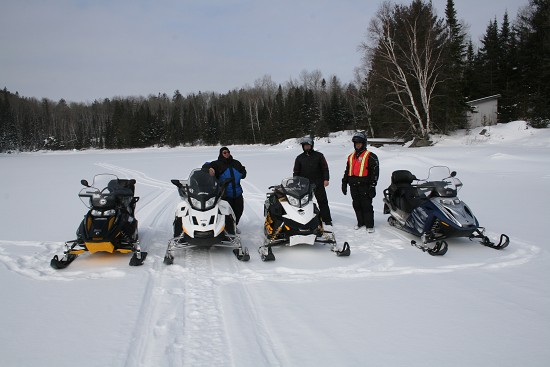 After a great lunch, I met Guy Lauzon of Club Moto-neige Temiscamingue who along with his friends Claude and Serge would ride with me over the next two days. Before he explained, "We had many small clubs and everyone was doing their own grooming with smaller units and a small Skidoo with 2 by 4's as a drag. Thirty years ago we became one large club and then we were able to buy a tractor. Today we have 711 km of trails. The club is now contracting a farmer after several public tenders to do our grooming. We rent the tractors and use our track system. Our trail groomers work 24 hours a day when it is stormy. One
of our main machines is a John Deere tractor 6700- 150 HP worth about $150,000." Guy Lauzon went on. "We have to rationalize the machinery usage all year round. You can tell the trails are better with our approach. We have local, regional and provincial trails. The trails are
all maintained on the same schedule."


The Club Moto-neige Temiscamingue has 700 members this year with some of its smaller years at 400 members. A trail permit costs $285 and if you are caught on the trail without it, the penalty is $350. Before Dec 9th, you pay $235. A weekly pass is $175. It was exciting riding with Guy, Serge and Claude! These two days of riding were perhaps the best of my career. We followed many types of trails, including traveling along old railway beds, through trees, onto lakes and into wide open farmer's fields. A great destination was seeing La Grand Chute which is a fast moving rapid on the river. There were covered historic bridges, and even large power dams to see. After exceptional sunny days of riding our home base was Domaine Temi Kami, a beautiful cottage resort in Duhamel-Ouest. This is a beautiful area of the region!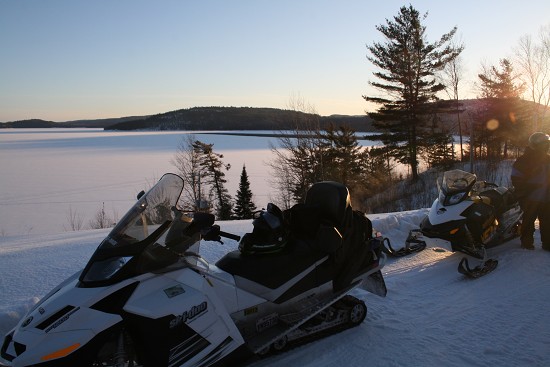 My next guide was Paul Levesque , President of the club in Val-d'Or. Levesque sells tractors for a living after 20 years in the mining industry and 6 years in the excavation business. Val-d'Or, sometimes which is known as known as the Valley of Gold had received lots of snow
in November. This club can open trails just before Christmas and stays open until April 12th. They have 1,013 permit holders in a city of 35,000 people. The club has been in existence for 40 years and operates about 750 km of trails with 4 groomers. " We have one tractor, 2 new piston bully machines and 2 older BR180's. We pay the groomers operators and at the end of the year we plan a schedule to get them ready for next year. We believe in well maintained
equipment," said Paul Levesque. Their equipment makes the trails available up to 16 hours per day. We try not to groom during the day because of the traffic. Sometimes we groom a trail 3 times per week. We attract Americans, people from Ontario and even from as far away as France. This is definitely snowmobile country!"
" I admire the fact that the trails are wide and well groomed. We have a lot of good people maintaining the trials. You can do lake riding, rail beds, field and through the bush. The riders here respect the private property owners," said Levesque. This year we are down to about
30 cm of snow. Our usual is about 3 feet and we have had one foot this year. In the early season, we go on ATV's and pack the snow. We do a great deal of preparation work on the trails to make sure they are ready to ride as soon as possible. Snowmobiling is important for
tourism and commerce. The Val-d'Or economy has been based on mining gold, a good industry. Forestry is not as booming but there are still many people spending money. Tourism would be the third aspect of our economy."
After another great ride to Val-d'Or, we traveled to the Auberge Harricana resort to spend the night. It is a very impressive large log cabin structure that caters to snowmobile visitors from as far away as France. Over 20 Yamaha sleds are for rent and will guide guests throughout the region. The food and hospitality here are amazing!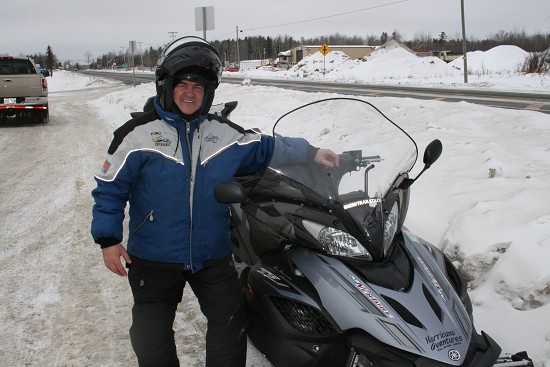 My last day of riding back to Rouyn will be with Nelson Laflamme, regional administrator of the Quebec Federation for Quebec trail system for Abitibi Temiscamingue and the north Quebec region. These are two large regions which include 11 clubs, 5000 members and 3700 km of groomed trails. "The federation is the best support the clubs can have. They have the expertise and funds and can help with groomers. We have a good relationship with the Quebec and Federal government. They help us provide the best trails we can offer to encourage tourism. They are really behind the club with the Abitibi Temiscamingue Tourism region," said Nelson Laflamme. "There are over 200 people from France every year that come here for 1 week at Auberge Harricana and ride the region. We attract people from Michigan, Ohio, Vermont and Ontario as well. In our area, we have great temperatures, large spaces and wide, well groomed trails. We try to make our trails 24 feet wide with good signage for safety. With even less snow this year our trails are still good. The groomers remade the trails by cutting the ice and renewing the trails."There are many entrances to the area where you can trailer your sleds and leave the trailers. You come from Montreal, Ottawa and Muskoka..." We have a really nice trail from Cochrane to our area. You could leave with your sleds from Kirkland Lake, Haileybury, Cochrane and North Bay. You will be well accepted everywhere here. People will be proud to receive you and take care of you while you are here." said Nelson Laflamme.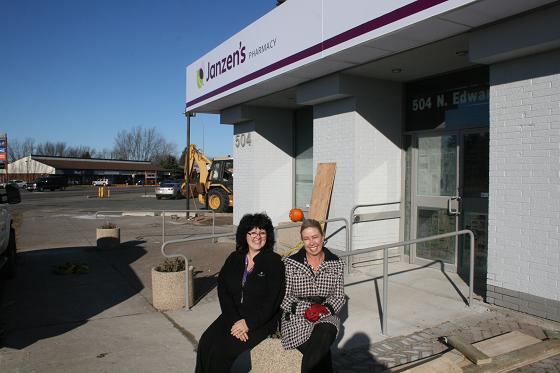 During my riding, I encountered some Southern Ontario riders who come to the Abitibi Temiscamingue region to ride each year. "We come because of the snow conditions, the hospitality and the people. The season tends to run longer and the trail system is really good. It takes us three hours to drive to Temiscamingue and then we had a day riding to get to Rouyn, Noranda. We will do 4 days of riding and travel 1400 km at least." said Ted Smith of Bracebridge, Ontario. "The trails are good except for the snow drought areas. The atmosphere here is great with very friendly people. Even with the language barrier they are more than willing to communicate with you. We have been coming here for 5 or 6 years."
" In Muskoka, there is so much traffic that by noon the trails are rough. You are also constantly meeting sleds on the trail. Here we don't see as many sleds. We love the fact that the trails are always in good shape from the beginning of the day to the end of the day for all four days. The trails are in great shape." said Gord Tanner of Muskoka.


My snowmobile trip ended back up at the Motel Alpin where it had started. It was one of my best rides ever. The trails were great, my 2010 Ski Doo Grand Touring a fantastic sled for this type of riding and most importantly the people here are very special. Their genuine nature
was indeed something that I will always remember!
Special thanks to Nicole Gaulin of Tourisme Abitibi Temiscamingue for her help in setting up this trip. Also thanks go to the fantastic guides with me, Yvon, Guy, Claude, Serge, Paul and Nelson for their help. The Motel Alpin, Domaine Temi Kami, and Auberge Harricana were
great places to stay. Also many thanks to Location Blais for such a great sled to ride!
For further information visit www.tourisme-abitibi-temiscamingue.org or 1-800-808-0706
Merci beaucoup!