A 5 STAR GOLF EXPERIENCE AT THE REYNOLDS PLANTATION, GEORGIA
by Scott A. Sumner
Many Canadians turn their attention to a winter get away during the long winter months. This season in Thunder Bay has been especially harsh and it was a pleasure to go on a quick trip to the Reynolds Plantation located about1 hour a way from Atlanta in Greensboro, Georgia.
My adventure began with two 2 hour Air Canada flights to Atlanta through Toronto and then the 1-hour drive to the luxurious Ritz Carlton Lodge. You can take all the driving away and be picked up at the new International Terminal at the busy Atlanta airport for your drive to the Reynolds Plantation. This new terminal is much quicker to get in and out of and after clearing customs already in Toronto, makes for a quick ride up to Reynolds. The property is central in Georgia also within an hour of Augusta, Athens and Macon.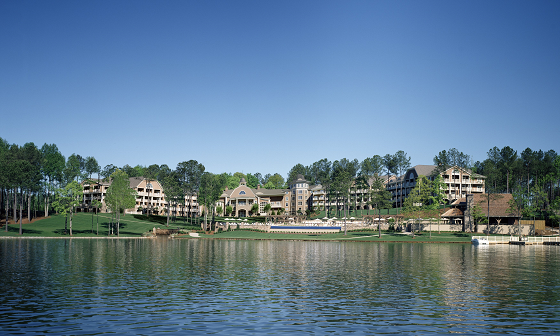 The beautiful Ritz Carlton is a real treat to stay at and includes many great dining opportunities as well as an adjacent world-class spa! It is a great compliment to the 6 excellent golf courses right on property.
The Reynolds Plantation has had a long history with their first golf course opening in 1988- the Plantation course. They have added a course about every 5 years since then. A local Reynolds family started the development and ownership has transitioned over to the well known Met Life company in August 2012. Currently they have developed 2500 homes on 3700 lots on about 6000 acres, but have 11,000 acres in total so have completed about 60% of the development.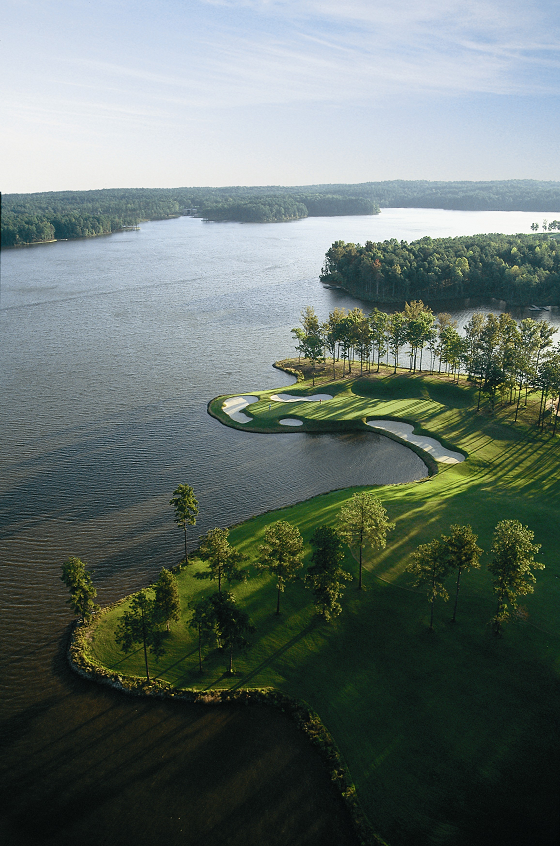 Raymond Neil is the President of Reynolds Plantation and was previously with Georgia Power, the company that built Lake Oconee, as an engineer. Lake Oconee forms a signifcant part of the Reynolds Plantation development. Mr. Neil bought his property in his late 20's and has lived on site for 25 years now. Neil started working at Reynolds in 2002 and has been President since 2006.
" Met Life adds great stability to us and they are a great company. We are pleased to be owned by them. They have invested significant capital back into the property and we have a great future." said Raymond Neil.
The Ritz Carlton Lodge on site is an expensive property with great dark rich woodwork throughout! It features 251 rooms in the lodge that rent from in the $300's and up during the prime season. There are also 60 cottages available in 2, 3 or 4 bedroom configurations. Right now there are 51 new homes under construction at an average size of 4500 square feet. Some have started recently in the 8000 square feet range.
" Many of our residents here have second homes and come from Atlanta as well as the Midwest and Northeast US markets as well as traffic from Florida. 50% of our market is from Atlanta, 48% the rest of the US with about 2% from the rest of the world including Canada." said Neil. " We have 6 golf courses here designed by different architects including Nicklaus, Rees Jones, Fazio, Engh and Bob Cupp. Each has it's own feel. You could stay a week here and enjoy the courses and the weather. The weather is usually excellent here and we have members who play 280 or 290 rounds a year."
The Spa at Reynolds Plantation is world class and a great opportunity to relax after you have played way too many rounds of golf.
" We are doing well here. The real estate numbers are strong and we have hit all our of our targets last year and are well on target this year to increase. Properties are moving in all price ranges." said Neil
The properties range in size from 1/2 to 1 acre. There are also estate lots of 6 acres on the water. Lot prices range for $75,000 to over $1 million each. Construction cost to build your home at the Reynolds Plantation is very reasonable from $100 to $150 per square foot based on the finishes but can be much higher for elaborate homes.
" We are continuing to move forward and have just completed golf course renovations on most of our courses and every room at the Ritz Carlton. We are about to start construction on a new National club house and developing new lots for growth," said Neil. " The US economy is very strong and we are seeing people move here after selling their homes elsewhere. This past year average pricing went up. We sell a lifestyle and value. You can have unlimited play on 6 courses for less than $700 per month, so it's good value."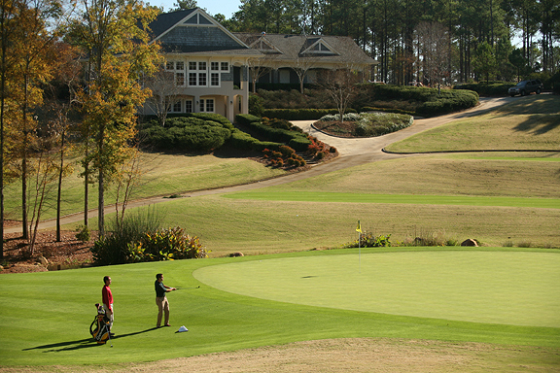 A great option for the golfer at the Reynolds Plantation is the Kingdom Taylor Made Fitting and Training facility. It is the main east coast center for Taylor Made and second only to their Carlsbad headquarters. You can be fitted for every club in the bag from driver to putter. It takes about 3 1/2 hours to complete and costs $350.00.
" We use the Trackman and our Motion Analysis System (MAS). You put the suit on and get looked at for full swing as well as in our putter lab. We also have a PGA tour trailer here that lets us build every club for you right away. You can get the fitting, hit the correct clubs for you and take them home with you today," said Alan Stone, Fitter at the Kingdom at Reynolds Plantation at Greensboro, Georgia. " Today with you we were looking at launch angle, spin rates to maximize distance and control for the driver. By looking at your swing style we can get the correct loft for your attack angles to get the right launch angles so you can hit it further. Your shot dispersion was also little bit tighter."
" The trend today is for more loft with the driver. You don't spin the ball as much with the driver, so you need more loft to get the ball airborne and create more distance. You can really find out a lot about your golf game here. It even helps you know your tendencies to help you play towards or guard against on the golf course."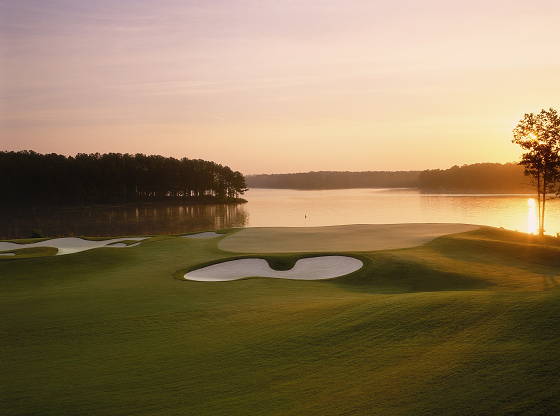 It was fun to play golf the first day at Oconee and the second day at Great Waters. Both of these golf courses were excellent. Great Waters, designed by Jack Nicklaus, features every hole on the back nine adjacent to Lake Oconee and was one of the most picturesque setting I have ever been at on the golf course. The golf courses definitely matches the overall excellence of the Reynolds Plantation property and should be experienced by the avid golfer. It really is a great get away!
For further information visit www.reynoldsplantation.com