ZZ Top at the Thunder Bay Community Auditorium
by Scott A. Sumner
Several years ago the iconic ZZ Top band came to Thunder Bay and I wasn't able to get tickets. I had heard many of their songs growing up and liked them. It was then that I started researching ZZ Top and lead singer guitarist Billy F Gibbons on You Tube, and was intrigued by his story and amazing rock guitar sound.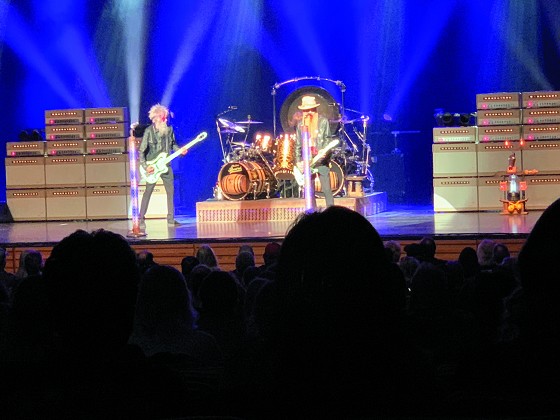 It was therefore a real treat to see them perform early May at the TBCA, an excellent venue to see really any artist. There is something about the simple clean sound of a lead guitar, bass and drums playing rock tunes you have heard before and like. The sound quality at the TBCA was excellent for ZZ Top and let you really appreciate the clean rock sounds. Sometimes I have been at rock shows where the music is so loud it really takes away from the performance and can also leave you're ears ringing for days! The sound guys were enjoying the show as well as I was next to them for awhile during the show.
ZZ Top singer Billy Gibbons is 72 years old and has been performing for over 50 years. Their tour schedule in 2022, after two years off because of the Covid pandemic, is over 60 dates across North America rolling along in 4 tour buses with 2 transport trucks as well. Seems like a pretty grueling schedule especially when you think of all they have to do to perform 15 songs for about 1 hour and quarter to many fans.
The last ZZ Top show here easily sold out and this new show after two postponements was maybe half capacity at the TBCA. This time ticket prices were $175.00 and up which may have played a factor for people.
I really enjoyed the show, hearing so many familiar songs and shooting some short videos on my I Phone. My favourite ZZ Top song "My Heads in Mississippi" I got to film entirely so I can listen back from time to time. The one thing about music is it almost always lifts your spirits, makes you feel better! When you see an iconic band perform live it's always as the Mastercard commercial used to say- Priceless!