WORLD CLASS GOLF: CAPE BRETON ISLAND!
by Scott A. Sumner
It is always fun to see other parts of Canada! In August I had the opportunity to visit Cape Breton Island, primarily to play some golf, but also to see a beautiful part of the world!
Two flights will get you from Thunder Bay to Toronto to Sydney, Nova Scotia in good time. You can easily pick up a rental car and your adventure will begin!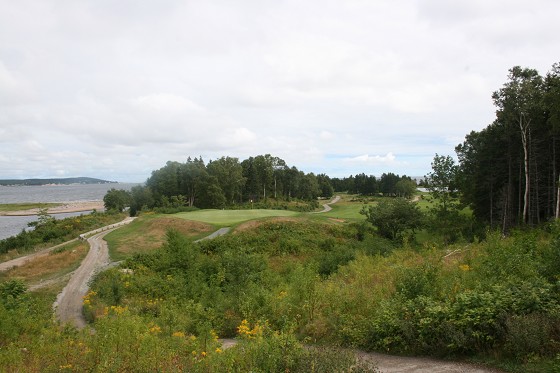 My first stop was the famed Highland Links Golf course consistently ranked in the top ten in Canada. This seaside course is also home to the historic Keltic Lodge Resort & Spa located on one of the most beautiful settings you will ever see. The large white inn was constructed in 1950 and features fine dining and beautiful rooms with ocean views.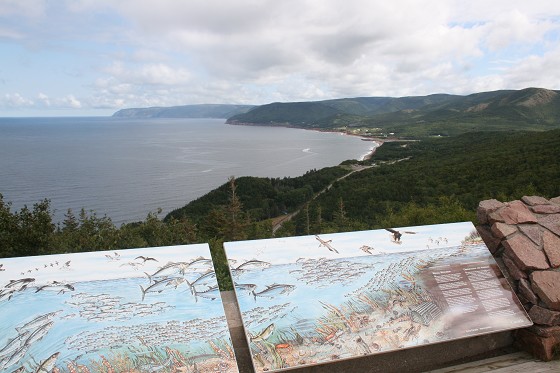 One of the highlights of Cape Breton Island is the drive you take around the perimeter of the island up some large peaks, overlooking pristine ocean. On my trip there were even whales visible in the backdrop that attracts the attention of the many tourists on the road. You will end up travelling through Cheticamp, a historical seaside village where the houses and Main Street are right adjacent to the ocean!
My next destination was Inverness, Nova Scotia, a former coal mining and fishing village. Inverness had seen quite a bit of economic downturn with the stopping of coal mining and limited fishery. It has seen its population drop to 1500 people. The community leaders had always felt the former coal-mining site, right on the ocean, would be perfect for a true links style golf course and a few years ago their dream was realized with the opening of Cabot Links.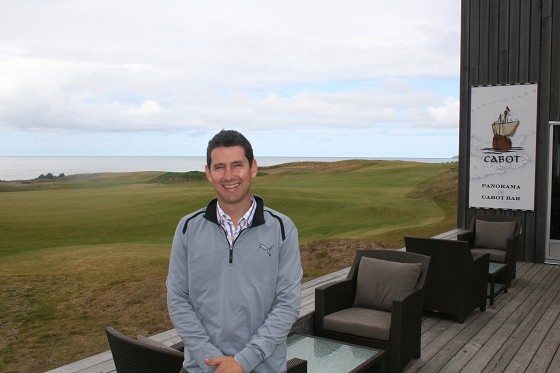 Andrew Alkenbrack is the General Manager of Cabot Links and has lived at Whistler, the French Alps and many other locations around the world working with major brands like Four Seasons.
" Cabot Links is starting to look like a success story. At the beginning a few years ago we had 14 holes and kind of a bar meets pro shop. Now that people decided they like it here we have expanded to a new pro shop, a 48 room lodge which is an understated luxury and 24 more rooms under construction." said Andrew.
The Cabot Links course has been recently ranked 42nd in the world by Golf Digest magazine. They now have four restaurants, three onsite and one in the town and are working on their second 18-hole course called Cabot Cliffs, which promises to be a great compliment. Cabot Cliffs will be finished mid September and opening up for preview play next July 15th and then fully open in 2016.

Joe Robinson, Director of Golf
" Two courses will create synergy. Our co owner Mike Kaiser of Cabot Links, who also owns famed Bandon Dunes in Oregon, says one course is a curiosity and two is a destination. Ben Cowan Dewar is the local partner on site. The people will stay longer. Cabot Cliffs is a Coore -
Crenshaw design and a great layout." said Andrew. " Cabot Cliffs is a very spectacular setting with natural beauty and ocean views. The views are even more spectacular along the cliffs and many holes are right on the ocean with others between huge seaside dunes. The excitement will
build as you play through the holes."

" You can fly into Halifax and then take the three hour drive to Cabot Links. The other option is a two hours drive from Sydney. We also have 11-passenger luxury Mercedes Sprinters you can take with us from the airports. It is a great with a group of people. Right now Halifax has more flight options. You could also fly privately, including with private jets, into Port Hawkesbury which is 1 hour away," said Andrew.
The people who come to Cabot Links to play are geographically located from the eastern US 40%, Ontario 25% and 25% from Nova Scotia and local traffic. They also get some guests from Florida and Europe, which is growing.
Cabot Links has varying green fee rates on the season- typically $150 to $185 to play the course which is a great deal for a course ranked in the top 50 in the world. Cabot Links is debuting at no 2 in Canada as rated by Score Golf magazine. You can have a caddy to carry your bag which is a great way to see and learn the course as well as some of the history of the area. Most of our caddies are from Inverness. The caddy fees are $60 for an A level, plus a tip of $15 to $35.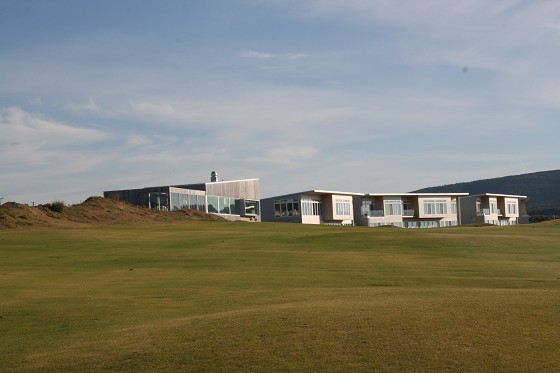 The hotel room rates can vary from $245 to $335 for a deluxe king with balcony ocean side. There are floor to ceiling windows and the bathrooms are deluxe with tubs, glassed showers and dual sinks.
" In Cape Breton we have the Trans Canada Trail where you can hike and mountain bike. There is the Inverness Beach, Tuna fishing, and world-class salmon fishing on the river. We are starting to offer other opportunities during your stay. We promise excellent food and beverages and warm Cape Breton hospitality." smiles Andrew. " We want people to say this was amazing, a lot of fun and I can see myself bringing back some friends."
Cabot Links currently has over 200 employees on staff and there are 65 people working on the new course. It has provided work for many in the community and helped the economy immensely.
Their web site is www.cabotlinks.com
After my rounds at Cabot Links and tour of the new Cabot Cliffs course it was off to Halifax for the return trip to Thunder Bay. My travels allowed me to see much of Nova Scotia. In all my golf travels in Canada and the world the Cabot Links destination ranks at the top! It really is a special place you must see.