Winners of the Port of Thunder Bay Let's Sea it Your Way Photo
Challenge Revealed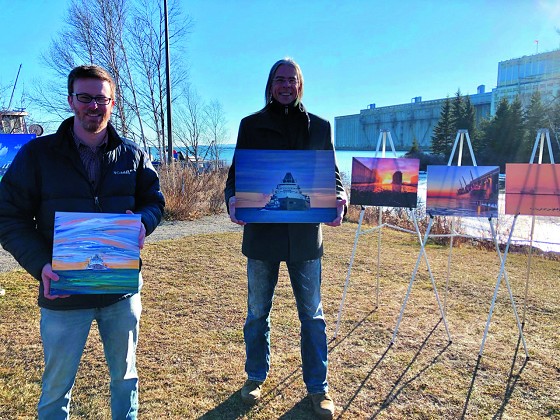 The Port of Thunder Bay is pleased to announce the winners of the Let's Sea it Your Way Photo Challenge. The contest was launched in October and invited both amateur and professional photographers to participate by entering their favourite camerawork for judging. Over 300 images were posted for submission, capturing Thunder Bay's vibrant maritime industry and the harbour landscape in its most vivid forms. A winning photograph was chosen in each of the four categories. The winners are as follows:
1. Best Saltie: Jon Nelson
2. Best Laker: Michael Hull
3. Best Ship with the Sleeping Giant: Mike Hanchar
4. Best Superior Sunrise/Sunset featuring the Port of Thunder Bay or Harbour: Jack Hamlin
The number and variety of submissions were very impressive. The Port of Thunder Bay is proud to share these local images that all individually share visions that inspire, inform and awe. Thunder Bay residents enjoy some of the best lake views in the world, and we often overlook the exciting shipping activity that happens in our world-class port.
Congratulations to all the talented photographers who entered the Let's Sea it Your Way Photo Challenge. The Port of Thunder Bay is pleased to create a platform to celebrate local photography and highlight the port industry amidst the natural beauty Thunder Bay harbour has to offer.
A panel of judges comprised of local, well-known, and experienced photographers selected the winning photo submissions. Challenge winner Michael Hull, who has previously lived in Hawaii, Florida and Colorado, explains that he really enjoys documenting the city through photography and believes that Thunder Bay is one of the most beautiful places he has lived.
"The port is a huge part of our history and every day there is something new and unique happening. Whether it be the tugs working to get a ship in or out of a dock, a bald eagle, a seaplane taking off or a majestic sunset, there is always something going on at the port."
Hull says his first memory of a ship was as a child while visiting the Port of Thunder Bay. His interest in the industry was recently reignited while taking photos for fun during the pandemic. His winning submission features the Saginaw arriving to the port with assistance from a tugboat.
Each winning photographer received a Superior Prize Pack sponsored by the Thunder Bay Community Economic Development Commission, George's Market and Thunder Bay Hydraulics. The prize included a painting of each winning photograph by local artist Vik Wilen. Wilen created abstract pieces that are very vibrant and creative, capturing the original photograph using acrylics and watercolours.
"I didn't realize there was so much activity in our harbour until I started to try and take pictures of every ship. Standing next to a ship is quite simply awe-inspiring and a very powerful experience. Some of these ships date back to World War II and there's a silent power that can be felt while around them. Once you factor in the history of the ships and the element that some of the Salties travel back and forth between various continents with tremendously large cargo loads, it just puts me in amazement of what humankind can accomplish," continues Hull.
"I also think our Port is a significant point of pride for Thunder Bay. This has been especially evident during the global pandemic with this year's shipping season being one of the busiest on record. Quite literally, Thunder Bay is helping the world survive this pandemic and I believe the Port of Thunder Bay is playing an integral role."
The paintings of the winning photography will be available for purchase in the new year at vikwilen.com with a portion of the proceeds being donated to the United Way of Thunder Bay.