Wake the Giant Music Festival Announces 2023 Lineup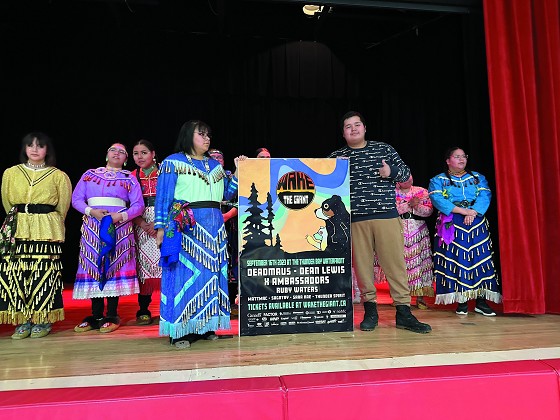 Wake the Giant Music Festival is set to return to Thunder Bay, Ontario this fall with epic new voices and cultural performances. Today, music festival organizers and students from Dennis Franklin Cromarty High School (DFC), announced the lineup for the 2023 event that will take place on September 16th. World-renowned DJ deadmau5, rock-pop band X Ambassadors and Australian singer-songwriter Dean Lewis are set to headline, joined by Ruby Waters, Mattmac, Sagatay, Thunder Bay local Sara Kae and Thunder Spirit. This is the fourth year the festival will be held in northwestern Ontario, and will be a celebration of diversity with a spotlight on Indigenous culture and music.
"This year's lineup is lit like the Northern lights! You have one of the biggest DJ's in the world joining a superstar list of artists and some unreal performers from First Nation communities," says Wake the Giant Co-founder and organizer AJ Haapa. Blind music producer and recording artist Mattmac is definitely a performer that festival-goers don't want to miss. He has harnessed his melodic pop-trap beats and inspiring story, quickly establishing himself as 'one to watch' on the national scene with more than 5 million+ streams across platforms. Meanwhile, deadmau5 (pronounced 'dead mouse') and his trademark giant mouse head, will bring his innovative production techniques and a very creative live performance to the Wake the Giant stage. Another highly anticipated act is Dean Lewis, who is currently selling out stadium shows across the country, with his emotionally charged lyrics and powerful vocals.
Tickets are on sale now by visiting wakethegiant.ca.Tier 1 tickets are available for $105 and limited VIP tickets for $157. Children 12 and under are free but still need a general admission ticket to attend via the ticket site. This year's festival poster was designed by DFC student Harmony Fiddler. The painting features the Northern lights and represents a mother and child. "I created this with my mom in mind, and how she guided me with her wisdom and experiences. In Indigenous culture, bears represent medicine, and my mom is my medicine—she's helped me in ways she'll never know. I'm away from home to finish school, so this has helped me with my time here.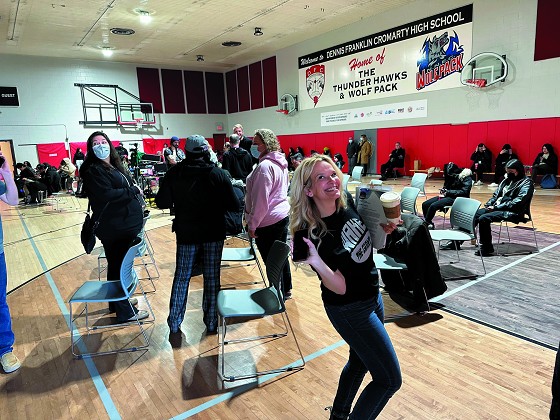 Year after year, Fiddler, like hundreds of Indigenous youth, leave home, family, friends, and everything they are familiar with, in exchange for a high school education in Thunder Bay. Many of them often go live with strangers and have never experienced a big city before. "Wake the Giant is trying to make the experience better for these students and amplify Indigenous voices, while creating a more welcoming and inclusive community. The Wake the Giant movement consists of three main events, which are all a part of the biggest student orientation in Canada - The DFC Experience, The Amazing Race, and the grand finale being Wake the Giant Music Festival.
It's a giant welcoming party to bring the city together," continues Haapa. DFC students are currently working with Wake the Giant Music Festival 2023 performer Sara Kae to create a new song that will be performed at the festival. Throughout Wake the Giant history, many artists have taken part in workshops with the youth leading to some very memorable moments at the event and once in a lifetime experiences for the students. "It is very exciting to be in the beginning stages of writing this song with the students of the DFC music class. It is important that we allow spaces for creation in young people's lives. It is important that we give them the tools and opportunity to express themselves. Songwriting is a very vulnerable process, I thank the students for trusting me in their space to be apart of their journey," says Kae. Wake the Giant provides opportunities for Indigenous youth to learn new skills, connect to potential career opportunities and feel inspired.
Former student Lewis Chapman will also take the stage this year, recently joining band Sagatay. He also performed at the inaugural Wake the Giant Music Festival, and helped with setup and lighting the following year. The 2023 Wake the Giant Music Festival will also include celebrity appearances, a live art installation, an Indigenous Craft Market, and yummy local eats! Stay tuned for surprise announcements leading up to the festival by following official Wake the Giant social media pages.