Viking Octantis Makes Thunder Bay Stops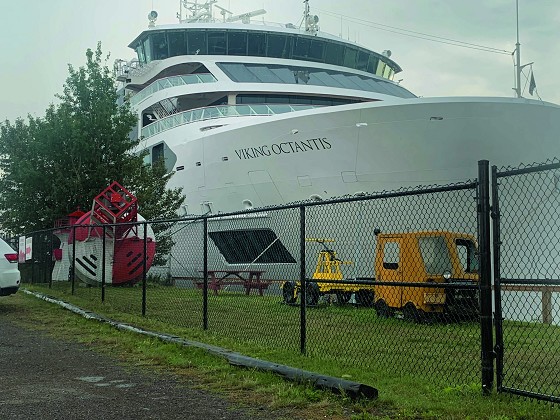 by Scott A. Sumner

The arrival of the beautiful Viking Octantis cruise ship has given Thunder Bay a different vibe this summer. This massive ship at 665 feet long and 30,000 gross tons with a passenger capacity of 378 and 275 crew is impressive. It is an ice class vessel and fully seaway compliant.The ship cost around $ 300 million US dollars to build. There is a sister ship called the Viking Polaris that is set to be launched later this fall.
Next year there will be 3 stops for the Octantis and 6 stops for the new Polaris ship in Thunder Bay. There is another cruise company ship coming with 2 stops for a total of 11 cruise ship stops up from 2022 numbers.
The Pool Six site has had some improvements done with landscaping and traffic flow with a lot of traffic movements there now. Luggage tent and screening equipment to screen passenger luggage has been installed. It is like an airport with the water side and land side so it is a secure terminal just like an airport. Delta is the check in hotel and Maintair Services has the contract to check in the passengers as they have experience at the airport.
Many guest come in early sometimes a few days and then board the ship.Information from Paul Pepe CEDC