Tucker Hibbert Looks To Win Again
by Scott A Sumner

I have been an avid snowmobiler for many, many years. One of the most well know families in the sport is Hibbert. I remember seeing Kirk Hibbert win the famed I-500 race as well as Pro classes at Duluth. I
first met his son Tucker at a race here in Thunder Bay in 1996. Tucker certainly has become a fantastic snocross racer, the best in history. It was fun to sit down with him at Duluth this year to talk about the
snocross sport!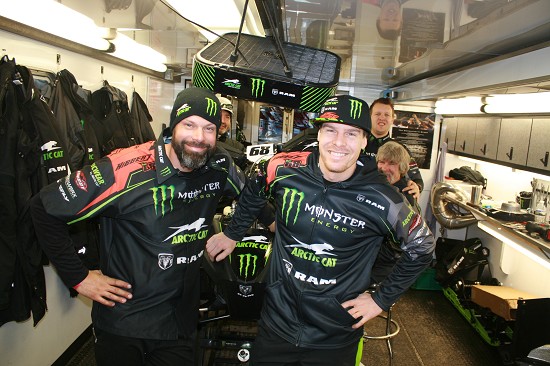 You had a pretty good season last year with the most Pro wins but it wasn't really what you hoped for?

"Last year the main goal was to win the ISOC Championship so I was definitely bummed out I didn't get that done and am disappointed about that. The good thing from last year is we did win a lot of races and I
felt really strong at times. It was not my most consistent season with some bad races here and there and we didn't win enough in qualifying to put myself in a good position for the championship. Overall it was a
bit of a disappointment but definitely there were some positives so we build on this coming into this season with a fresh start, looking for the championship."
" The goal is to be consistent and win every time we're on the track, that is our best bet to win the championship. Right now it is important to win the qualifying races as there is such a point advantage, so you can't afford not to win those. If you win the heats you get the reverse order start for the final. They have got it turned around as about as goofy as it can get for racing. I don't agree with it, I don't really
like it and it doesn't make a lot of sense but it is the same for everybody so we have to step up to the plate and win those qualifying races and then figure out how to come from the outside at the start and
win the main events."

You didn't win the X Games last year. It was also announced recently
that Snocross will not be part of the X Games in 2018?

" The 2017 X Games was a bit disappointing as well- it kind of followed suit to last season for us. A little bit off the marker of where we wanted to be. In that race I didn't get great starts, which made it difficult. The track was hard to pass on and really small so without the hole shot or a good start it was a challenge but I did the best I could to finish 4th. It could have been a lot worse and it is what it is and we are moving forward. This season the X Games have cancelled the Snocross class but we hope they will bring it back in the future."

There have been big changes in snocross this season with the
elimination of the Pro Open class to now be only Pro Stock class?

"It is a big change for us, no open sleds. It is totally different from where we have been throughout my entire career basically. There was a time when we were racing mod and stock sleds, which I liked. I wasn't a fan of going to only mod sleds and I guess I'm less of a fan of going to only stock sleds. It is a big change for us and I think time will tell if it is good or bad or otherwise. I'm trying to keep an open mind
about it and just stay focused on the racing. At the end of the day it is still a race and I have to beat all the guys that are lined up next to me. That is what we are focused on, not spending time on what the
rules are and should be or could be. It is about doing the best we can with whatever the situation is."

Do you think it will effect the Pro class?

" I don't think it change the fast guys from the slow guys. It will always be the same, fast guys, those that finish mid pack and those that finish at the back. Its racing and snocross specifically is a sport about hard work, practice, training, preparation and having a good team. No matter what the rules are you will always have those guys on top, that is kind of the way it is in all sports. I think it is good there are some new guys moving up and they have a chance at success."
" Our team didn't spend a lot of money on our mod sleds. I don't think we are spending any less money on our stock sleds today that in the past. Our sleds are all about time, engineering and thought process.
We worked with stock parts and tried to lighten them up in the past. We weren't reinventing the entire snowmobile by any means. I think people had an idea of what was going on that is maybe different than was actually going on. We can't worry about this, but just focus on winning races.

The new 2018 Arctic Cat race sled is much improved this year Tucker?

" The race sled this year is not a massive change but has some small to medium changes that made some significant improvements. It was surprising and exciting to see the amount of improvement we were able to make in a short amount of time with the rule changes that came really late. It was challenging for all the manufacturers but I know for sure challenging for Arctic Cat, to quickly change their strategy and plan with the production sled to be the best we could be. Manufacturers are working far ahead and the product plan was already there. We had to kind of figure out what can we do now in a short amount of time. I'm excited and proud of what Arctic Cat could do to get us a really competitive sled and a big improvement over last year. I'm excited to race the sled this year. I felt optimistic all through
pre season and testing and last night in the Dominator it worked well. Logan Christian and I spent a lot of time riding and testing with the Arctic Cat engineering staff. It is not terribly different that what
we have done in the past. The top snocross Arctic teams have always contributed a lot to the engineering team at Arctic Cat to learn what we can for racing and turn it into production."

What is different about this years sled?

" This year the sled has the 137-inch track, which is what we raced with the last couple years on open sleds. We had to put it into the production sled so that was big change. The front end geometry, the
spindles and a arms got changed quite a bit and that is probably our biggest change improvement, the front end and handling of the snowmobile. It is definitely better and I knew we can make it better as
so far we have had minimal test time. It is pretty impressive right out the box. I know we can make it better. We are always trying to make the sleds lighter. It always a challenge when you have to send them down the assembly line and meet all the requirements for a production snowmobile. "

Arctic Cat was acquired by Textron recently. How has that affected your team?

" We haven't noticed any difference with Textron on our race team. They have kind of let us keep operating as business as usual as a race team. Most of the changes have gone into the off road division on the dirt side. I am not sure what will happen in the future as far as snow, if they will get more involved or not. From my race team point of view there has been no change, which I don't know, is good or bad.
It is fun to see the potential or option for things to get better so far been great. It has been great for Arctic Cat the company and I know the production has gotten a lot better and have gained production so
people are back to work."

You have a great group of people on your team Tucker?

"Our team people are awesome. It is important to have the right people with you. It the most important part of being successful. We have been really fortunate to enjoy a lot of success together and have a lot of fun. It is a big family. Racing for us doesn't stop ever, it is full year, every day, all day for us to be prepared to come racing. It is a lot of work, but makes it easier on race days."
" You have to cover all the bases. You can't win unless you have dialed in every aspect of your program from the race gear, the training I do, and the preparation the sled the mechanics do. There are so many things that go into racing that the general fan doesn't understand or see. It can be a little overwhelming at times especially going into the first race of the season. It can be stressful at the start and usually feels
a little better after that. It is about the smaller details."

Do you feel snocross racing has changed over the years?

" Racing has changes a lot over the years. The snowmobiles have changed a ton, the competition has changed, the racetracks, the rules, but overall the sport has progressed a ton. The competition is a way
stiffer that it used to be. There are 6, 7 or 8 really fast guys that can win just about any given day. It has gotten a lot tougher for me to dominate and win almost every single race. There were a couple seasons
where I won all but two races- that is pretty difficult to do now. A lot has to do with the other racers getting more serious, working harder and making their teams more ready. We had an advantage for a
while but the other top teams have reached that now. It gets harder for me to top that every year."

Now that you are 33 years old does it get more difficult to race Tucker?

" Every year I get a little older and the muscles and joints get a little more wore out. I do still feel good and have the speed, you just has to work hard. The older group of racers are slowly fading away and
the young guys are getting better. That is how it goes in any sport. For me I try to do my best. Training is important and about how-to get better. In the summer I enjoy racing motocross and mountain bikes which
helps my fitness. It allows me to do some other sports and take my brain away from snocross but keeping myself primed and ready. Everyday for me is about how to be a better athlete, no matter what sport I'm
in. It is all I know and all I've done. It's not all great all day, people have a different view of what racing is about. The grass is not always greener on the other side. It does pays off in the end when you
have success."

Tucker did have success at the 2018 Duluth Snocross winning both Pro finals and regaining the NO 1 red plate. He now has 129 Pro wins, 10 Pro Season Championships and 10 X Game Gold medals, the highest in the history of the sport. Good luck to the team this season on their quest to win the series championship again!