Thunder Bays Kenny Mandryk Ready For A Great Snocross Season
by Scott A. Sumner
I sat down with Kenny Mandryk after a heat race at the Duluth National Snocross event at Spirit Mountain.This season Kenny has gone all out to succeed with 2 new sleds, trailer and an emphasis on health and fitness!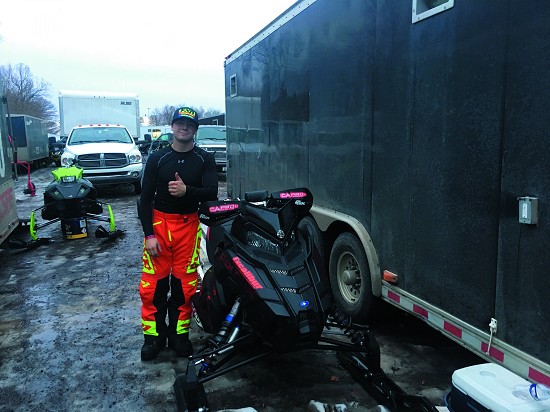 The first two heats today were good, with a 2nd and 3rd. The Polaris sled felt pretty good today. We were practicing at Aurora Mn November 10 and 11th and then back again for about 1 week before these Duluth races, Said Kenny Mandryk. I am having a lot of fun on the sled this year and put a lot of work in throughout the summer on fitness.
This season Kenny will run 2 -2019 Polaris race sleds. Last year he only had 1 sled and it was stressful breaking parts and going back and forth to the Polaris trailer.
This year it will be better, say switching out the suspensions if I have to. One sled is set up for race only and will be the National sled. The other sled will be for practice and regional races.
This summer Kenny bought a 40-foot gooseneck trailer and put a lot ofwork into it.
It is definitely better than being out of the back of the pick up box, smiled Kenny. The trailer is heated and Kenny will stay in the trailer at the track, which is unique.
I like waking up at the track and getting in the zone right away, something I have known growing up with dirt bikes always staying at the track.
The new version of the Polaris snocross sled is good. I like the new 2019 Polaris sled with the 136 track and the steering is better. The power is similar but it pulls good hole shots with the 136 track.

This is a huge season for Kenny to show progression. His lap times were good last year but he couldn't put it all together through out the races.
He will have 8 national races as far away as New York and South Dakota and regional races closer to home to get extra track time.
I am an apprentice carpenter by day and thank God my boss gives me some time off to leave and supports my dreams. smiled Kenny Mandryk
Stephen Morgan is also out of the Mandryk trailer as their Sport Lite rider, and they are the only Thunder Bay riders on this top level circuit .