THUNDER BAY has a new state of the art Dental Office: Pawliuk Dental
Local dentist, Dr. Jonathon Pawliuk and his wife Rachelle, Registered Dental Hygienist, are excited to have just opened their new state of the art dental building. The new office has also been rebranded from Pawliuk Family Dental, to PAWLIUK DENTAL as it transitions into new protocols, business expansion and construction of its new facility. PAWLIUK DENTAL provides a broad range of dental services.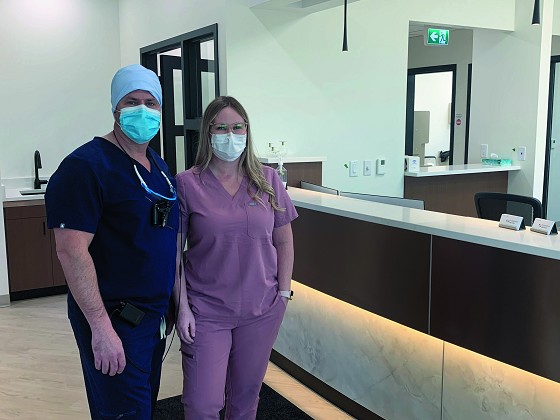 The newly constructed, fully accessible 5,000 sf building is located at 1170 Oliver Road, between Golf Links Road and the Thunder Bay Expressway, in the vicinity of the Thunder Bay Regional Health Sciences Centre.
Dr. Pawliuk has been practicing dentistry in Thunder Bay since graduating from McGill University in 2004. He returned to Thunder Bay and has owned his own practice for the past 15 years. We are a family-based practice, and our patient base has increased over the years, leading us to outgrow our existing space. "We decided to look at various options for expansion, which would include additional operatories (we currently had 3), additional staff, Covid compliant workability, accessibility and also on-site parking" said Dr Pawliuk.
We had looked at various options for a new location to grow the practice; however, we couldn't readily find anything that was suitable, and in 2019, we purchased the property located at 1170 Oliver Road. At the time, we had proposed to start building in the spring of 2020, but then Covid happened, so we decided to wait and reconsider our options and construction. In 2021, we made the decision to proceed with the new facility, while being mindful of the new science and health protocols which we are now required to follow as a result of Covid. Some of which included implementing additional air handling and purification, additional space requirements, and accommodation for personal protective equipment and screening for the safety of all staff and clients. So, while we knew we were anticipating the new construction, we were also conscious of these new requirements with the building design.
When we decided to proceed we had to consider what dentists had to do to deal with during the pandemic - at first all having to close our offices, then dealing with the new Covid office protocols, to be compliant with all of the new regulations. "We had to evolve and make changes to continue to keep our work environment safe for our patients and for ourselves" said Dr. Pawliuk".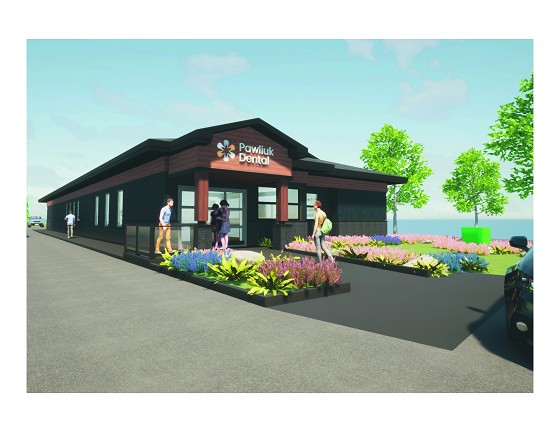 My father and his company Pawliuk Interplan Design designed the building, in conjunction with several other professionals in the construction and dental field. "My father still loves what he does, and continues to work in his field. It was very rewarding for him to work on this project, stressful at times, but I think he will look back and be glad he was part of it and we feel the same way." We were so fortunate and thankful to have such a great team of designers and local contractors helping us through this entire process. Susan Joris, Darek and the team from Henry Schein were instrumental in the planning and installation of all the dental components incorporated in our new facility.
Aurora Construction, their subcontractors and other subtrades were fantastic to work with; always keeping us informed and maintaining our construction timelines, while still having to deal with supply chain issues etc. Gino, Peter, Joe and Nick have been very meticulous and careful, and provided exceptional quality construction along with my uncle Mike. Last August, the construction of the building began and we made excellent progress throughout the next 9 months and the office opened for business on May 16, 2022.
The structure has many excellent features such as a boiler heating system with in-floor heating of the slab and an extensive air purification and ventilation system in the new building.
PAWLIUK DENTAL will be contributing to the City's economy, by employing an additional 5 professional staff members, including an additional associate dentist who will be joining our team in early June 2022. Our total staff complement will increase from 7 to 12 and we are proud of our expansion, going from three operatories at our previous location to now seven operatories with the potential to have even more. We are ready for the future and look forward to that.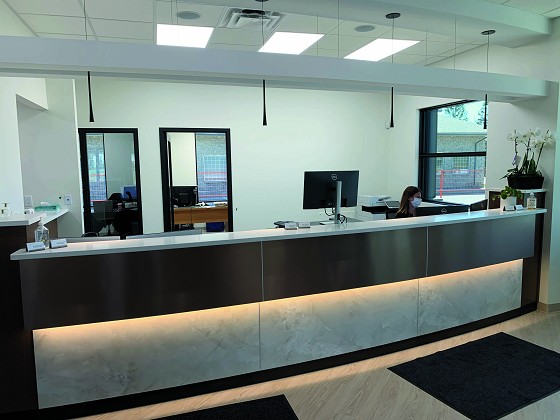 As well, Dr. Pawliuk is a member of the Department of Dentistry at Thunder Bay Regional Health Sciences Center so the location is ideal. "I also feel because the office is centrally located between the North and South sides of town, it is in a good location for all patients that visit us" said Dr. Pawliuk.
I asked Dr. Pawliuk how he enjoys working in a new state of the art dental facility? "I don't know if it has quite sunk in yet, but every day the reality of the new building sinks in a little bit further and I feel more comfortable and excited about it. The enthusiasm and collaboration from our entire team has certainly made for a great office environment".
"I am very happy to be living in Thunder Bay, and love all the patients that come to see us and I am pleased to provide the highest quality of care that we can. Most of our staff have been with us for years and they are just as much responsible for our success and we are definitely proud of and appreciate our staff. It's really a great team" Dr Pawliuk said.
"I feel dentistry is a really great career and I'm proud of being part of it. It also gives me a chance to do some artistic work with dental esthetics that people are interested in and is a very gratifying part of it for me."
Dr. Pawliuk and Rachelle are both life-long residents of Thunder Bay. They have three young children and are very proud to call Thunder Bay home. They are welcoming new patients to the new Pawliuk Dental office located at 1170 Oliver Road – or by calling 807-623-1707