THOMPSON OKANAGAN OFFERS WORLD CLASS GOLF PART 2

by Scott A. Sumner
www.golfingnews.ca
After some great golf in the Kelowna area, it was off to nearby Vernon, BC home to the famous Predator Ridge community. Predator Ridge was started in 1991 by Herb and Dave Paterson and sold in 2007 to West Build, owned by the founder of the Future Shop, Mr. Khoshrawshi. He sold out to Best Buy and has previously built and developed the Westwood Plateau golf course development in Vancouver. Since the take over by West Build there has since been a lot of capital investment at Predator Ridge including $3 million added into the clubhouse, expanded lodge operations, infrastructure improvements including roads and an increase in the volume of homes being built. The real estate sales were internalized and the new Ridge course was constructed using a Doug Carrick design. The original plan for Predator Ridge was 36 holes but it required further financial backing to get to the next level. The new 18 hole course including a redesigned 9 holes unlocked the rest of the land for home building.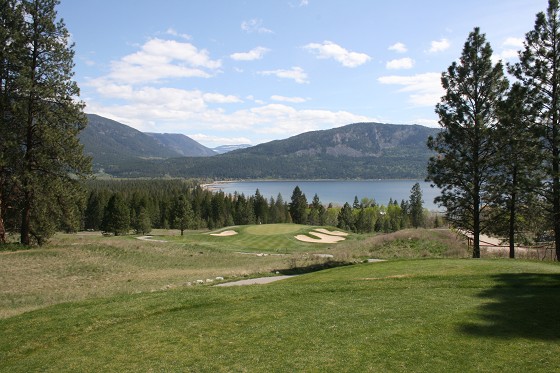 "We are in the home development business and to date only about 25%?of the homes scheduled to be built here have been completed. The economy has guided us to offer new products like the Osprey Green townhouses that range from $349,000 and up and homes in
the high 4's," said Doug Goubault, Director of Golf, and Predator Ridge. "We only offer golf memberships to home owners and membership is $25,000 at this point. You have full access to both courses with annual fees of $2250 which is comparatively very reasonable. Daily green fees are $140 or $160 for Predator and the new Ridge course."

" We built the Peregrine 9 holes and added 9 more. We stripped them off, re shaped them, blasting and created new routings on the Peregrine. The new landing areas are enormous, well designed and offer spacious greens. The whole project was completed at a cost of $11 million. This year we also resurfaced 15 greens with new bent grass and last year did 5, so all are new. We will have 36 of the best greens in the valley," smiles Goubault. "For years to come we will have less of a concern for our greens. Last year we did 34,000 rounds as a 18 hole layout and this year as 36 holes we will try to offer more options and a less congested look at 45,000 to 47,000 rounds between the two courses, providing more space. In July we will have 10 minute tee time intervals. The home owners play here and we have a ton of visitors. We have many repeat visitors from Calgary, BCwith more and more golfers arriving from Toronto. We also see more interest from the European market."
Overlooking Predator Ridge is the almost completely constructed $150 million dollar Sparking Hills, which is a 150 room luxury spa hotel owned by the Swarozski Crystal family. "The hotel will be very unique with a high quality of service. It will open up the nature of the cliental and guests we hope to serve." said Goubault.
Staying at Predator Ridge lodge was almost as much fun as playing the golf course. It was especially interesting to tour the new 18 whole Ridge course which will open in July. It is just a spectacular setting and one I hope to play on a return visit.
Our next stop in Vernon was a tour of the recently built The Rise, a signature Resort Community offering lots from a low of $200,000 to $800,000 with an average cost of about $250,000. To date the development has sold 150 lots with houses ranging from $600,000 to $ 3million. "People come here from Calgary or Vancouver. The 750 acres of land overlooking Vernon was owned by a local family. My vision started with the golf course. I was in the heavy construction business most of my life with my family and worked out of Calgary. I?got into the golf course business in 1980 and only did golf construction after 1990. I have built golf courses in China, Beruit Lebanon, Mexico City and Anchorage, Alaska. I have worked with many big name architects," said Ian Renton, President of the golf course at the Rise designed by Fred Couples. "We do design build and fit the course into the land and water. The golf course here sits on 220 acres of the 750 acre parcel. We also have 100 acres of grapes for our winery and some natural pasture land. Construction was started in 2003 and we opened in fall of 2007. The process started with environmental challenges to get the approvals in place. In 2008, the residential component stopped and the travel industry was down in 2008. Since then things have looked up. People are less nervous now. I feel people didn't lose their desire to have a second home but lost their money which is coming back."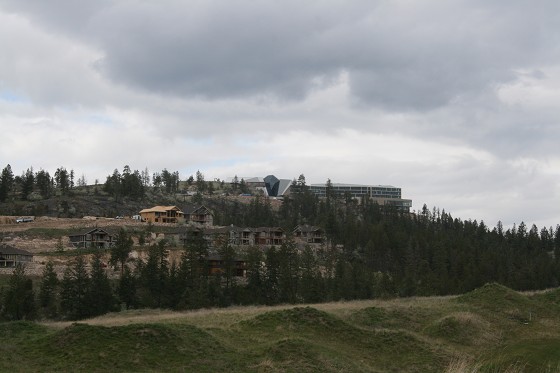 Twelve of the holes at The Rise have lake views and 8 of the holes have no houses. The developers are trying to do market ready homes in the $450,000 range. They worked with Fred Couples of Couples Bates design, their sixth course and second in Canada, the other being in
Mt Tremblant. "Freddie had good ideas without blowing the budget. I like the course as it feels natural, not manufactured. We tried to use the features of the land and have some great views. We were fortunate to able to build here." said Renton.
The Rise has 5 sets of tees and is semi - public with a limited membership at ($25,000) and you have to be a home owner. Green fees are $115 with the cart which has a GPS. The setting and views from the Rise are just amazing. This is a must course to play for all golfers and one I will have to come back to for sure.

Our next course would be Talking Rock Resort and Quail Lodge in Chase BC, located some 45 minutes east of Kamloops. The golf course is entering its third full season and is a Cooke Carlton International design. It was first cut out by Les Furber in the late 90's and never opened but the owners; The Shuswap Indian Band came back 7 years later. Also on the property is a 70 room newly renovated resort with conference centre seating for up to 500 people. "I love this course in the semi arid area of Kamloops. We have tree lined fairways on the 330 acre property, so you never feel you are near another group. You feel at one with nature." smiled Rhett Bokitch, Head Golf Professional at Talking Rock, a semi private course. The population of Chase in the summer goes from 2,500 to 12,000 people which provide a good golf audience. Green fees are $72 plus cart fee of $17. I really enjoyed the natural feel of Talking Rock, which really reminded me of home. It was a great layout and a superb course to play.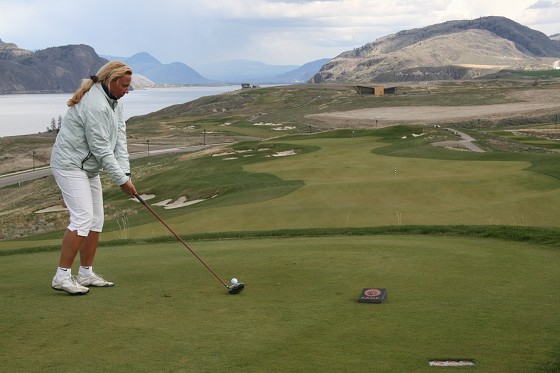 Our last course in the Okanagan would be the much awarded Tobiano Golf Resort, Kamloops BC. The course opened in 2007 with a soft opening after the current owner took over the property in 1998 with a full opening in 2008. Tobiano has been received extremely well. It has won plenty of awards including the best new course in Canada in 2008 and in 2009 and the best conditioned course in BC as well as the
best public course in BC by Score Golf and Golf Digest magazines. Thomas McBroom is the designer of Tobiano which has a links style feel. "I love the views and the condition of the course. We have bent and bluegrass and our superintendent Terry Smith is unbelievable. Our club house opened in 2008 and is very unique, "said Adam Tobin, Golf Shop Supervisor and Assistant Professional Tobiano. " There are plenty of ways to get a good green rate. Our
peak rate is $130 and you can get it down to $80 as a walk on. Our rate structure is very unique. We have many members and are growing. There are many houses and lots on the course that people have purchased. Lots range from $345,000 with some higher priced further up on the bluffs. The houses will range in price up to the multi- million dollar range.

It was really a treat for me to play Tobiano. I really like Tom McBroom designs, even living on one at home, and Tobiano is just spectacular and well deserving of its awards. The conditioning was superb. Greens were like smooth carpets. The setting is also tremendous and at times on the back nine reminded of Northern Ireland with the water views and heights. Tobiano alone is worth the trip to Kamloops. When you play this course you will want to come back.

My time in the Thompson Okanagan had come to end and it was off to the Kamloops airport to catch the red eye flight back home. I will have plenty of fond memories of this trip. Special thanks to Colin Yorath of Golf The World Vacations, Vancouver, Monica Leeck of Tourism British Columbia, Gary Aldus of Thompson Okanagan Tourism, Michelle Jefferson of Vernon Tourism and Lee Morris of Tourism Kamloops for their organization of this outstanding week.
In Memory of Colin Yorath
Rest in Peace