The Telus Cup Brings Excellent Hockey to Thunder Bay
by Scott A. Sumner
The historic Fort William Gardens,which opened in 1951 played host to some of the best hockey we have seen recently in Thunder Bay.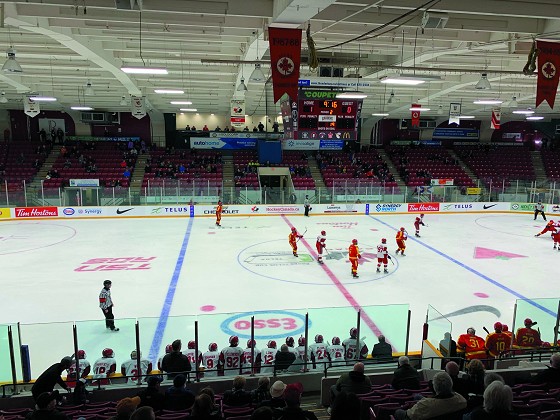 The Telus Cup National Midget AAA Championship was held April 22 to 28. The last time this event was hosted in Thunder Bay it was called the Air Canada Cup, held 33 years ago. Telus came on board in 2004 as title sponsor for the National AAA Midget Championship under 18.
Dave Hysen is the Manager of Events and Properties for Hockey Canada which is based in Calgary. " We have a team of 12 people to run our domestic events. There have been many current or past NHL players play in this tournament in the past such as Sydney Crosby, Joe Sakic and so on. The host committe has organized some local NHL players like Marc and Eric Staal and Matt Murray to attend the event."
Why did the Telus Cup come back to Thunder Bay?
" The Telus bid process rotates between regions in Canada and Thunder Bay put in a plan which was excellent with great ticketing, a quality team and strong volunteer base as well as being a historic city for hockey. We are hoping to fill the arena. The level of hockey is very good. Unfortunately this will be the pinnacle event for many of the players here this week but some will move on to Major Junior A hockey. Some will move on to higher education. Each team will nominate two players for the ESSO Scholarship program to show there is more after hockey.There has been a lot of travel, blood, sweat and tears going into these players that are here today."
" We are happy to be here. It is fantastic to be in an arena with so much support for hockey. At the Telus Cup we want to help grow the game."
The top 4 teams qualify for the playoffs. The Gold Medal Game will be broadcast on TSN.