THE CLUB CHAMPIONSHIP
by Scott A. Sumner
Most golf clubs have an annual event where the members play a friendly competition amongst themselves to determine the " Club Champion". You will receive many perks if you win, such as a gift certificate for more balls or your own personal parking spot ! The biggest thing you win though is bragging rights for the next year!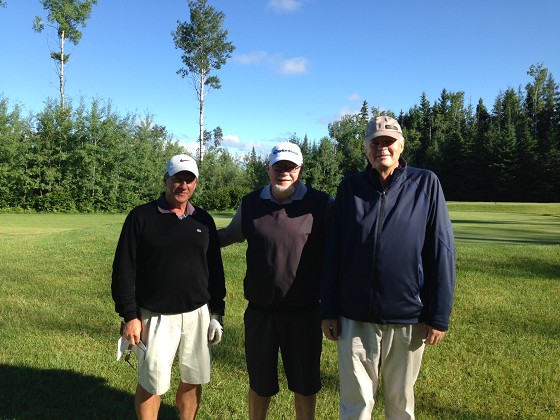 This year was my chance to enter the Club Championship again after a several years absence. As a 11 handicap I was told I would be in the B Flight with about 12 other members. That means you could be Club Champion of th B Flight I guess, but that would be fine with me. The timing wasn't the greatest for me this year as I had just returned from a non golf trip watching Indycars race in the heat of Toronto and hadn't really played for awhile. Also I gave myself a slight injury on the trip which was as my dad used to say- self inflicted. But the first competition day arrived, a sunny cool morning and I was off to the course.
The first thing you notice playing competitive golf is you are nervous. Yes my stomach felt a little uneasy and I wasn't really looking forward to that first tee shot. I didn't hit any range balls even though I was given a ticket, but did hit some practice putts. I talked to my fellow golfers and the starter and then it was off to the first tee. There our golf pro Matt Simmons welcomed us to the event, gave some rules and regulations and we were ready to play away.
My first swing was a driver and it went in the air to the left in the rough but I could find it so that was good. A second shot went to the bunker and then a two putt gave me a bogie on Hole No1- not bad. I was starting to feel a little bit better being out there swinging the clubs and getting the day underway.
My partners were nice to play with, very encouraging and we all played away with not our best game but an OK game. After a few double bogies and not many pars I was happy I hadn't lost a ball yet. But that happened soon enough on River 11 where I hit my second shot in the rough and made an easy double bogie. But the game went along and after a front nine 46 ended up with 90, sort of respectable. Sometimes you wonder if you would break 100 on a day like this but the game improved and we finished Round 1.
At home I felt tired after the game and I think it was the mental concentration that is higher in competition. I slept better this night and was up and ready for Round 2.
Another beautiful day at Whitewater for golf and once again I didn't hit any practice balls, just a few putts. The golf started better this day with a nice par on hole 1 but went down hill fast with double, double, triple and I thought to myself would I shoot 110? Fortunately my game turned around with some pars and a BIRDIE and the front nine score was 46 again. On the back I started with a double but then had 5 pars in a row and finished with 2 bogies and a par for a 40 and 86 overall. Much better than I envisioned after the rough start.
Overall the days were fun. It was good to have to concentrate on each shot including the 1 foot putts you had to make. I think everyone should enter their club championship and enjoy the comradery of the day. You get to play with some new people, test out your game and learn some areas where you can improve. It will give me a new appreciation for competitive golfers when next weekend I am at the RBC Canadian Open at Glen Abbey. Can you imagine the pressure they feel playing for a $1 million first prize ! My goal, like every golfer, is to get better so hopefully next year I can improve my performance in the Club Championship!